Blog
REGISTER NOW
LOGIN
SIGN UP FOR OUR NEWSLETTER
Ready to Roll in Khartoum
I have enjoyed Sudan much more than I expected. The people are extremely friendly and welcoming.
I thought I should check in and let everyone know that I survived my first several nights at the campground. It's an interesting scene as it is right in the city center of Khartoum. At first glance it looks like a boat graveyard. At second glance it looks like a scrapyard with some tents. All the tents are ours so I'm not sure that anyone else ever stays there. To add to the ambience we are right under the Blue Nile bridge which has constant traffic all night. We are adjacent to a mosque as well and the call to prayer speakers going at 4AM combined with ferrel cat yowls is amazing. In case you are wondering, the cats of Sudan found me. The resident black and white cat at the campground chose my tent to hang out at yesterday. Despite what you think, I did not feed him.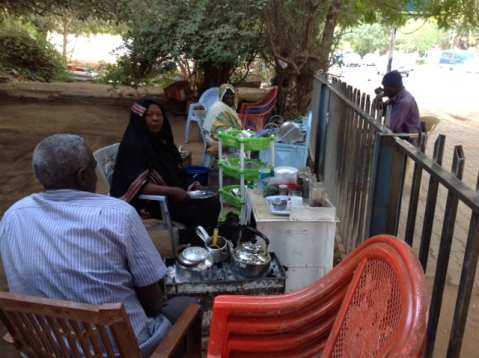 We have eaten most of our meals at the same restaurant with the 3 entree options being chicken, fish or ful, which is a mushy bean dish with peanut oil. All of the meals are served with 2 flat rolls and no silverware. There are makeshift tea stands everywhere. They are run by women and consist of several plastic crates, low wooden shelves, a tea kettle and coal fires. The tea seems to be a mix of rooibos and black but there are many spices and tea leaves to choose from. Custom street tea! The tea lady closest to us has her "shop" in the corner of the scrapyard under some low hanging branches, behind a fence. The location reminds me of a cross between a hidden gem cafe and a restaurant in a North Philly that serve food behind glass walls for protection.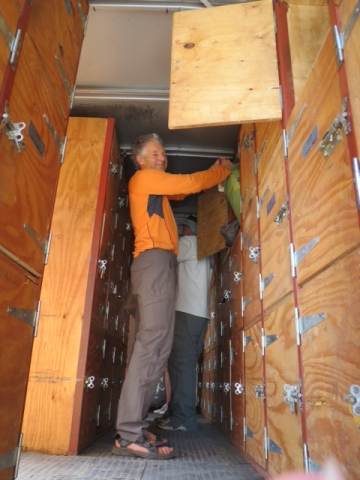 The week has a been a flurry of repairing and organizing the trucks, getting phones and SIM cards for the staff, replenishing supplies and getting to know each other. The riders have arrived at the Acropole Hotel and we have been having rider meetings and bike shop hours to prepare them for the start of the tour. The cyclists are all ages and nationalities and I am looking forward to getting to know them. The majority of the riders are new to Tour d'Afrique but we do have one TDA alumni with us.
Everyone seems anxious and excited for the tour to get underway. I have enjoyed Sudan much more than I expected. The people are extremely friendly and welcoming. Smiles and greetings from the locals are common when walking around the city. Even the guy who yelled at Justin to get out of the road. It went something like this: "Get out of the road! Welcome!"
We have our final rider meeting today followed by an afternoon of the riders packing their lockers and then tomorrow we hit the road!