Blog
REGISTER NOW
LOGIN
SIGN UP FOR OUR NEWSLETTER
The Show Must Go On
We are in Jaipur now. The Pink City was a little gray to start the day with heavy thundershowers in the early morning. But the weather broke and many in the group took advantage and spent the afternoon sightseeing while others rested and recuperated from a cold or flu that has plagued our group. The weather has also been a big factor thus far – we have already had more rain on this tour than we had on the 2011 and 2012 Indian Adventures combined!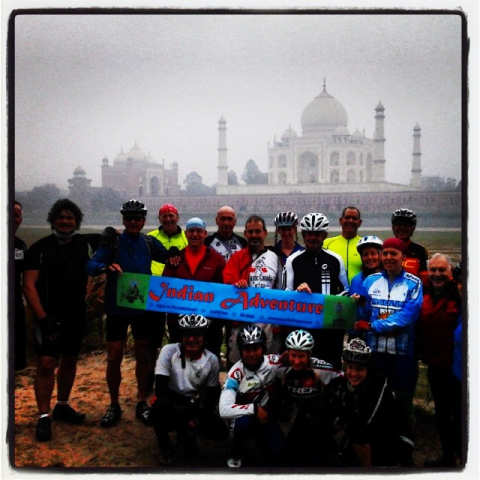 A few days back we were fortunate to have the fog break enough for us to have the Taj Mahal as our stunning backdrop for the official start line photos. After riding out of Agra with the help of local police, we headed into the countryside. On the first two days it did not technically rain, but the fog hung so low and heavy the sky literally dripped all morning and into the early afternoon. The sheets on our hotel beds were wet with the high humidity and, though the temperature of 10 – 15 celsius might not seem that cold, the icy moisture went straight to your bones. It was only Rana's tea at the lunch truck that saved the day for a few riders.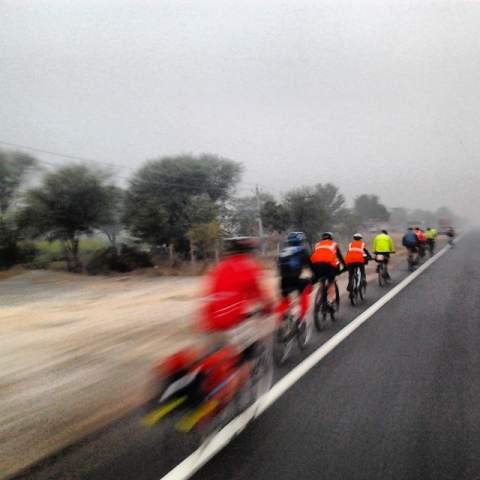 The narrow village roads of Rajasthan were a little more challenging as the rain created big muddy patches. The route seems to have improved some since our last tour, but there is still a healthy amount of bumpy rutted roads – both paved and unpaved.
Tomorrow we will say goodbye to a few of our companions who must cut their trip short. We are sad to see them go but for the rest of us, we are set to pedal further into Rajasthan, heading for Jodphur, the Blue City, and our next rest day 4 days from now. The show must go on for this travelling circus.
You can still tag along. Join us in Mumbai and cycle south to Kanyakumari.