Blog
REGISTER NOW
LOGIN
SIGN UP FOR OUR NEWSLETTER
Word from the Nubian Desert.
The 2014 TDA convoy started out just after sunrise. Cyclists rode two abreast until we got to the Sudan National Museum which was the official starting point. Luckily, we had some volunteer traffic enforcers in the group to help control the madness that is Khartoum driving. After some photos and press coverage (a freelancer from CNN and the NY Times showed up!) we left again in a convoy but this time with a police escort. The police were driving a pick-up truck with most of the "officers" sitting or standing in the bed. They reminded me of Wild West cowboys riding around in their battle wagon.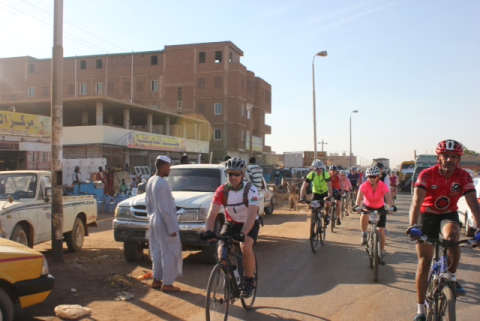 Apparently they took us the wrong way several times but all's well that ends well. And they did keep most of the cars a good distance from any riders. I didn't actually get to partake in the convoy as I rode in the back of the Hilux that headed up the convoy so I could snap photos of the cyclists. Every time we hit a really good pothole the back window of the Hilux would come down on me. Pretty exciting.
We had a lovely dinner of spaghetti bolognese and salad with the freshest tomatoes, cucumbers and arugula
Our lunch stop was not too far past the end of the 20km convoy and after refueling the riders headed out in pairs or in small groups. Justin, our Sudanese translator/buddy/support staff guy and myself went on a wild goose chase for diesel. Apparently there is very low supply in Sudan right now. We didn't find any but we did create amusement for the locals as anytime someone caught sight of Justin driving the Land Cruiser in head to toe spandex they had a good laugh. Probably not a typical sight in the outskirts of Khartoum.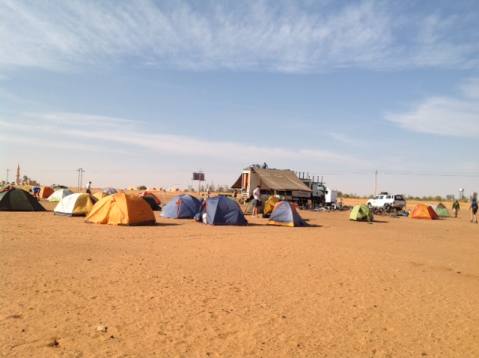 First campsite was a desert camp which means just that – camping in the desert with no facilities. It us just what you imagine when you think of a desert. Sunny, dusty, dry and barren with camels wandering around. But much colder than I thought! I had planned on sweating my behind off but unless it was midday and I was directly in the sun it was pretty cool. During the night it got so cold I put on all the outer layers I brought. We had a lovely dinner of spaghetti bolognese and salad with the freshest tomatoes, cucumbers and arugula. The pasta ran out briefly and if you know me then you know how I feel about pasta and can guess that I almost gave up on life at that moment. Other highlights of the day included goats grazing near my tent and taking photos of the tired but happy riders. We have 4 days of riding and about 500km until our first rest day in Dongola. Until then!