Blog
REGISTER NOW
LOGIN
SIGN UP FOR OUR NEWSLETTER
A Day in Addis
Ethiopia…I will also desperately miss the epic layered juices and abundance of baby barnyard animals. But I hear the tea is better in Kenya and Tanzania. I am so ready
We wrapped up the second section of the tour in Addis Ababa and spent the rest day at the golf club. The grass was lovely to camp on but it was the views of construction and hallowed out buildings from the "fairway" that was a real treat. There was a hotel around the corner that Justin and I stayed at since the golf club didn't have any rooms. We made the right choice as the hotel had a permanent guest in the form of a cat. Yes! He moved around from chair to chair in the reception area. First cat I have gotten to pet since leaving the states. The rest day turned out to be an opportunity for many firsts. I decided to take a solo wander around Addis. I found a salon at the Hilton Hotel and got a much needed pedicure. Not only was it my first pedi in Africa, for the first time ever, I was the person with the nasty feet. I tried to explain to the nail technician that I had been camping since early January but I don't think she understood me. I tried to make up for my unacceptable feet with a decent tip.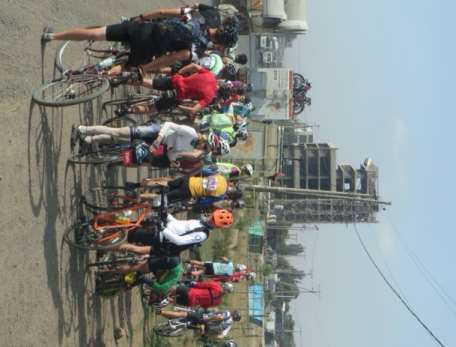 After my relaxing (and embarrassing) spa experience I decided to use the ATM machine at the hotel. Many people were using it, it was in a brand name hotel and it belonged to the largest bank in Ethiopia. Bad idea. It swallowed my card and prompted me to go on a wild goose chase to find my card. After talking to the hotel concierge, walking to a branch of the bank and giving the manager a piece of my mind, I went back to the hotel to wait for my card to be retrieved. The concierge had said that a bank representative would show up in 10 minutes. To my surprise, someone arrived within that time window, opened up the machine, asked for my ID and returned my card. It was quick, painless and very unlike most attempts to get something accomplished in Ethiopia. Following my excursion at the Hilton I found a taxi to take me to a street that was filled with electronics stores to find some printer ink and other random tech gear before heading back to the golf club.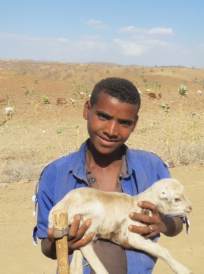 Noah, our awesome dinner truck driver had given 4 children at camp a length of flagging tape which they had fashioned into belts and headbands. Looking pretty cute and innocent they ran up to me smiling and each one shook my hand. They posed for photos and looked at the results on the camera with me. They then smiled, waved and ran off without asking for anything. I can only think that they read my negative review of Ethiopian children in my last blog and wanted to make amends for their fellow juvenile countrymen.
I need to make an addendum to the list of things I will miss when we leave Ethiopia. I will miss the pizza and pasta that most restaurants offer as a result of Italian presence in the 1930's. I will also desperately miss the epic layered juices and abundance of baby barnyard animals. But I hear the tea is better in Kenya and Tanzania. I am so ready.