Blog
REGISTER NOW
LOGIN
SIGN UP FOR OUR NEWSLETTER
20 Years of The Tour d'Afrique – An Adventure That's Never the Same Twice
Twenty years of the Tour d'Afrique! When it was first conceived in the 1990's the dream was to have an annual ride but the hope was to at least pull it off once. And just accomplishing that proved a huge challenge to overcome. It wasn't until 2003 that it finally happened, and the rest is history. Over 1000 people have now participated in this event.
The 2022 Tour d'Afrique will be a unique, COVID-era version of our storied tour. Instead of Cairo to Cape Town it will be Livingstone to Gqeberha (formerly Port Elizabeth). While this may seem like a mere shadow of this grand tour, it actually fits perfectly into a tradition that has lasted as long as the Tour d'Afrique – making the tour work in less than ideal circumstances. 'The show must go on' as they say and that is what we have tried to do for 20 years of this life changing, one of a kind tour. Through civil unrest, protests, revolutions, sand storms, hail storms, drought, flooding and now a pandemic, the Tour d'Afrique has managed somehow to carry on. So in 2022, what new stories will be written? What adversity will the cyclists and organizers have to overcome to make the tour succeed and reach its final goal yet again? I guess we'll have to stay tuned for the answer to that question. In the meantime, let's look back at some of the challenges from past years that made each edition a unique story of its own.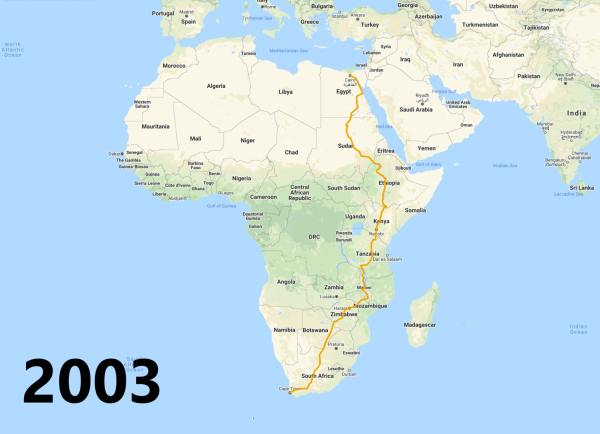 The original tour in 2003 almost never happened. Founder Henry Gold worked furiously to first get at least one support vehicle from Wadi Halfa to Aswan on a 19th century ferry that could tip if there was a wind higher than 5 km/hr, and then extricate the vehicle from unwilling and uncooperative Egyptian customs with just days to spare. After that was resolved, the tour kicked off and the long distance, multi-country, supported cycling tour concept was born. They followed what would become a common route through Sudan (along the 'Nightmare Road'), Ethiopia, Kenya (using the Lava Rock 'road' thru the country's north), Tanzania and Malawi. From there the route continued south in Mozambique, Zimbabwe and eventually South Africa – spending much of the final month of the tour cycling through northern and western South Africa before reaching Cape Town.
The second group of intrepid cyclists in 2004 started in a similar fashion – from under the gaze of the Sphinx on the outskirts of Cairo. Then they made their way south facing similar challenges including the 'Dodoma Road' that cuts through central Tanzania. From Malawi, the tour took a right turn and headed for Zambia rather than Mozambique. This new route, which passes by Victoria Falls and took the group through Botswana and Namibia to Cape Town, became the new default path for the years to come.
In 2006, the S.S. Sagalnaam ferry from Aswan to Wadi Halfa became the new standard for crossing Lake Nasser to get to Sudan and it soon became another legendary experience the rider's couldn't wait to experience and never repeat.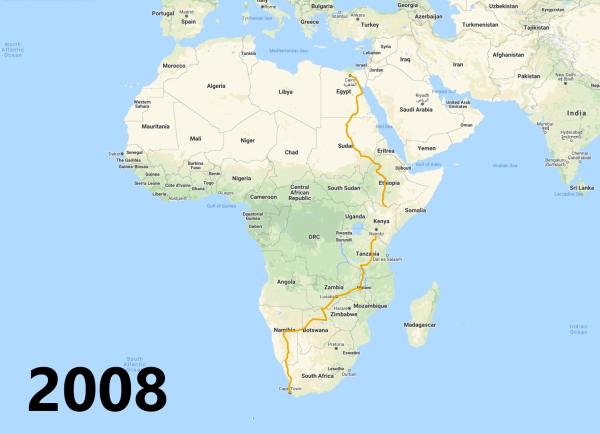 In 2008, with a film crew documenting the ride for the first time, the tour experienced its first major disruption. With violence breaking out unexpectedly in Kenya following contested elections, a decision was made while the group was in Ethiopia to return to the capital, Addis Ababa, fly over Kenya entirely and restart in Tanzania and carry on southward.
2009 saw a relay team of Lonely Planet writers and staff join the group – including LP founder Tony Wheeler. In 2010, we decided to branch out and try a new route in Sudan. Infamously known as the Dinder Experiment – it was one that we never repeated. 2011 saw our largest group ever with 65 people doing the full Cairo to Cape Town route and enough sectional riders joining that the group size crested 100 people at one point (a size that worked, but was never to be attempted again)!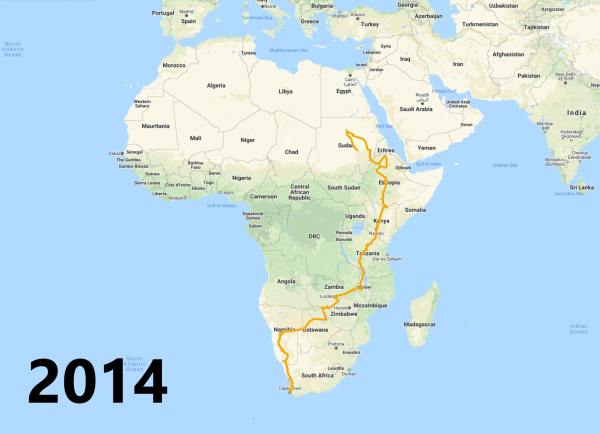 2012 was the 10th anniversary tour and that year and the one that followed, we kept to our most common route. With continued instability in Egypt after the revolution a few years earlier, a decision was made to start the 2014 edition in Khartoum instead of Cairo. The route included a circuitous route through Sudan to the Nubian pyramids and another detour in Ethiopia to take in the sights of Lalibela.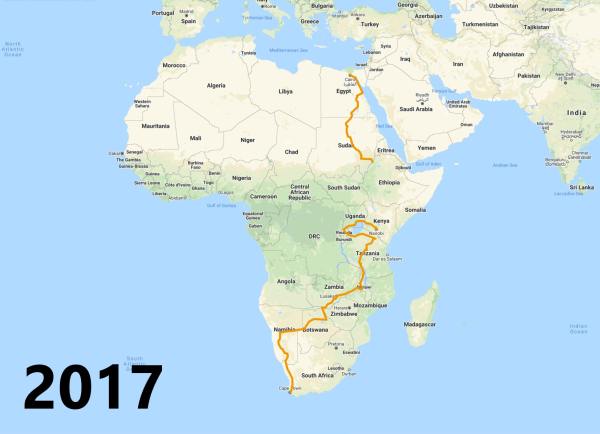 In 2015, we returned to our Cairo start and had a few years of general stability in the route. But in 2017, in order to avoid unrest in Ethiopia, the tour was planned with a flight from Khartoum to Nairobi and then a loop of East Africa that included Uganda and Rwanda for the first time. This was also the last year where the Tour d'Afrique included a timed race component. In 2019, a one-man film crew produced a spectacular 25 min film documenting the group's experience.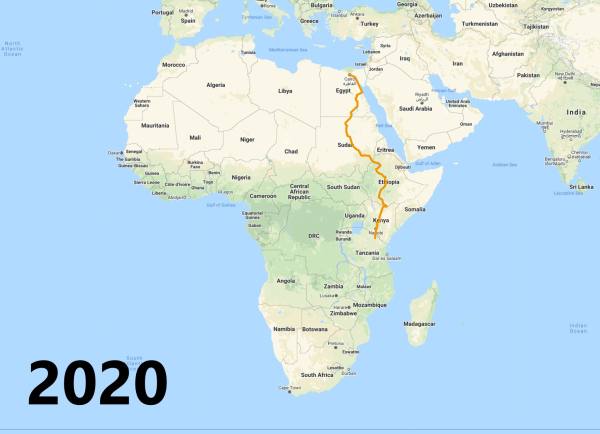 From 2020 onwards, COVID took charge. In 2020, we cancelled the tour a day after the group had reached the midway point of the tour in Tanzania. In 2021 we held our virtual tour – letting everyone vicariously experience the route day by day with pictures from the past.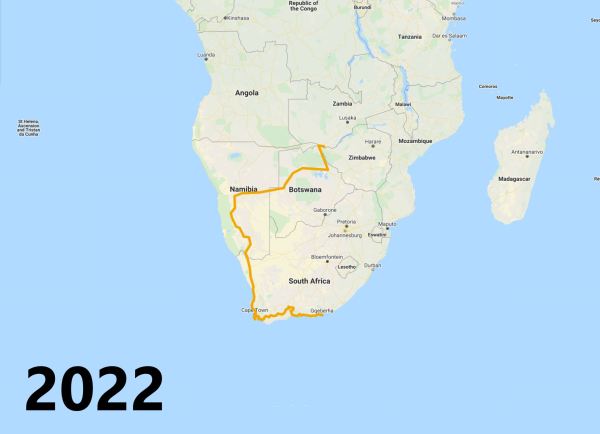 That brings us to 2022 and our new route that will be one for the ages – one that came about because of COVID but one that will have its own story to tell. It is a route for the Tour d'Afrique that perhaps will never be repeated. A ride to talk about years from now as the first of its kind in the COVID era and one that will no doubt will have its ups and downs and be full of adversity. The show must go on!
RELATED
TOUR