Blog
REGISTER NOW
LOGIN
SIGN UP FOR OUR NEWSLETTER
Betam Betam Kebat* Mando Day
she declared that her ride was tougher than an ironman
If Stage 23 of the TDA – the 3rd of 4 days between the historical Ethiopian towns of Axum and Lalibela – was part of the Tour de France , it would've received "Beyond Haute Classification." Although only 84 km long, it featured 2650 meters of climbing on rocky, corrugated dirt, including a 10 km final ascent to camp that averaged 9%, and at times exceeded 15% grade.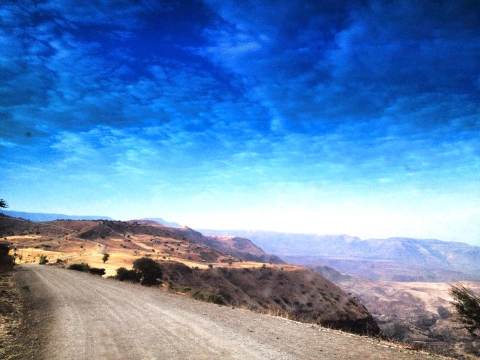 The day's route passed through the remote and timeless villages of some of the toughest people on earth. In fact, lunch was just before the small town of Sekota, from where some of the earliest victims of the devastating 1984-85 famine walked 150 km to Korem. There the images of their emaciated skeletons shocked the world into humanitarian action.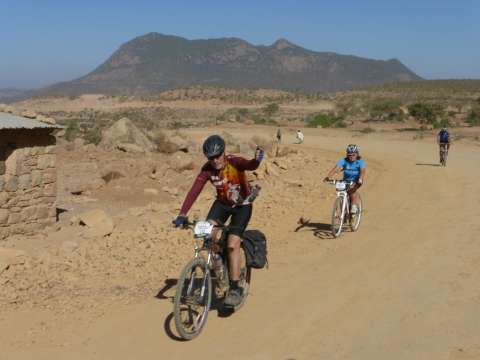 After the intense heat of the previous stage – which topped 44 C in the sun on a rider's computer, a partially overcast sky hinted that maybe the god of the ancient Ethiopian Orthodox Church had seen what our riders were attempting and decided to throw them a bone. Moreover, from this ferengi's perch at the top of the final climb, all seemed serene as I watched a bird of prey soar on a distant thermal, and listened to the bleats of the goats and sheep grazing the slopes below as their herd boys called to one another and cracked their whips.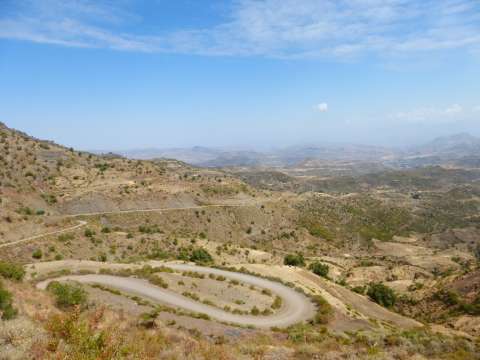 But in these harsh tablelands nothing is ever taken for granted and it slowly became clear that a battle of nature versus man/woman and their 2 wheeled machines was unfolding. First the dinner truck appeared in a cloud of dust, grinding its way up the hairpin turns. Soon after the 1st cyclist became a speck in the distance, followed closely by another, and then nothing. Inching up the climb they revealed themselves as sectional rider John "JT" Taki on his Cyclocross, and Flying Dutchwoman Ina de Visser on her MTB and on his tail, 1 switchback behind.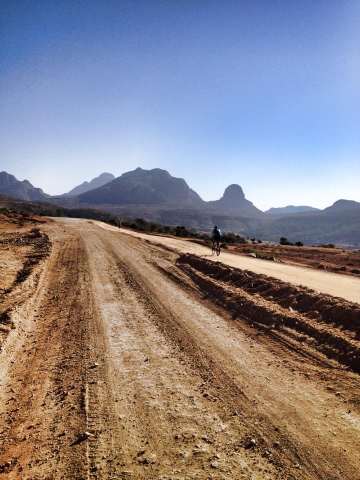 They would finish 1-2, separated by only 4 minutes, and gain the 30 minute time bonuses for winning a Race mando stage. Ina would confirm her status as the strongest female cyclist the TDA has ever seen by crushing EFIer David Grosshans, the men's overall race leader and 1st full tour men's racer to appear, by 34 minutes. After David G it would be more than an hour before Aussie fireplug Helen Savestrin & the other 2 still EFIers, Alessandro Mauri and David Crane, would arrive at camp.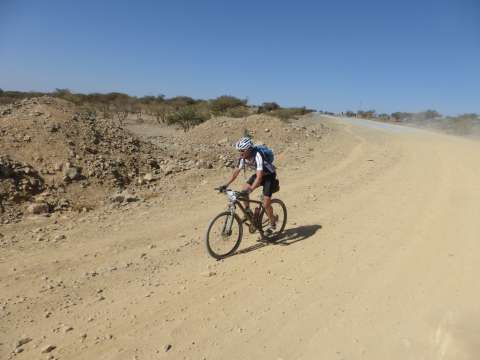 All told 12 intrepid souls would win this epic battle of body and mind by completing this "mando de luxe" stage, including 67 year old triathlete Catharine Daly who collapsed at the finish flag at 545 PM, overcome with emotion. After being rushed a mug of recovery soup she declared that her ride "was tougher than an ironman, which has 3 defined sections, lots of refresh stops, cheering fans, plus you always know where you are and what remains ahead." Her performance was truly one of biblical proportions.
* Betam Betam Kebat is Amharic for "very very difficult."