Blog
REGISTER NOW
LOGIN
SIGN UP FOR OUR NEWSLETTER
I Now Know that I Don't Know What I Think I Know
"The more I learn, the more I realize I don't know" – Albert Einstein
"The only true knowledge is in knowing you know nothing" – Socrates
Mike Coo recently arrived to the Indian Adventure to take over from where Shanny left off – helping to support the cyclists and staff as they travel south from Mumbai along the Konkan Coast. Here are his reflections on his initial arrival and his experience in the first week on the coast.
At a crosswalk in the heart of the city a man stood waiting for the light to change…leading a full grown cow on a leash
My return to India officially began at the boarding gate in Abu Dhabi for my connecting flight to Mumbai. It was a complete sausage party – a large group of sweaty, Indian men all glued together, waiting for the boarding announcement. Some might see this as a lack of sensitivity towards personal space but the more time I spend in India the more I realize that some Indians seem to prefer it this way. They would perceive my desire for physical separation as abnormal.
At Indian immigration in Mumbai, the officer demanded to see my boarding passes before she would let me in. The ropes delineating the path to the immigration desks were unstructured – leaving gaps and secret openings for those aware enough to take advantage of. The pre-paid taxi booth featured a feuding couple. She took umbrage to one of his remarks and left the desk (and the people waiting in line). She strolled over to the drink stall and sipped on a cold one while the customers yelled and hissed their disapproval.
After waiting for almost an hour at the baggage carousel that was indicated for my Jet Air flight – carousel #4, I wandered over to the lost luggage desk and inquired about my bag.
"Check carousel 6" the guy behind the counter mumbled. Hmmm, ok. When I got there, the baggage being off-loaded was from a Kuwaiti Airlines flight from Dubai. I returned to the desk and explained this. The guy looked up at me like I was crazy and yelled for another employee to go back with the obviously stupid foreigner. As we arrived back to the carousel, another flight's baggage was being unloaded. This one an Ethiad plane, arriving from Addis Ababa. My helper asked what colour my bag was.
"Red," I said "but look, I arrived on a flight from Abu Dhabi." He ignored this and proceeded to point at any bag that even remotely had a touch of that colour in it. And miracle of miracles, 10 minutes later, my bag appeared. I was at a loss for words…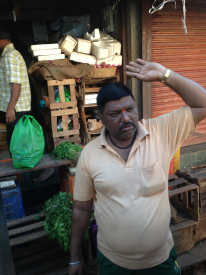 I dragged my belongings to the taxi stand and we headed into the Mumbai dawn. It was stinky, crowded, dirty, and distressing. At a crosswalk in the heart of the city a man stood waiting for the light to change…leading a full grown cow on a leash.
After departing with the group from Mumbai, our first night's hotel room had 2 bathrooms but one had no water and the other only cold. The bathroom windows looked out onto half-concreted, incomplete future rooms. This, I thought, this in the India I know.
Only it was not. I rode sweep the first day out of Mumbai. Cycling through one small, typically chaotic village, I thought I saw piles of mud behind the huts but as I examined them more closely, I saw that they were actually the remains of enormous walls that obviously once surrounded a large city. Later in the day I turned a corner and saw what I first thought was a huge Catholic cathedral perched on a cliff overlooking the Indian Ocean. When I finally pedaled up to the front of it it looked like there was a huge abandoned haunted house sitting next to an English castle.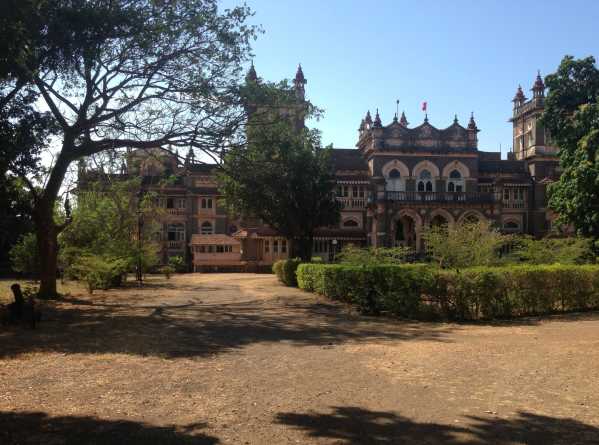 I tried to break in but it was all boarded up. The castle had immaculately tended gardens but felt completely abandoned. Puzzled I took a few pictures and decided to ask at our hotel. The owner there told me that it was owned by descendants of past kings of the area, the Siddis, who had arrived from Africa many years ago and conquered the area. The current owners now lived in Mumbai and visited once every couple of months. I asked about the immense haunted house next door. He replied that it contained over 150 rooms that used to house the guests and staff before it became too expensive to maintain
I, of course, had to check out the Siddis on Google. Wikipedia had a slightly different story. The Siddis were slaves, descendants of the Bantu peoples of south East Africa, brought to this coast by Portuguese merchants. How they ended up inhabiting this amazing building was probably another interesting story. If you look closely at the coat of arms that was attached to the front gate you can certainly see some African influences.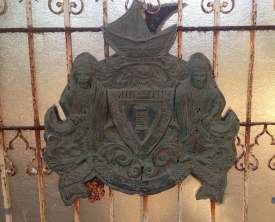 A couple days later we arrived at one on the numerous ferry crossings that give this section of the tour much of its charm. There was some time to kill so I went wandering around the small village. Above the swaying palm trees I thought I saw the minaret of a mosque so headed that way. After pushing though some rubbish I emerged into the light to find a beautiful old mosque. A couple families were living amongst the tombs but otherwise it was completely abandoned. I am no expert but it looked to be quite a few hundred years old. What was the history behind it? How had it come to its current state?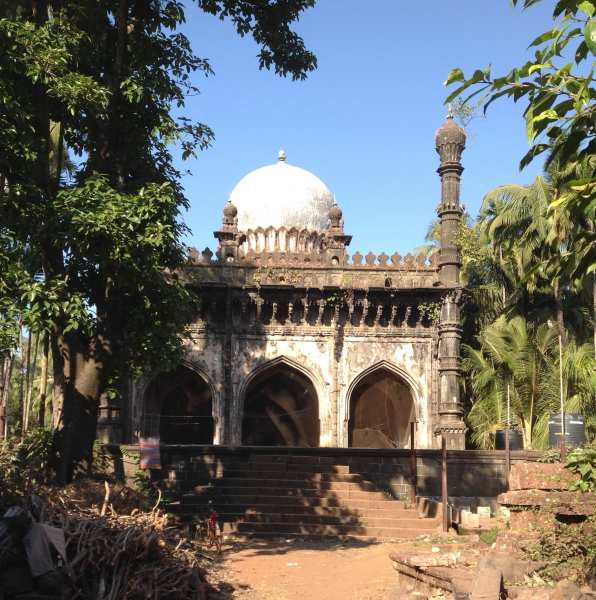 Travelling in India by bike teaches you how little you know. How the country has countless layers of history and endless stories. To paraphrase Mr Einstein, "The more I travel, the more I realize how much I don't know."