Blog
REGISTER NOW
LOGIN
SIGN UP FOR OUR NEWSLETTER
Konkan Coast and Hampi
It is here in Hampi that we've been granted two days rest. It hardly seems sufficient given the expanse of ruins in this alien landscape
A bald and arid swath of land, it's expanse rendering the errant cotton or sugarcane plots insignificant, stretches out before us. At moments it feels uninhabited, were it not for the occasional woman swaying down the road with a burdensome stock of firewood perched on her head, or a goatherder tending his unruly flock. We ride along it for a ways, and it begins to feel interminable, but no sooner has it leant this impression than it takes a turn, and drops back down to the coast; the domain of coconut groves, banana palms and the dominating shade of the mango tree. The route weaves among a curious and eclectic crowd, follows along empty beaches with their lazy lapping waves, crosses a bridge and climbs again. Back, up to the arid heights of the Ghats. Here a silence pervades for a while, before we drop back to the multitude of noise in the villages. This is the Konkan coast, a relatively unexplored stretch of coast lying between Goa and Mumbai. Don't be fooled into thinking that this coastal section is devoid of hills. The mountains here drop dramatically to the coast, and our route is forced along their undulations. In fact, this section contains more elevation change than any other section on our route.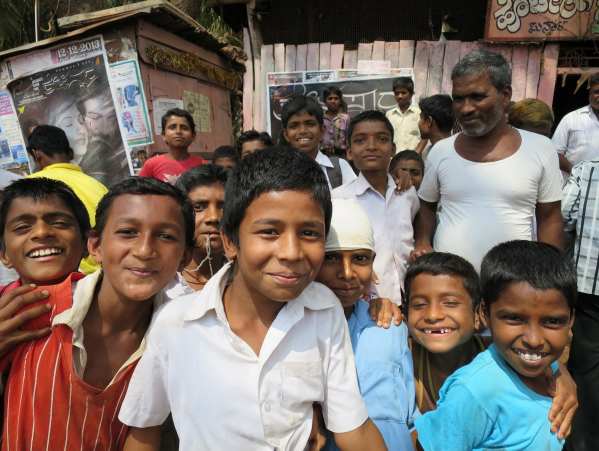 While the daily sights changed by the minute the day to day scenery began to develop a routine: cruise the coast, cross the bridge, climb the mountain, enjoy the emptiness, descend. Repeat. Repetitive as this routine was, the route never failed to be beautiful; and if we've learned anything on this tour, it is to expect the unexpected. Six days out of Mumbai we climbed back up to the heights of the Deccan plateau, and crossed a state border as we reached our rest day in Belgaum. Here in Karnataka the familiar, though incomprehensible, Devangari script of Hindi has been replaced by the amusing moustache and smiley face script of Kannada, children gather in larger crowds and appear more aggressive, the women working in the fields turn and call out to us when previously we had been ignored.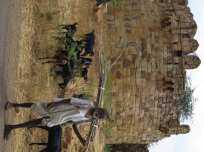 Further surprises lay waiting in the geology of this land, a day out of Belgaum we approached Badami with its red sandstone cliffs, reminiscent of the American South West. A little known but impressive series of cave temples held our interest as we enjoyed yet another day of rest in the town. Another day's ride took us to the geological chaos of Hampi, which only marginally overshadowed the chaos of dozens of sunburnt tourists wobbling around on motorcycles. It is here in Hampi that we've been granted two days rest. It hardly seems sufficient given the expanse of ruins in this alien landscape. Regardless, the break is welcome, giving all an opportunity to rest their legs, and a chance to explore a little deeper this country which is full of surprises.