Blog
REGISTER NOW
LOGIN
SIGN UP FOR OUR NEWSLETTER
Dedan's Story
It's been a privilege and an inspiration riding with Dedan and we wish him all the best. I have a feeling I will see him on TV one day competing in the Paralympics
When Dedan Ireri was learning to ride a bike with one leg he only fell two or three times. I think most of us on the TDA have fallen at least that many times in the first half of the tour. Dedan has been joining the tour in his home country of Kenya for several years now and it's a pleasure having him. This year he showed up in Isiolo, Kenya with his bike and a smile. He rode with us as far as Arusha, Tanzania and was nice enough to sit down with Hannah and I to chat about his cycling experience.
Dedan lost his leg above the knee in a bus accident when he was just 12 years old. A few years later he found a rehabilitation center where he paid someone to teach him how to ride a bicycle and has been riding ever since. In the beginning of his cycling career he had to rent a bicycle for all of his training but has since saved up and purchased his own bicycle. He smiles broadly when we ask about his bike and tells us how much he enjoys riding his very own bicycle. The bike is not modified in any way; he just removes the right pedal.
Cycling has given Dedan the opportunity to travel to many different countries. He is a competitive cyclist and has raced all over the world in both prosthetic events as well as with able bodied cyclists. He has competed in Paralympic qualifying races in Colombia and Canada. He would love to compete in the Paralympics but he needs two UCI championships to enter. Cost is an obstacle as he used to receive government assistance to help with travel expenses and entry fees, but they have since pulled the funding. He has a difficult time acquiring sponsorships and since all of the competitions are outside of Kenya it is necessary for him to travel to race.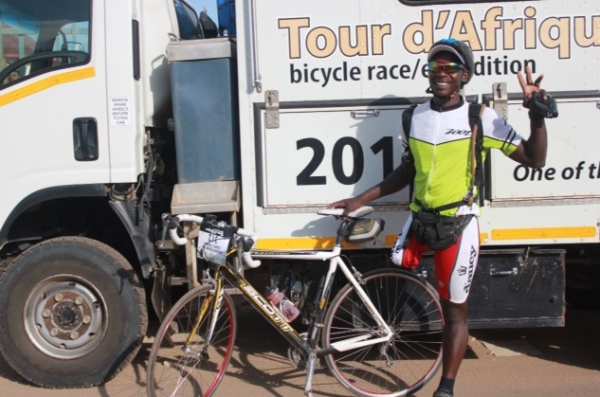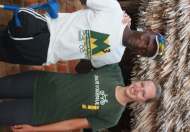 Dedan rides both road and mountain and enjoys them equally. His last race was a 60km off-road event up and around Mt. Kenya. Dedan also uses his bicycle as his main mode of transportation. He sells women's handbags (love it!) when he isn't racing and commutes to work by bicycle.
Since cycling has made such a difference in Dedan's life he wants to give others like him the same opportunity. He is now training three young adults who are also amputees how to ride bicycles and eventually become competitive cyclists. The biggest challenge is providing bicycles for them as the students are not able to afford them. He hopes to eventually create a racing category for amputee cyclists in Kenya. It's been a privilege and an inspiration riding with Dedan and we wish him all the best. I have a feeling I will see him on TV one day competing in the Paralympics…