Blog
REGISTER NOW
LOGIN
SIGN UP FOR OUR NEWSLETTER
Jambo Tanzania
We also had our third bike donation ceremony in Arusha. One of the recipient organizations had benefitted previously from the Tour d'Afrique Foundation and it was really special to hear how the bicycles had impacted their lives
Jambo Tanzania! We have arrived in our 4th country and the latest section, Masai Steppe is underway! We have 3 glorious rest days filled with safaris, mountain trekking and relaxation. We need these rest days desperately as we have 7 riding stages ahead of us. I hear dirt roads, thunderstorms and bush camps are in our future. I don't even want to think about how everyone will smell after a week of only baby wipe showers. A few riders are skipping the rough stretch and vacationing in Zanzibar. I'm tempted to join them…
Everyone is loving Tanzania and the service here in Arusha has been fantastic. Arusha is the unofficial gateway to African safaris as this is where most tourists fly into for excursions to the Serengeti, Ngorongora Crater and other Tanzanian wildlife parks. Which explains why the hospitality is top notch, but it is still incredibly appreciated and makes for a lovely rest day destination.
The border crossing into Tanzania was a breeze and I managed to buy 8 beaded Masai bracelets all before 9AM. The woman who was selling them came running back to me before I ducked into the immigration office to give me a 9th bracelet as a gift for giving her so much business. It was really nice of her but made me think that I went a little overboard on the shopping! The riding from the border was gorgeous with stunning views of Mt. Meru as we got closer to Arusha.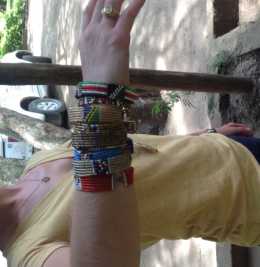 We also had our third bike donation ceremony in Arusha. One of the recipient organizations had benefitted previously from the Tour d'Afrique Foundation and it was really special to hear how the bicycles had impacted their lives. One organization that was receiving bicycles provides testing and consulting for people living with AIDS. They explained that part of the services they offer include door to door follow up appointments. They talked about how the bicycles would enable them to increase their patient follow ups as well as making the consults more efficient. We'd like to recognize and thank Erma de Boer for her fundraising efforts for this bike donation ceremony.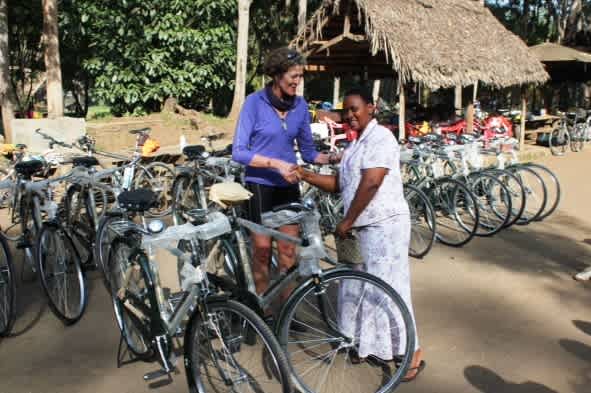 We said goodbye to our Kenyan riders Dedan, Bobby, Bob and Aaron in Arusha as well. It's always a pleasure having locals join us for riding stages in their home countries as they are a great resource and provide so much insight and perspective on the area. More to come on Dedan as he is a extremely strong rider with a very inspirational story. Stay tuned….