Blog
REGISTER NOW
LOGIN
SIGN UP FOR OUR NEWSLETTER
Zambia's Zambezi Zone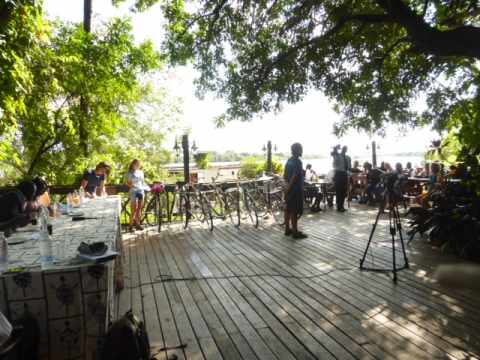 The Zambezi Zone section was full of amazing cycling and wonderful experiences. Our fourth and final bike donation ceremony of the 2014 Tour d'Afrique was held in Livingstone on the afternoon going into our rest days at Victoria Falls. 66 bicycles were donated in total – 50 from the TDA Foundation and 16 from the "Phoenix Stage". (You can read about the "Phoenix Stage" here, if you haven't already. Ina de Visser mentioned the Phoenix Stage as one of her most memorable moments of the whole tour). The ceremony was held on the banks of the Zambezi River – a beautiful setting for donating some bikes! Children from the recipient organization coordinated an entertaining skit as well as some touching poems and songs. Their presentation illustrated their dedication and passion for education and how appreciative they were for the gift of sustainable transportation.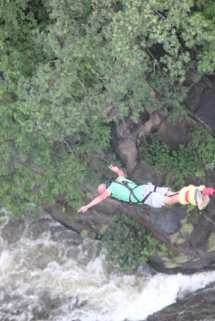 There's no better way to wrap up a section than at one of the 7 Natural Wonders of the World. We spent three blissful rest days in Victoria Falls and the riders enjoyed a variety of activities in "the adrenaline capital" of Africa. There was bungee jumping, zip lining, boat cruises, helicopter rides, lion walks and elephant back safaris. Besides all of the adventure opportunities available, many of the riders enjoyed just relaxing in Livingstone. Ross Mallinson tells me how much he enjoyed the scenery and the amenities during the 3 rest days. "The Falls, the hotel, being spoiled – it was really a treat."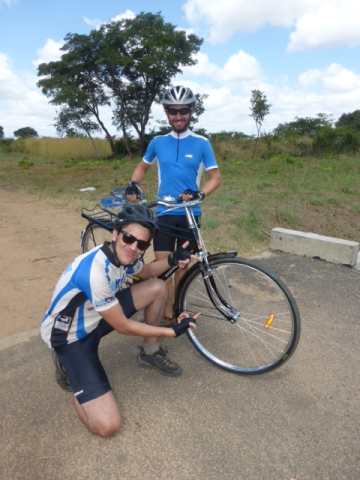 Catherine Daly said that the Zambezi Zone scenery reminded her of Canadian wilderness; in the sense that you could ride for miles and miles and only see trees and mountains. "Zambia seemed so wild, vast, and natural compared to some of the other countries."  She tells me how she doesn't really like to use the word "wild" but I think it's fitting. As in "wild and wonderful"!  As I chatted with several of the riders about their favorite moments, I heard Diederik Heisey lamenting (I'm not sure if he was talking to me or just reminiscing to himself…) about Zambia. "I miss Zambia already. I miss Livingstone. I had so much fun there. Yup, Zambia is pretty awesome." Well, there you go. Another catalogue of great African cycling memories in the books.