Blog
REGISTER NOW
LOGIN
SIGN UP FOR OUR NEWSLETTER
Cycling the Cederberg Mountains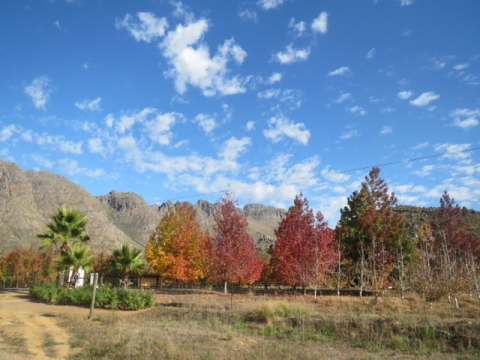 It's hard to believe that we crossed the border into South Africa a few days ago and will be riding across the finish line in under about 48 hours. This year the Tour d'Afrique scouted a new route through South Africa that would take riders through the Cederberg Mountains, citrus farms and rooibos tea plantations. What a great idea, as the route is spectacular! The roads have been mostly dirt with some pavement thrown in the mix. There have been epic climbs, crazy beautiful vistas and breathtaking sunsets. Riding past the citrus farms smelled just as you would imagine an enormous juice box would. As we came down the mountain from Citrusdal there was a distinct fall feeling. The air was crisp and cool and the leaves were shades of red, orange and yellow.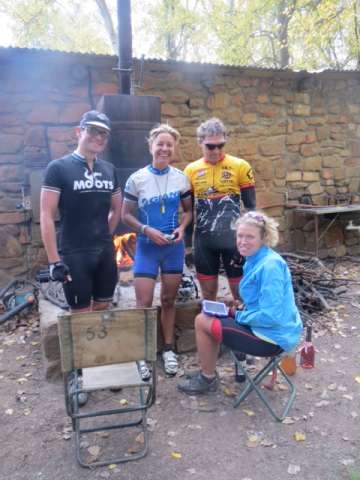 We are officially in the Cape Winelands District where you can find a great bottle of Chenin Blanc or Pinotage for about $3. Let the countdown celebration begin! After we get off our bikes, of course. Yesterday a bunch of us were offered whiskey at a coke stop (it was actually a nice restaurant but we still call anything with drinks a coke stop) by some locals and we had to politely decline based on our important sweep duty. And the fact that we still had 3000ft of climbing to do – up and over the Pakhuis Pass.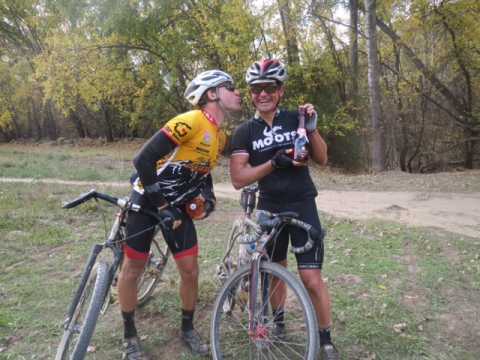 Everyone is getting super pumped for Cape Town and there's a party atmosphere throughout the group. Today was also the final day of the race and Amanda rewarded the two Dave's with champagne (well, sparkling pink moscato) and ginger beer. Our campsite tonight is at a potato farm/apple orchard and is absolutely gorgeous. The showers are heated by a "donkey" and is a different "animal" than the donkeys in Sudan that would bring barrels of water for us to use for bucket baths. Here in South Africa, a "donkey" is a wood stove for heating water. Overheard from Justin, "I'm going to feed this donkey all night!" Tonight will be a campfire night for sure as the weather is chilly and boys love fire.
See for yourself just how beautiful our new South African route is – sign up for the Diamond Coast section of the 2015 Tour d'Afrique.