Blog
REGISTER NOW
LOGIN
SIGN UP FOR OUR NEWSLETTER
Spirit Animals & The Naked Mile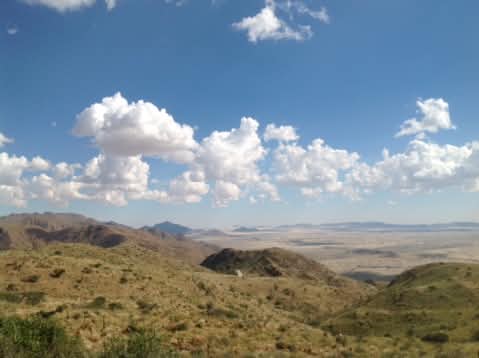 And so begins the last section of the 2014 Tour d'Afrique. As soon as the Diamond Coast section started, the landscape completely transformed. The roads changed from paved and flat  to dirt and hills. The mountains in Namibia have a completely different look than any other country and the scenery is reminiscent of the Wild West. The first two days we were at a higher elevation and we had some cold nights and early mornings. The cold didn't last long as we hit the Namib Desert and the heat arrived.
Although we have been cycling through the desolate Namib Desert, there is still quite a bit of wildlife. We have seen springbok, gemsbok and even a few giraffes. Diederik had an encounter with what is probably his "spirit animal" on the first day of the new section. As he was racing on the dirt, a gemsbok appeared in the bush next to him and continued to run alongside him, crossing the road occasionally, for about 10km. He described it as a very moving and spiritual experience.
Gillian continued her trend of creating the ultimate suffer-fest time trials and we had a 30km independent time trial in sand, loose gravel and corrugation. Once again she was on sweep during the ITT and had to ride the course as well and suffer alongside the racers. Alex took first place, followed by WolfenDave and Diederik. In the women's category the fastest time went to Ina, with Birgit in second place and Amanda in 3rd.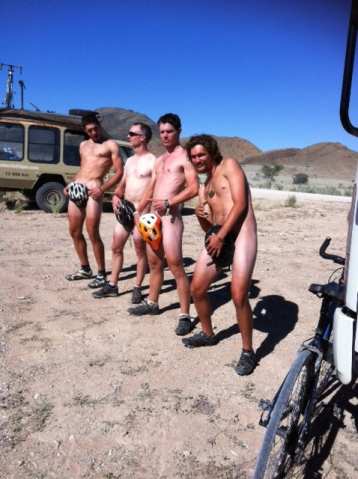 Also this week we experienced the Naked Mile. The Naked Mile is completely optional and one can participate however they choose. Ride 1 mile or the whole day – totally up to the rider. A group of the guys got together at lunch, stripped down and did a photo shoot with strategically placed helmets before hopping on their bikes and riding a few kilometers in the nude. The ladies choreographed a more involved plan. They spelled out TDA 2014 on their backs in pink tape and rode their mile right past lunch causing quite a spectacle. Gotta spice things up in the desert!
See more Naked Mile pics here.
Get naked in 2015. Sign up for the next Tour d'Afrique.