Blog
REGISTER NOW
LOGIN
SIGN UP FOR OUR NEWSLETTER
Rain, wind & mud on the #SR2014
an older Chinese man with keys in hand, was ready to let us through for a 20 Yuan fee
We had been slipping and sliding along muddy tracks that followed right next to the Great Wall. Now and then we would veer off and follow a path 'through the green fence' (according to our notes) and some mean-looking, cyclist-eating dogs. This was the G312.. which is the route our cyclists' tires and our Mercedes Sprinter support vehicles have followed the last several days and will continue to do so for many days to come. But the G312 on this particular day was in near complete disrepair.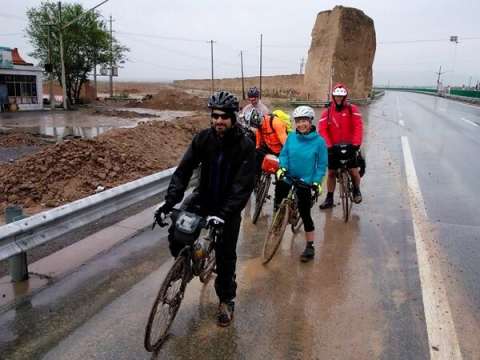 We had to stop to assess the drivability of the next giant dip in the road – slick from a full night of rain. I thought I could surely make it down, but I wasn't so sure I could get it back up if the route ahead were impassable. Just then, Col from Australia pulled up alongside me. My speed since leaving camp on these roads hadn't been enough to stay ahead of the riders. I stopped Col and his riding companions. We decided that the riders would hop on the highway as we couldn't make it much further in the rain on these muddy roads in our vehicles in order to flag the route.
At a break in the Great Wall just a few hundred metres back, there was a walking path that the riders could use to access the highway. On closer inspection, we found that there might be a way to sneak our vehicles onto the highway as well. A pair of guard rails had been pad locked together. This was the only thing separating us and the highway.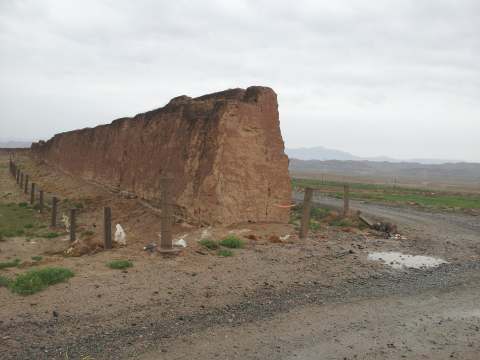 There we stood looking at this 40 cm high 'wall' running along the same line as the great wall.. and we, like the Genghis Khan and the Mongels many centuries ago, were planning how to overcome this obstacle. Riders were streaming passed us now – out onto the smooth highway and its neatly painted lines. They would surely get well ahead of us very quickly and I worried they wouldn't find their way if I didn't get ahead of them soon.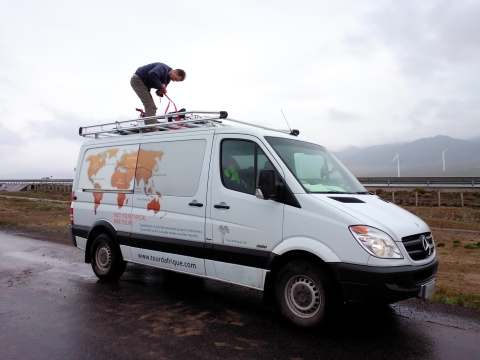 Just then I got a call from Yanez that our other truck, having left camp a different way had gotten stuck in their own muddy hole. They too would be delayed. Being a creative person, I searched our truck for a hammer to smash the padlock. But before long our local translator and friend Zabi called me over. Next to him an older Chinese man with keys in hand, was ready to let us through for a 20 Yuan fee. This man's house – sitting where the Great Wall once stood – took advantage of an opportunity for the desparate like us and became a gate keeper of sorts.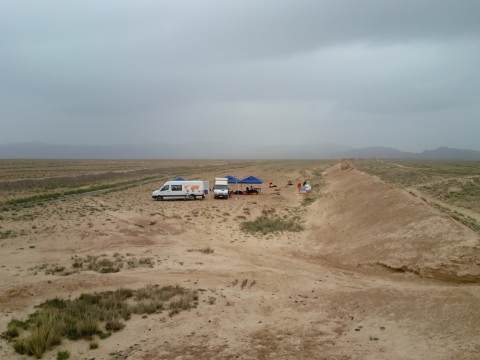 We got on the highway, whizzing passed riders at 100 km/h. I felt like the day was coming back under control. Yanez, in our other truck now reported being free of his quicksand trap, and I soon exited the highway ready to return to our originally planned route where the road surface was distinctly better. At the highway exit gate, I played dumb when the attendant showed me the expressway entry ticket I would have received if I had entered the highway properly.
She wasn't having any of it. We were backing up traffic. In fact, she had all the vehicles back out of our lane, and had us park alongside to give her time to call her manager and decide what to do with this colourful van, with Canadian license plates, that seems to have appeared on the highway from nowhere. It took another 15 minutes for her to decide to let us through. By that time several of the riders had caught and surpassed us again.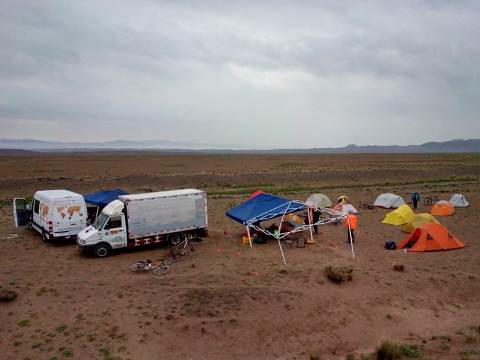 But we got through and sprinted ahead – once again catching and overtaking our speediest of cyclists. We hurriedly set up for lunch – tuna was still being mixed and watermelon still being chopped as the first riders arrived. It was a cool morning, and it was still drizzling. The roads were still wet and the mud that had spit up from their bikes from the morning covered their faces in layer of grim. But they all had smiles – at least the ones who weren't busy swallowing their sandwiches.
So this had only been my 3rd cycling day with this group of riders and it certainly felt like one of those days – where nothing goes just quite how you imagined it would have at the start. At the same time, the mild chaos and need to make quick alternate plans is a big part of what we do. This group of cyclists get it and appreciated all our efforts to keep them moving along the Silk Route – one way or another.
Join in on the fun – Karakum Crossing, Magic Carpet Ride, Garden of Eden & Hills of Anatolia sectional spaces still available!