Blog
REGISTER NOW
LOGIN
SIGN UP FOR OUR NEWSLETTER
Schwalbes and Brooks #SR2104
There are many decisions to be made before crossing the largest continent on Earth from east to west by bicycle. And it seems that in most cases riders will always have their own opinion, be it wheel size, lycra cycling tops versus baggy t shirts, or dropped bars versus mountain bike handlebars.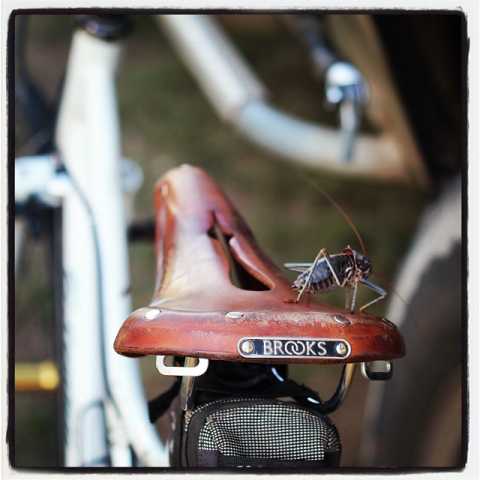 When admiring all the riders' bikes while gathered at the start of the day, it seems that some decisions are less dividing than those above. It would appear that something close to half of the group are riding with dark leather saddles made in England; the Brooks of course! This collection of riders with their famously comfortable world-touring saddles can provide a lot of interesting discussion, as talking to each rider about their Brooks seems to suggest that it is a not an exact science!
First of all, it took our only really wet day so far (Stage 6) for some of the Brooks 'newbies' to learn from the more experienced Brooks riders that their precious saddles aren't exactly waterproof! Although getting a leather saddle wet can easily ruin it, Daniel, whose saddle was still rock hard after several hundred kilometres, was quite pleased with the new shape his saddle took on having been softened by the rain.
Then there is the eternal struggle to find someone who has Proofide (the wax used to treat the saddles), or in the case of a rare few, the eternal fight to hide your stash of Proofide and to not let the other riders know that you possess some!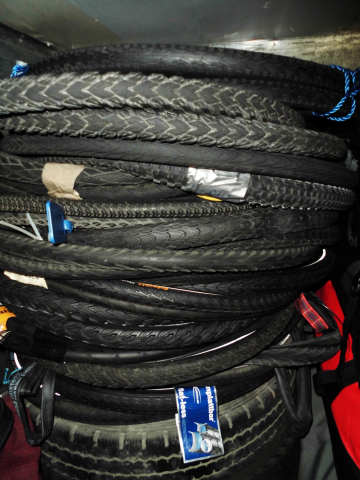 The only bike product that you'll see more often than a Brooks saddle on this tour is, of course, the Schwalbe Marathon Plus tyre. Given that I once rode one of these tyres all the way from Istanbul to India via Tibet (14,000km), it is fair to say that there are easily enough pairs of Marathon Plus tyres in the back of the luggage van for one person to complete every single stage of the 7 Epics and still have one or two spares left at the end!
We have already had a lot of 'fun' trying to refit these infamously tough tyres after punctures, trying to live by the golden rule of never using a tyre lever to put a tyre on (only to take it off). Hint: when you've got as much of the tyre on as possible squeeze the tyre on the opposite side so that it sits deeper in the rim, then pull it around by pulling it against the spokes. Rinse and repeat!