Blog
REGISTER NOW
LOGIN
SIGN UP FOR OUR NEWSLETTER
The Trans-Europa Cycling Expedition begins
The first day of the Trans Europa Tour is complete!  A later than usual departure from our hotel in St. Petersburg due to the day's short distance was welcomed by everyone and it was a under blue skies and warm temperatures that the Tour began.
Tour leader Gergo led the cyclists along a route that incorporated many side-lanes, sidewalks and bike paths to find the safest way to Peterhof.  Everyone also had the opportunity to take some group photo shots in front of the Hermitage before departing from the center of St. Petersburg.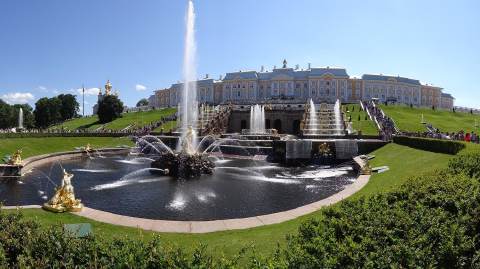 Now that it is the afternoon here in Peterhof most of the cyclists have headed over to the Palace nearby which Peter the Great had built in the early 1700's.  It's referred to as the "Russian Versailles" and it is not hard to see why as it's massive grounds were built to impress.
All around a fairly relaxing day, tomorrow brings a longer journey to Kingisepp and then it will be onwards to Estonia after that.  Looking forward to our first camp on the Baltic Sea and to a continuation of these endless daylight hours.