Blog
REGISTER NOW
LOGIN
SIGN UP FOR OUR NEWSLETTER
Ilkka Nykanen
It was late July last year in Fort St John, British Columbia when a quiet Finnish gentleman with a lively smile introduced himself to me: I am Ilkka Nykanen from Finland.
I came to see that smile often, just about every time I and Ilkka crossed paths for the next six weeks, while I was with our cycling tour that started in Alaska and finished in Mexico City.  I say  – we crossed paths – because Ilkka was a very strong rider and on the days I cycled, I would only see him at breakfast and then at dinner time. He rode hard and strong, mostly by himself, ahead of the pack, fighting the elements when they were there to be fought and enjoying every bit of it. Riding long distances on a bike, in strange lands and different conditions, was his passion. Tragically, it was on one such day, in the middle of the Taklimakan desert in western China, where there was hardly a car on the road, that a lone family sedan would come by, blow a tire, lose control, … and take Ilkka's smile away forever.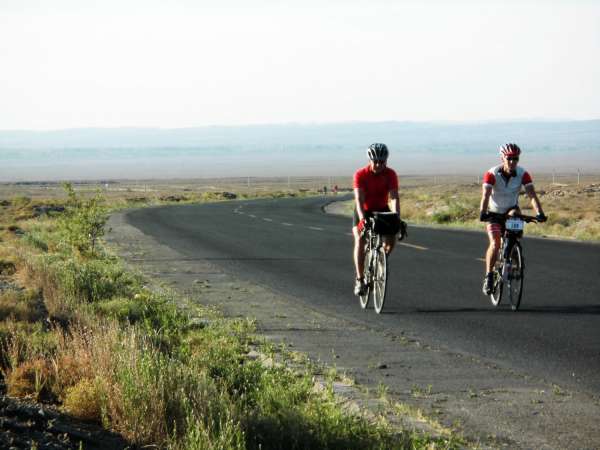 Silk Route riding buddies Ilkka & Kevin
I am sure that this is not the way Ilkka imagined his life would end. In a recent email his sister related that his elderly father would worry about Ilkka flying off to distant continents so he could cycle them and Ilkka would say: "… do not worry, even a terrorist needs a good dentist."
Yet while most families and friends, when we depart for our cycling expeditions, worry about terrorists, wild animals or food poisoning, each and every cyclist, deep in their heart, knows that it is the powerful machines that pass us on the way to work or on the short ride to the local supermarket that are the culprits most likely to devastate our lives and the lives of our families and friends.
An accident it may be but it is accidents such as these that happen way too often on roads all over the world. No cyclist or pedestrian is immune. And afterwards, all the rest of us can do, is to deal with it the best way we can.
Here is one such approach, a note from the Tour Leader Shanny Hill who was on the trip when Ilkka was killed:
"Ilkka was soft spoken, but the void he has left at the centre of our group is real, and I know I will be thinking often of him and his family. I am not sure humans are well equipped to deal with death. Especially in an incident like this that's so sudden and unexpected. In some ways, everything remains normal, and the tour carries on, yet there is this void. This piece of us that was removed without our permission and with no warning. Thank you for sharing this time with us Ilkka."
On behalf all of us at Tour d'Afrique and on behalf of all of those who had the opportunity to share in Ilkka's life, I can only echo Shanny's comments: thank you Ilkka, thank you for sharing your time with us.