Blog
REGISTER NOW
LOGIN
SIGN UP FOR OUR NEWSLETTER
Rider Profile: Yolande Field, 61, Inverlock near Melbourne, Australia
Jude: So Yol, what made you choose the Silk Route?
YOL: Oh, I've told you that before! I just follow Col (Yolande's husband)! Whatever Col suggests; "oh alright then, I'll go!" Except for South America, that was my idea! Asia –"do we have to"?!
When did you realise you were passionate about cycling?
When I retired because it filled a gap. Also, prior to that, bikes had been my job; not a hobby!
Tell us about your bike.
My bike is little, heavy, strong, reliable and gets knocked around a lot. I do care for it, but somehow it just gets knocked around on these trips!
What have you done to make it yours?
Um, I've got little charms on it that the witch doctors gave me in South America. And it's modified with a very high stem. It has a hand crafted hanger to get me to Istanbul; it's filed down to fit.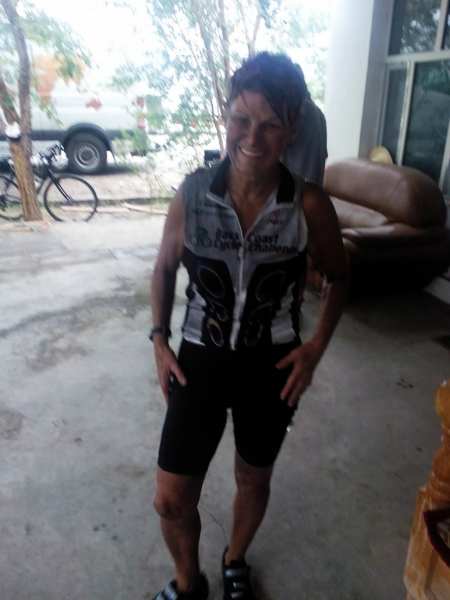 How has the Silk Route varied from your expectations so far?
I don't think it has. I think the information that was on the website gave me a good understanding of what to expect. And I think having done another long trip certainly helps.
If this was a race, where would you say you would finish in the pack?
In the middle!
Which aspect of this tour do you only really realise once you're on it?
How comfortable you become with the routine and the expectation of that routine staying the same every day. You wake up, have a morning briefing, and if you don't have that morning briefing, well your whole day is changed! You notice small changes!
Finally, what would you tell people who are considering the Silk Route in 2016?
Probably that the roads are long in the desert, the desert camps are tough and relentless. They seem to go on for a long time. Because you leave the Chinese desert and then before you know it you're back in the desert in Turkmenistan.
Thanks for your time, Yol.
No worries!