Blog
REGISTER NOW
LOGIN
SIGN UP FOR OUR NEWSLETTER
First half of the Trans-Oceania bike expedition is over.
"It has been a privilege to be part of the Trans Oceania bicycle tour through Indonesia." – Chris Wille
So what is the best way to finish a two month cycle across six Indonesian islands?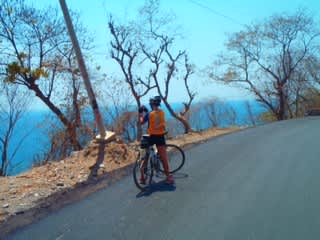 We started this Indonesian adventure with a great ride. We continued almost each day with a great ride and something would be amiss if we did not finish it off with a great ride. And the final day did not disappoint. In fact, the 24kms to the border of East Timor at times felt as if it would be an appropriate conclusion to the sights and routes of the previous weeks. There were some small undulating hills; there was one decent climb; there were one or two tough gradients; there was a good road and some sections of rough road; there were villages to pass through; there were locals continuously greeting us and kids yelling 'Hello Mister'.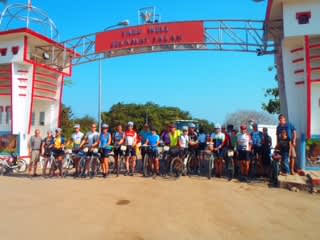 Once we passed through the compulsory bureaucratic border checkpoint into Timor L'Este, one of the world's newest countries, there were  physical changes similar to those that we had experienced as we cycled from one island to the next. Now, however they were ocurring on the same island, one that contained Indonesian West Timor and Timor L' Este. The latter, formerly a Portuguese colony, was now the poorest country in South East Asia. And the poverty was immediately noticeable.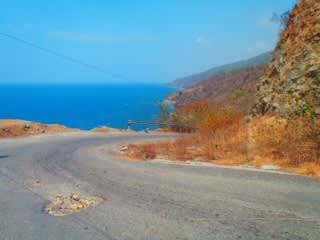 Soon we were on a coastal road that would lead us to Dili, the capital. What a ride! Up and down on sections of a great new road, occassionally interrupted by stretches under construction. Swirling dust enveloped the riders as the intensity of the ocean winds changed from corner to corner. It may have the dust or the heat or perhaps the colour of the ocean or the isolated empty sandy beaches or the knowledge that our adventure on the Indonesian islands was coming to an end, but just about every rider dismounted and went for a luxurious swim before we hit lunch.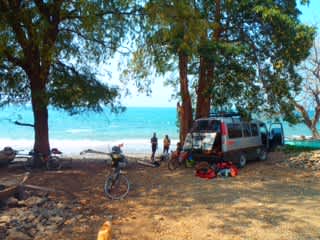 As the afternoon progressed tired, dirty, sweaty but smiling riders began to arrive in the hotel grounds in Dili to begin the process of cleaning the bikes and packaging them up for the flight to Darwin where, in three days time, the adventure will continue – crossing the Australian Outback.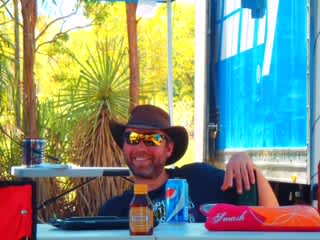 Indonesia – with your delightful soul and beauty – thank you! We had a wonderful time. We had lots of adventures. We have many good memories and the pictures to prove it. Some of us were challenged as we had never been before in our lives. Some of us were just delighted with your open hearts and warmth. Many of us will surely be back in the future and some of us will just smile when they think of Indonesia. But all of us – riders and staff – have been touched by you. And we are all better for it.