Blog
REGISTER NOW
LOGIN
SIGN UP FOR OUR NEWSLETTER
Hello from down under!
We are half way through the tour, and just a few days ago we flew from the country of East Timor (we stayed only a day there) to Darwin, Northern Territory. With a hearty "G'day" from the flight attendants and cheeseburger dinner served on board our tiny plane, we entered into a new world.  It's weird being back in a 1st world country. There are parking lots here, people speak english, there are traffic lights and traffic laws, fast moving cars, and white people– a lot of white people! During our rest days before starting the trip, I spent a lot of time walking around Darwin alone shopping for camping gear I'd forgotten to bring for the staggering 60 days or so of camping that lay ahead of us. Shockingly, as I walked the burning streets of Darwin, no one paid me any attention. No one hollered at me for being white or a foreigner. After being followed for about two months by the constant soundtrack of "Hello Mister" or "Bule!" or "What is your name", it feels strange to have such peace in public.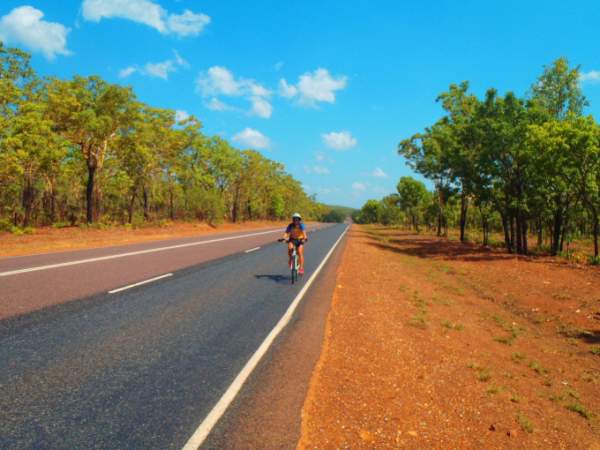 So far, Australia has been the opposite experience of Indonesia. The group has almost doubled in size– most importantly including 2 new chefs on staff who seem to arouse tears of joy every time meals are served. We are camping instead of staying in hotels, and now as we cycle through the barren Australian Outback (or as we move closer to the barren Australian Outback… apparently we have yet to see how "barren" it can get) we are completely alone. Indonesia was a vivid picture of fertile plants and jungle, had unpredictable and mostly poor road conditions, and every corner was occupied by a village of people (great because you never had to worry about finding a drink… not so great if you were trying to find somewhere to pee).
Australia on the other hand is dry and desolate, with only low bush lining the roads and a few trees which will soon be gone as we ride deeper into the desert; the roads are great and very much unlike Indonesia its FLAT (**all the riders from Indonesia cry tears of joy**); and back to the key word desolate, there are no people and unfortunately no coke stops on the road (except for the unlikely few). The only evidence of human life on the highway are signs that frequently advise drivers (and therefore slightly scare me) to be cautious of the dangers of the lonely outback roads, and the infrequent passing by of road trains– these HUGE trucks that extend for several caravans carrying goods to the far away cities of Australia. Although they have been very good with the riders, the flatter-than-flat flattened roadkill of kangaroos and wallabies that seems to line the highway all the way through the Outback, reminds us of the power of these vehicles (which are flying by at 130 km/hr), and causes me to have a mini-heart attack every time one passes me by.

Although the crazy climbing (or any climbing for a while) is finished, Australia presents its own challenges with intense heat and camping. The humidity is gone here, however, the sun is a lot stronger. This is going to be the main challenge of Australia, since we are delving into a close consistent 40 degree C weather (aka 110 degrees F or more) everyday, and have to become completely self-sufficient on the 60-80 km before lunch and then until the camp site. Here, its hard to find (and will only get hotter as we lose all trees) anyplace shady to rest. Unlike Indonesia, we wont be able to get a re-fill at a coke stop, and if you decide you're done riding for the day, its harder to hitch a ride from a local since the roads are very quiet. And, of course, we are camping the whole way through.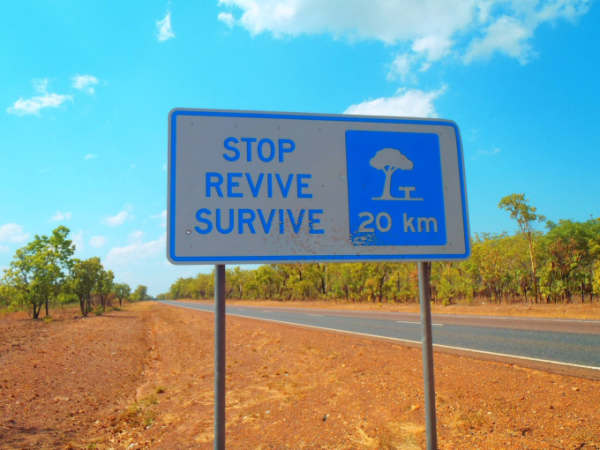 Personally, I have been struggling a lot with the heat. I use more water than most, so on these steaming roads I find myself with the challenge of carrying enough of water. Similarly, I've been having trouble cooling down after these long days in the sun. Here it becomes 39 degrees at 10 am and stays that way until sun down, this means that the ground and everywhere stays quite hot even through the night, so even if you wait until the sun starts to go down to set up your tent, it still feels like your trying to fall asleep in a sauna. Despite this challenge, I am really enjoying the camping. Although some of the riders disagree, I think its a nice change from hotels and adds a fun element of adventure of sleeping in the notorious nature of the Outback. The only real issue is if the campsite is so small you have to listen to the snores of other riders, or if, like the other night when we stayed at a campsite with a pet peacock, you get woken up by strange animal noises throughout the night.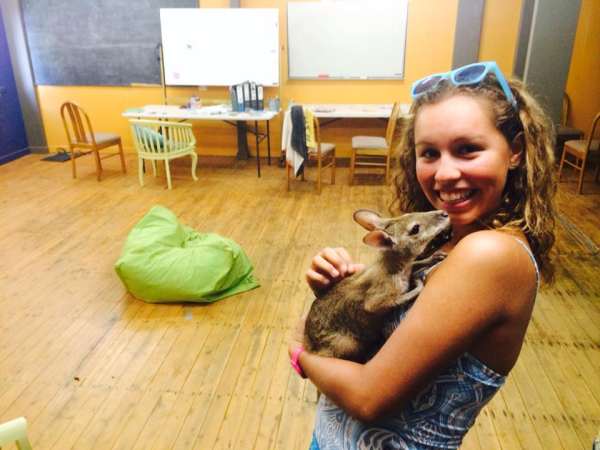 Speaking of animals, although it's quite a barren landscape it is not without wildlife! So far on the road and at our campsites I've seen all kinds of birds and wallabies– sort of like mini-kangaroos. Similarly, the other day Henry made me move my tent since I was too close to the river… home to a 5-meter crocodile.