Blog
REGISTER NOW
LOGIN
SIGN UP FOR OUR NEWSLETTER
Mount Bromo adventure
Yesterday, I walked my bike eight kilometers, others walked even further. Sounds like the makings of an unpopular stage, but yesterday, was the complete opposite. As a staff member, I'm now used to "winning" some, and "losing" others. Yesterday, when I realized I'd be sweeping a walking tour, I got ready for a long, hot afternoon. What we saw along the way though, made for perhaps one of the best "rides" of my life.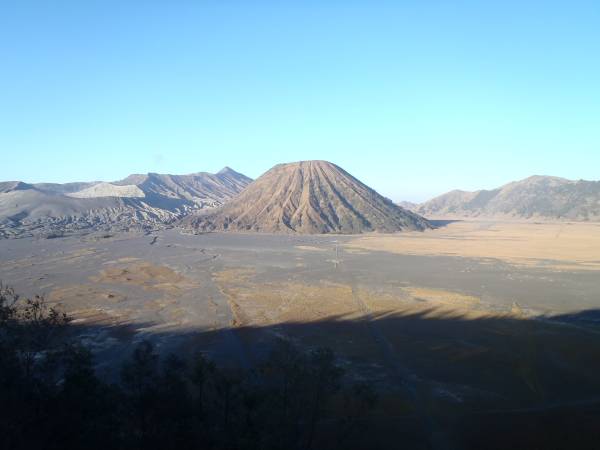 I was accompanied by Joachim, a rider I've admired for his speed, but more so for his "extratour" activities. So far, I was lucky enough to tag along while he photographed his way through a wedding party in Sumatra, and almost daily, heard his accounts of a days adventures. Most recently, leaving his riding gear behind, while he joined a group rappeling from a bridge.
Long story, short, Jo knows when to take his time and this was one of those days.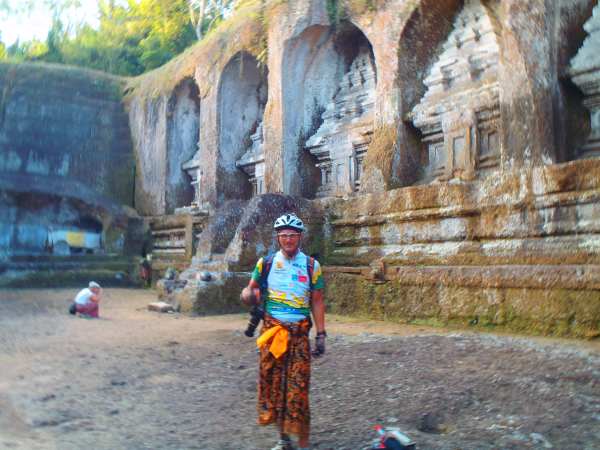 Our deviation from the route started at the top of the climb, where we decided to add 25 meters by climbing a ladder to the top of a rusty observation tower. The views were amazing, and in one corner of the panorama, I could just see the desert creeping it's way over the grasslands. That's where we were headed!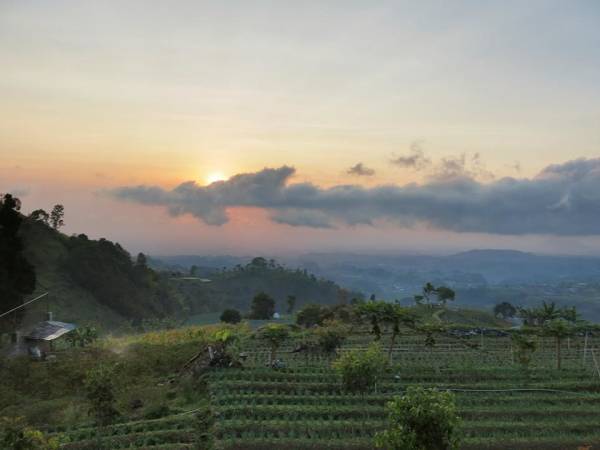 The start of our descent, showed us a bit of what we had in store further along. The sand was the finest I've ever encountered, and watching my wheel disappear beneath it, was just like skiing in deep powder. As we moved closer to the desert floor, the grade became more gradual, and a cobblestone like surface appeared, then disappeared just as quickly. While I was mostly concerned with keeping my wheels under me, Jo had his GoPro on a telescoping arm, which allowed him to get some great riding footage, but was costing him a hand for control. Once we hit the desert track, both hands, and all your strength was needed just to keep some forward momentum, as the heavier sand, sapped your energy. Fishtails, often lead to your bike stopped perpedicularly to your original direction of travel. Soon we were walking, and even I, a casual photographer, was shooting photos near constantly. Evidence in the sand showed us that we weren't alone in walking, as the distinct SPD tread patterns riddled the sandscape.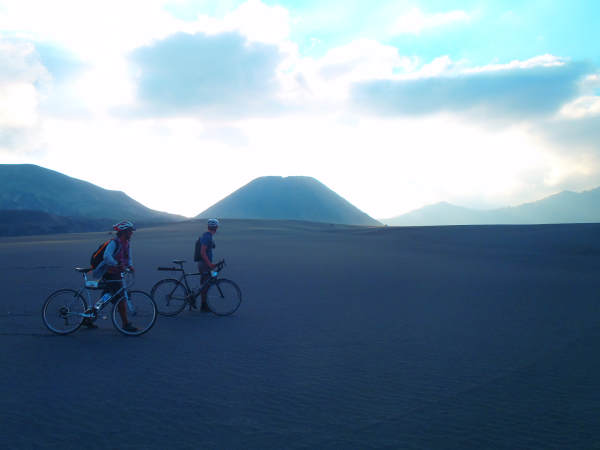 Being last on the road has it's advantages, the sun was low, and boosted the colours of the sand, grass, and Bromo looming in the distance. With no place for flagging, and the track replaced with wide desert, we soon found the Tour Leader, and man responsible for the latest crazy route, Cristiano. He had been standing by in the sand for hours to inform the group of the general direction to take, which would later connect us with a paved road for the last kilometer into the village of Bromo.
Despite moving slower through the sand than at any other time on tour, our spirits were as high as I can recall, and the scenery most memorable so far. The next day, despite everyones near exaustion, half of the group were up at 03:00 to see the sunrise over Mt. Bromo, one of the worlds most active volcanoes. For me, their enthusiasm speaks more for the beauty of this place, than any Lonely Planet excerpt, or Google image search. To really experience it though, perhaps the best place is nearly alone, in the desert, and pushing your bike!