Blog
REGISTER NOW
LOGIN
SIGN UP FOR OUR NEWSLETTER
Winds in Australia
 This is Henry's latest report from the Trans-Oceania bicycle expedition. Click here to read his previous post from Australia.
---
"Wind – air in natural motion, as that moving horizontally at any velocity along the earth's surface."
---
Scene: yesterday afternoon, a coke stop with 20km to go, and strong head winds all day.
Four riders enter a coffee shop for some badly needed refreshments. Outside: Two riders at a picnic table.
Henry walks out from the coffee shop: "Where is Fred?"
Rae: "Went looking for some tailwinds."
"Just strong perpetual wind for five days in your face."
Yes, the subject of today's blog is wind. Not breeze, or gale, storm, hurricane, or typhoon and definitely not a Zephyr – characterized by its soft mild quality – just strong perpetual wind for five days in your face.
Anyone visiting Australia can tell you that weather is possibly the most important issue discussed in this vast country also known as a continent. Over the last few years Australia has been experiencing bushfires, high temperatures, floods, drought and now we can add winds to the mixture. At least that is what we have been told by some locals – that these winds are definitely not the norm, and certainly not for this time of the year.
Still, even daily winds in our faces did not deter the cyclists from putting on their spandex shorts every morning and riding from one lovely spot to the next. Leaving Adelaide, our first stop was Albert Lake.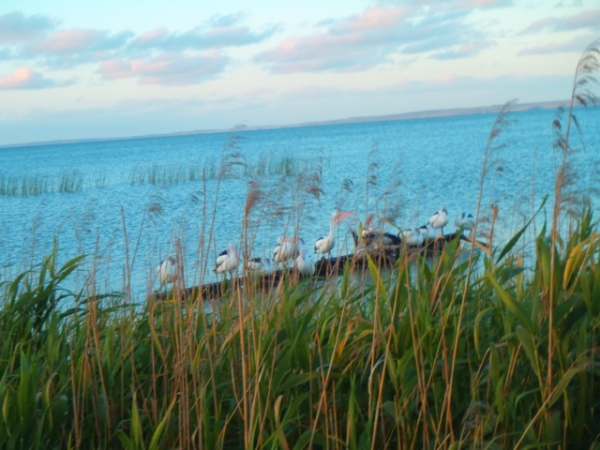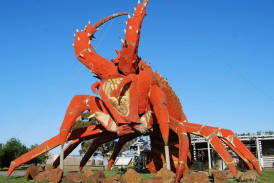 Our campsite was on the lake, with a dozen species of birds performing as if we were filming a special for National Geographic. Next was Kingston, which awaited us with a monster lobster at the entrance of the city indicating the local delicacy.
After that came Beachport – another beautiful spot on the ocean, and the Caravan Park right on the beach. Too bad most of us were swept away from there by the strong gusts.
Then came a little place called Nelson, where a visiting Kangaroo was seen checking out tired riders.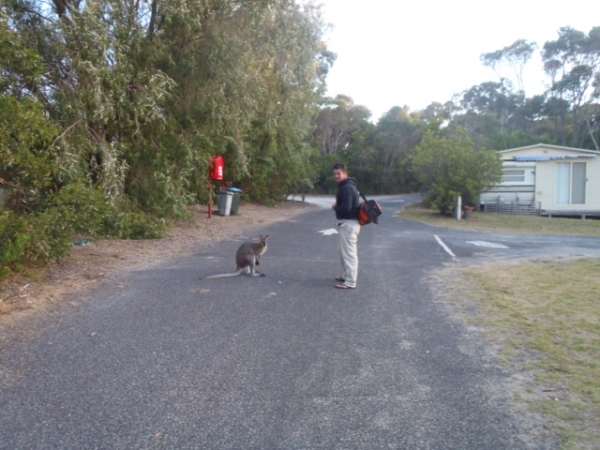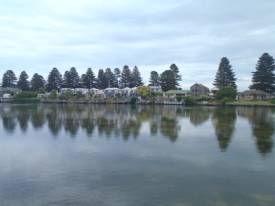 And then yesterday, our ride ended in Port Fairy, a lovely town just perfect for a rest day and for me to think about wind in a slightly more positive way. After all, it was wind power that brought adventurers to this shore for the 1st time in the early 17th century, it was windmills that provided farmers with the energy to be able to settle the land, it is winds that shape landforms which we so much like to admire, and it is wind that will without any doubt shape our perceptions of Australia on this first Trans-Oceania bicycle tour.
And now that I am enjoying my second cappuccino while writing this, the wind has stopped, the sun is shining and the weather for tomorrow's ride is, lo and behold, winds at our back. Bring it on Australia.