Blog
REGISTER NOW
LOGIN
SIGN UP FOR OUR NEWSLETTER
A Stage for the Ages
So far, every stage in Colombia has been worth writing home about. But yesterday, well, that was one that defines the entire country – beautiful scenery, incredibly kind people, and the type of cycling that sane people want nothing to do with.
As Adrian and I left the hotel first thing in the morning to flag the route, we knew it was going to be a complicated day as it had been raining steadily since about 2:30am. As the sun rose above the surrounding wetlands, we were hopeful that the tour's first time trial would be challenging and exciting but also cautious since the entire region sits just barely above a lowland swamp.
After turning off the highway to begin the off road section (63km in total), we were pleasantly surprised to see hard-packed gravel and even dry patches scattered throughout the road. We called Cristiano, "Hey Cris, tell the riders it looks good!" After a breezy 10km down the road, we were stopped in our tracks. Literally. Thick, heavy mud caked every inch of our bikes and even pushing them was nearly impossible since the wheels wouldn't turn.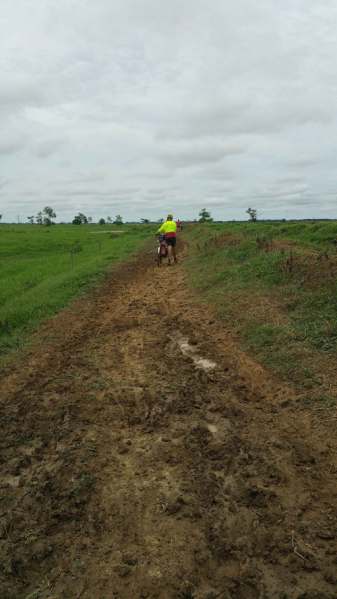 By the time we started rolling into the lunch stop, we had slogged our way through what has to be some of the sloppiest terrain ever featured on a TDA tour. Twenty meters after scooping handfuls of mud off the frame, we were forced to stop and do it all over again. The bikes were covered in paralyzing clay, especially those with little tire clearance. Derailleurs and chains creaked, wondering why fate had attached them to these particular bikes on this particular day. "Wow, this is complete and total carnage." said Jason from Kansas upon analyzing the state of his bike. "But I love it."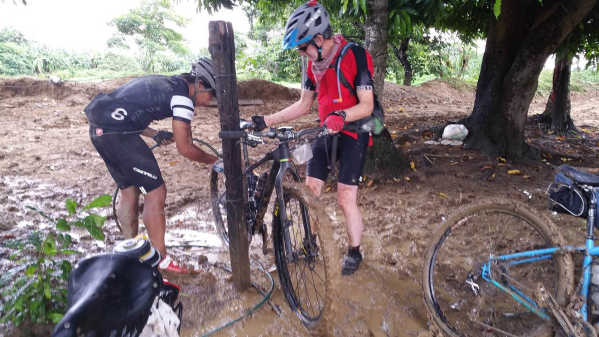 Struggle, however, transformed into the unique type of joy only experienced by riding into a tiny riverside community and being greeted by some of the friendliest people on the planet. The fatigue in our legs seemed to disappear as the locals (gladly) washed our bikes in the river and cheered us on to the canoe waiting to carry us across. I'd be surprised if it isn't a highlight for the entire trip as it had all the necessary ingredients of a memorable stage: leg-busting terrain, beautiful natural scenery, and lovely support from lovely local people.