Blog
REGISTER NOW
LOGIN
SIGN UP FOR OUR NEWSLETTER
Saving Hot Spots
If you care about the state of the planet, which I assume is a given for most cyclists, the news is not good. A couple of weeks ago a story circulated the media with headlines such as "It's official: scientists say we're entering Earth's sixth mass extinction". Popular Science had a subheading "Species loss rate is 100 times greater than the expected rate". Twenty years ago, after I had finished producing a documentary film about development in Africa, I became fascinated with what was then a new concept called Biodiversity Hotspots. These were areas covering about 2.5% of the planet which contain an extraordinary high biodiversity of plant and animal life. Now that diversity is threatened by human activities.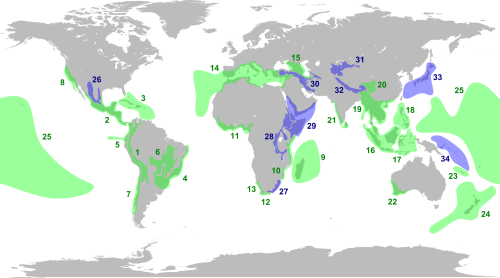 The concept is that if these areas could be protected, nearly 60% of the world's plant, bird, mammal, reptile and amphibian species, with a very high share of endemic species, could be saved. Think of it as a 'triage' for nature. I thought that I could do something about this, that the concept needed public awareness and decided to try to produce a series of documentaries about these Hot Spots. I researched the subject thoroughly, put together a proposal, knocked on doors and eventually gave up. Biodiversity Hot Spots were simply not 'hot' enough for the broadcasters.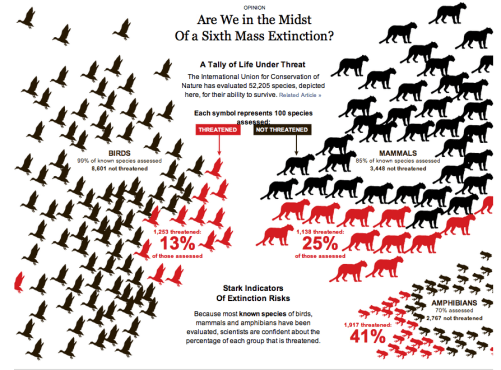 During this period I met a young fellow by the name Uri, who was working on his PhD in biology, and through a mutual interest in the environment we become friends and collaborators. Eventually he became a professor of biology and I went on to create Tour d'Afrique. Just a couple of weeks before the 6th extinction headlines, Uri sent me an email. "I need your help. I have this great idea for saving the Hot Spots". We chatted, exchanged emails and a couple of weeks ago Uri went live on Indiegogo with his idea for how to save the Hot Spots. He calls it TIME – "This-is-my-earth.org" a worldwide internet based crowdfunding organization for purchasing biodiversity hotspots lands.
"We are a group of environmentalists, scientists and leaders, from various countries and continents around the world. We have spent our lives working to protect nature and the environment on the planet. We are deeply concerned by the inability of existing actions and organizations to halt the sharp decline in global biodiversity. Our goal is to significantly broaden international participation in protecting lands located in the most precious biodiversity hot spots on earth."
Uri is trying to raise "$25,000 (USD) "to build the website and infrastructure and to pay the salary of a web manager to maintain, build and promote the site during its first year of operation." "We will enable every person on this planet to personally participate in conservation action by purchasing land in biodiversity hot spots."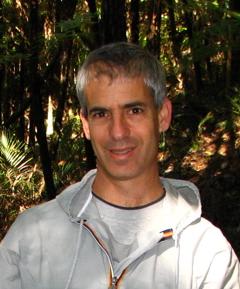 I have known Dr. Uri Shanas for 20 years now. He is a talented scientist who discovered a new species of spiders; he has been recognized by Discovery magazine for innovative scientific discoveries; he is dedicated to his work and ideals; he is selfless; and a great human being. Check out his campaign and, if you can, make a donation and spread the word. I think that what he and his colleagues are trying to do is definitely worth investing in. I did!