Blog
REGISTER NOW
LOGIN
SIGN UP FOR OUR NEWSLETTER
From Sea to Sea
Jacob reports from the North American Epic bicycle tour:
Canada is the second largest country in the world, and much of it consists of wilderness. 'From sea to sea', as the national motto goes, Canada is so vast that the eastern most point of Newfoundland on the Atlantic coast is closer to Croatia in Europe, than it is to Vancouver on its own Pacific coast. With this in mind, I wanted to find out what it is like to be a citizen of such a large country. Luckily this year's tour features many riders from across Canada, but I am most curious what the eastern Canadians think of this distant north westerly region of their country.
A trio of full tour riders from Montreal, Francine, Marie, and Karine spoke excitedly about this area of their homeland. 'If it wasn't for my family I would live here' exclaimed Francine, after a particularly beautiful descent through British Columbia. Family is indeed a long way from here, Quebec being five and a half hours by plane, and many days by car. Marie, looking across the beautiful Summit Lake towards the mountains said – 'if there was anywhere else I would live in Canada, this would be it!' Their enthusiasm may have been swayed by the beautiful weather and ferocious tailwind that brightened up their ride. However, it would be hard to argue against the beauty and wonder of this part of the world.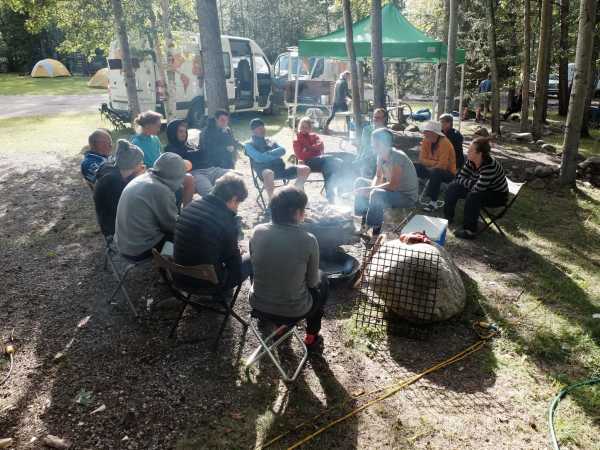 'It feels familiar, but I have never been this far north', said mechanic, Liam, originally from Ottawa but now living in New Zealand. 'It's exciting to be in places I have always read about', he added, and that he is 'finally getting to explore the far corners of my back yard'. Isabelle, from rural Quebec, described it as 'like a different country, it's like being in the U.S'. Many of the people we encounter are Americans heading to Alaska, so there is an odd American influence to the region. 'We don't have mountains in Quebec', she added, emphasizing how 'spacious and huge' this area is by comparison. Similarly, Torontonian, Chris, said this region has 'lots of emptiness', which is 'great if you're doing something', but he said it would be a big adjustment to actually live out here. 'It doesn't feel like we are in Canada', I remember Shanny, from the Toronto head office saying just across the border from Alaska. We discussed how it didn't feel as if we were in any particular country, and instead an endless wilderness, briefly punctuated by small towns and gas stations.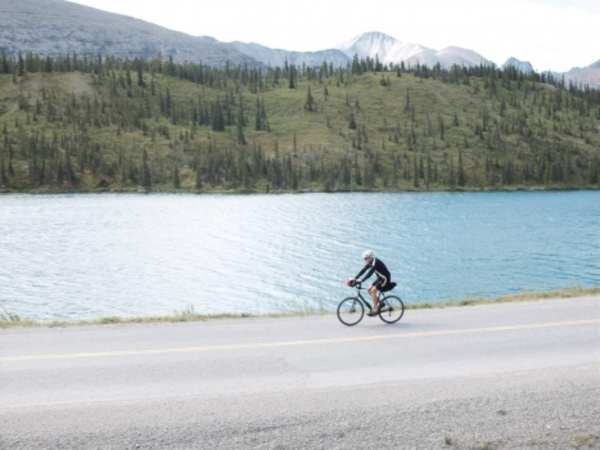 This notion was a continuing theme this week as riders embarked on another remote stretch from the beautiful Muncho Lake in the northern Rocky Mountains. Tired cyclists enjoyed a leisurely double bill of 60 and 70 kms, which many considered as 'mini-rest days'. A beaver dam at Toad River offered some wildlife spotting opportunities to pass the long afternoon. However, this week has slowly escalated in difficulty on the road. With the penultimate stage covering over 1000 meters in climbing, and the final stage a beastly 160 kms across rolling terrain.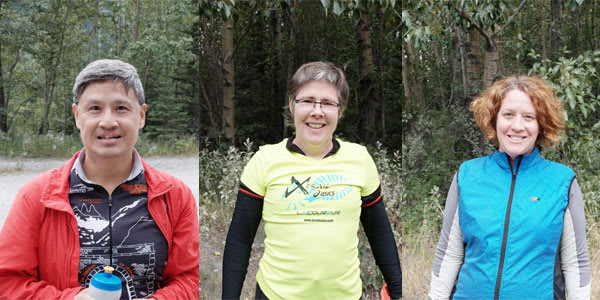 In Fort St John we sadly say farewell to Clement, Isabelle and Rana, as we begin the 'Icefields' section towards the resort town of Banff. As the Alaska Highway rolls to a close, a passage from J Hamilton Clarke's poem called 'The Great Alcan Highway' summarises the distance we have covered so far: 'So come drive the great highway, give thanks for those by days. Don't complain, till it's explained how the whole thing was done. Take the trip of your lifetime, celebrate the grand northern lifeline. The great deed done under the spell of the midnight sun. '