Blog
REGISTER NOW
LOGIN
SIGN UP FOR OUR NEWSLETTER
North American Epic Rider Profile – Viv Horton
Viv Horton is a rider on the North American Epic bicycle expedition
It is a cold and rainy afternoon in camp on the North American Epic, and appropriately I thought it would be a good time to talk with fellow British compatriot, Viv, about her thoughts on the tour so far. 'I like traveling at this speed' she says of exploring by bicycle, 'it gives you a real sense of autonomy'. Viv is no stranger to adventures on a bicycle. At fourteen years old, using her mother's old Raleigh bike, and her father's ex-army pannier bags, she cycled across the south coast of England with two friends. It was this trip that she says 'sowed the seeds' for later excursions on two wheels.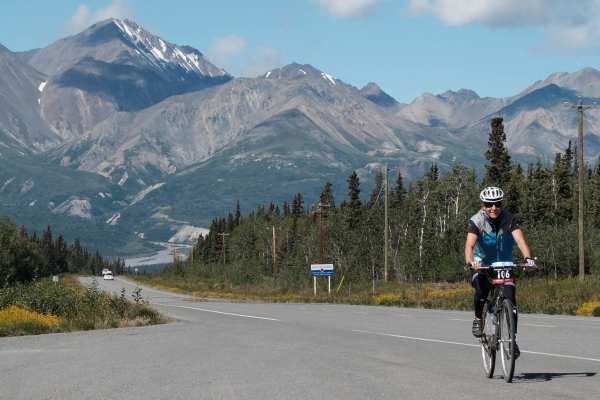 A career in social work has taken her across the world to support communities in developing nations. Viv worked in Kazakhstan for two years as a volunteer in community development, helping women with dependent children, who had lost their income due to the collapse of the Soviet Union, to have 'some agency in their own lives'. This included developing savings and loan schemes, to help these women support themselves for the future. When it was time for Viv to return to the U.K, instead of flying straight home over several thousand miles and many different cultures, she decided to make the journey by bicycle with her Canadian colleague. 'The formality of life was very different', Viv says of Kazakhstan, 'there is much less individual liberty'. This journey by bicycle was a way to make a gradual transition from the authoritative, and somewhat oppressive culture in Kazakhstan and the capitalist consumer culture of Western Europe.
The journey traversed many countries, cultures, and languages, as well as an intrepid crossing of the Black Sea, where she and her friend were the only two women on board the ferry. When the duo reached Greece – at that time celebrating membership to the EU – they found people were more open and happier to chat. 'It is hard to put your finger on what's changed' she reflects. Heading west, with plans to relax in French vineyards, their journey was unfortunately cut short in Bologna, Italy. Viv's Canadian colleague had to return home due to a family illness, and a decision was made that if the journey were to be completed, it would only be together.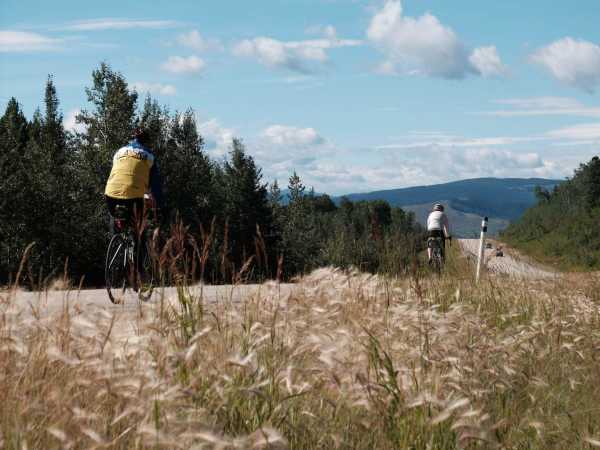 This was not to be Viv's last epic adventure on a bicycle. In 2009, as a retirement celebration, she completed the Tour d'Afrique from Cairo to Cape Town, and experienced in a similar way, the same gradual transition across the African continent. She was impressed by the strong individual identity of each country, and how proud people were of their nationality. For countries that were created by lines drawn on a map, it is impressive how united a society can be from a broad spectrum of different communities and cultures – it is something that Viv says 'struck me very powerfully'. After completing the tour it wasn't long before she was planning another journey on two wheels. The North American Epic appealed because of the predominantly paved roads, and the contrast of cycling in first world countries for a change. It was also a chance to reunite with fellow TDA 2009 alumni, Isabelle, from Quebec. Viv says she enjoys the uncomplicated and relaxed tempo of a supported tour, and is fascinated by the human dynamics of life on the road.
I ask if there are more cycling plans in the pipeline after we reach Mexico City. 'We have talked about going back to Bologna to finish the journey from Kazakhstan', which would allow a chance for some of that wine and cheese in France. If possible she plans to come on more tours, perhaps the Silk Route or Bamboo Road. But before any of that, and after a few days in the Mexican capital, she will be stopping off in Florida to visit her son and grandchild. Reflecting on travelling the world by bicycle, Viv says 'I am always reminded that people are of good will and good spirit'. A sentiment that many bicycle tourers, myself included, would agree with!
Viv is raising money for BOAT (Bicton Overseas Agricultural Trust) which helps support rural development in East and West Africa. Read more about the trust and donate here.