Blog
REGISTER NOW
LOGIN
SIGN UP FOR OUR NEWSLETTER
Riding to the Sun
It was bright and warm on the North American Epic's rest day in the Winnebago-infested Rocky Mountain tourist mecca of Banff. However the genies of global climate change were about to deliver a wicked cold front and shortly after saddling up the next morning it started to pour. By the time the riders reached the lunch truck in Kananaskis Country the temperature had plummeted to a bone chilling 3 C. Still, the spirits of our seasoned cyclists could not be dampened as they arrived in camp to dig into another of Yanez's delicious dinners while drying their bones and gear around the fire before crawling into their tents for a shivery night.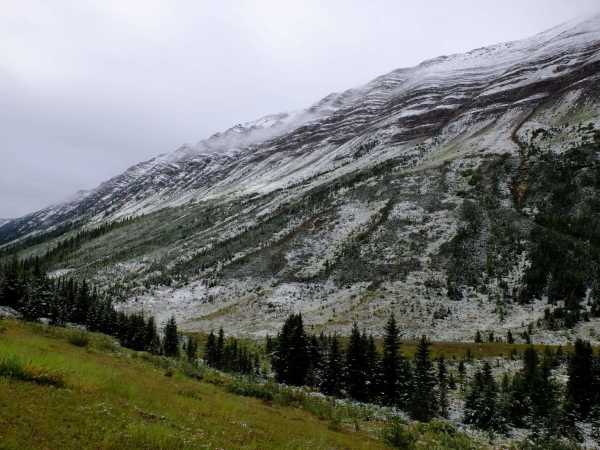 Rising at dawn, and undaunted by the unseasonal snow that had gathered on the surrounding slopes, they donned all their warmest and waterproof wear for the climb over Highwood Pass, Alberta's highest at 2200 m before spinning past Big Horn sheep en route to the Cowboy Trail. While the front was starting to dissipate it still had some punch, this time as a combo of sunny spell and hail storm at Chain Lakes which was easily shrugged off inside that park's group site shelter.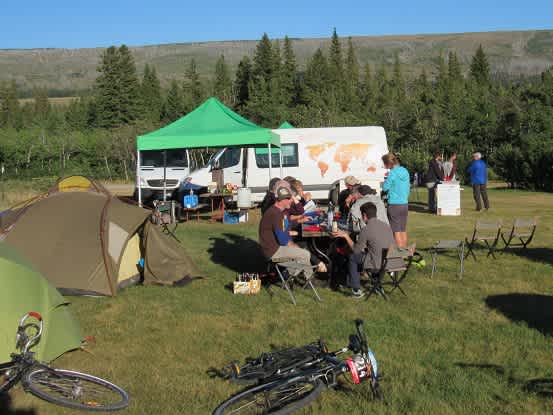 After a sublime afternoon at the gem that is Waterton Lakes it turned wet and cold once more for the climb to the remote USA frontier at Chief Mountain. But having failed to undermine our advance the spirits were in awe and they smiled down upon us as we sailed through the customs formalities without opening the vehicles in mere minutes and into the Home of the Brave.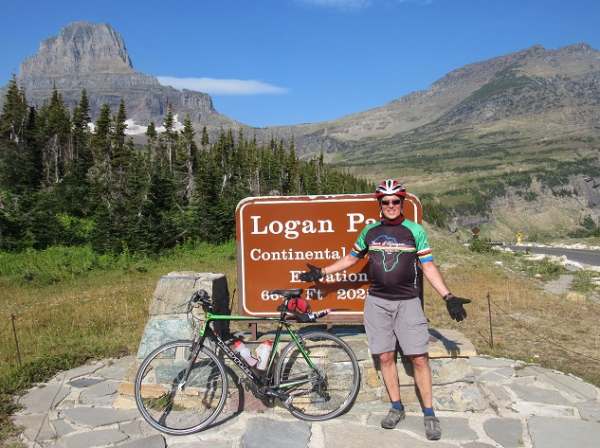 Big Sky Montana and Blackfoot Indian territory greeted us with slices of huckleberry pie and the promise of azure skies for this section's highlight, namely the chance to cycle the engineering marvel that is the Road to the Sun through spectacular Glacier National Park. And what a supernatural ride it was – a 550 m ascent in 11 km that torqued up our legs en route to Logan Pass before a sensational 900 m descent over 17 km of cliff side narrow pavement towards Lake MacDonald and a forested campsite.
Now we are in the cow town of Kalispell where the NW Montana Fair and Rodeo is in town, a perfect respite before we head out into the Wild West, bound for the state capital of Helena. And yet, while memories of near hypothermia are fading fast, and temps are expected to rise into the low 30s C, it is another aspect of climate change that we will be confronting … this part of the USA is on fire and the skies are darkened by smoke filled haze. No doubt we will also be tackling this next hurdle with minds aglow and legs a spinning.