Blog
REGISTER NOW
LOGIN
SIGN UP FOR OUR NEWSLETTER
Off the Beaten Path
What if you end up in Cusco, the ancient Inca capital, and want to go somewhere you would feel like time traveling to the golden age of that civilization and be in one of their majestic cities that hasn't been colonized? A secluded place, at the top of a mountain, surrounded with a gorgeous scenery. Your first thought might be to go to Machu Picchu. Fair enough, this place is one of the most beautiful places I've seen. Very interesting, a lot of inca buildings, breathless viewpoints, amazing terraces, but also… lots of tourists! For my third time in Peru, I thought I would visit a place off the beaten track during my resting days here: I chose Choquequirao, which could be translated as the Golden Crib. You may or may not have heard of this site, as it is only started to see visitors about 15 years ago.
Number wise: In 2013, about 5,000 people went to Choquequirao during the whole year. The number of tourists is increasing each year, especially since last year when the construction of the bridge to cross the Apurimac river was finished, allowing mules to cross easily. Since 2011, the amount of people who can visit Machu Picchu is restricted to 2,500 per day. With only 13 people on average per day in Choquequirao, it's easy to be the only living soul in the whole city for at least an hour. Thirty percent of the site is restored, thanks to France who gave a lot of money for this project, and it's even bigger than Machu Picchu!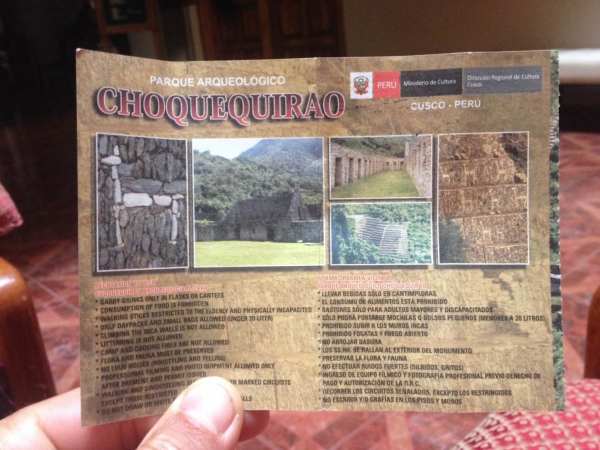 So why are so few people visiting this lost city ? The answer is simple. To reach it requires a strenuous 32km trek from the nearest car-accessible-town, Cachora. When I travel by myself, I like to keep as much surprises as possible and avoid reading extensively about the place I'm going to. I managed to get to the main square of Cachora on public transports. The only tourist around, I went to the only open restaurant to have a breakfast and think about the next step: to go or not to go with a mule to carry my bags on this trek. I thought the experience of renting one would make the trek more epic. One thing I knew though, I didn't want a guide. With the chicken soup finished (the only thing on the chalk board breakfast menu), I went out to buy food for the upcoming 4 days. Two steps outside and someone, Dayme, looked at me and asked me if I was heading to Choquequirao and if I wanted a mule. Serendipity on my side once more, I told him I was indeed looking for one. He asked me if I knew how to control one. Well, I had been horseback riding many times, I figured out a mule wouldn't be so different, so I told him sure. He said fine, there's no problem, the mule is very docile. Next thing I know, we are in a taxi going to his ranch, on a dirt road, 3 km away.
In five minutes, he tied up everything on the mule, told me where to sleep and by food for the next 3 nights, and told me a keyword to say if the mule is stubborn. Another 5 minutes later I was walking with the mule behind, and I had already forgotten the keyword. Should I go back and ask once again? No, what's the use anyway, the mule is walking and I have 21km to do today. No time to waste!
At km 11, I stop to buy a Gatorade at the last shop. I tie the mule to a pole, enjoy that last sweet treat and I'm ready to go. But, apparently, the mule is not. There was no way it would go forward. It felt like trying to pull a piano up a mountain. I had to wait. I had to wait for someone else to come by with other mules (there are a few locals walking this trail everyday, to bring supplies and goods to some houses along the way), hoping they know that keyword or have some tricks other than using a stick or stones. Patience pays, an arriero (muleteer) came with 3 mules fully charged and generously helped me with my stubborned companion. My mule was motivated enough by the 3 others so we could walk forward again! Once again, I heard the muleteer shouting "mula" and making other noises when his mules weren't cooperating. The keyword Dayme gave me wasn't just "mula", but I told myself I will not forget this one!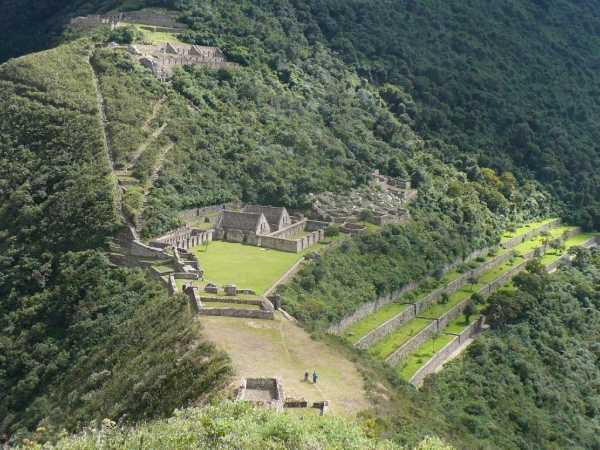 Along a path that is incredible, we have to walk all the way down to the Apurimac river for 20km and then up again for 12km – on some parts the path is carved in the rocks and at others a cascade is cutting through. Pretty slippery for a mule fully charged. My mule almost twisted its ankle at more than one point and had fallen once. There is a viewpoint to observe birds and some spectacular viewpoints on the river and the snow-capped mountains. This trek is not a walk in the park and quite challenging at some of the steep parts. Like a french guy I met told me : "Tout se mérite ici!" You have to pay the price for eveything here, talking about all the climbing we had to do.
The Inca site is obviously the big reward! It has the same architectural style as Machu Picchu, but is unique in its layout. A complex aqueduct system is intact, but dry. There's a mountain literally had its head chopped off to make a big sacred circular place. There are a few paths that lead you to the edge of the cliffs where gusts of wind are prevaling with stunning vistas. The walls of one terrace are intricated with lamas designs made of white stones. And most of all, you can walk around or sit in a spot and be there alone, picturing yourself in this ancient time when it used to be a busy place.
After you wake up from this dream-like place, you have to face the hard reality of the 2-day journey that is awaiting…