Blog
REGISTER NOW
LOGIN
SIGN UP FOR OUR NEWSLETTER
Prickly Characters
An unmistakable symbol of the American West is the trident shaped cactus standing boldly through the heat and dryness of the desert. It represents the ability of nature to adapt and thrive in extreme environments and harsh conditions. These desert plants are known as Saguaro cactus, and are native to Arizona and Baja California, which means we will be seeing a lot of them in the coming weeks. Knowing of Saguaro cactus only from films and cartoons, it is easy to imagine them as short and slim. However, what we have learned from cycling through the Sonoran desert in Arizona is that in reality they are absolutely huge. Silently towering over the barren desert scrubland, the Saguaro are a bizarre almost hypnotic sight, appearing almost as if they could move at any moment. Their trunks and arms are twisted and contorted in different directions, each seeking as much sunlight as possible. Some look very top heavy, with a very narrow base supporting the body. Something that creates an unnerving feeling when cycling alongside them!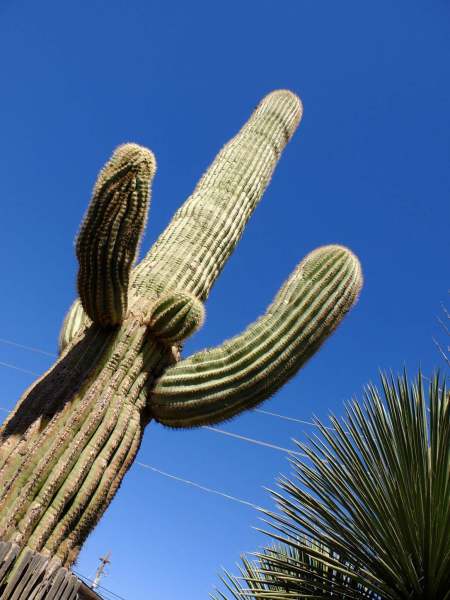 Amazingly these plants can live between 100 to 200 years, can grow over 40ft tall, and weigh over a ton. After 75 years they begin growing the iconic arms that help them absorb more sunlight. Spines help to keep birds and other animals from eating their moist flesh, however this doesn't prevent insects and apparently some species of bats from feasting on them. In Arizona harming or stealing a Saguaro cactus is illegal and there is actually a black market for poached Saguaro. Many want one but don't want to wait for them to grow from seed. Bike mechanic, Liam, has pondered about craftily setting up his new hammock between two Saguaros, but would probably not be in too good shape if they somehow collapsed on him! In the now two and a half month journey from Alaska, the Saguaro cactus have been some of the most unique and intriguing roadside attractions so far.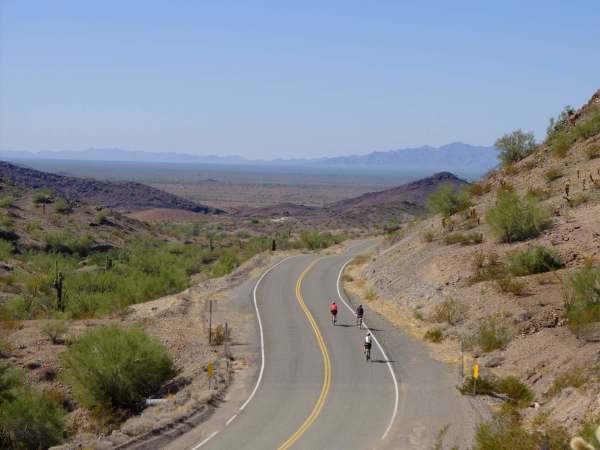 Our riding stretch from Flagstaff to Yuma has seen scorching temperatures up to 40 degrees celsius! Two stages south of Flagstaff provided some respite from the heat when we camped at higher altitudes before descending again into the long straight roads of the Sonoran desert. Riders were spared a roasting on the longest 132 km day of the stretch when overcast skies and light drizzle kept the worst of the heat at bay. The frigid mornings of Montana and Wyoming during the Great Divide section feel like a long time ago now! In the border town of Yuma we say goodbye to Australian rider, Roger, who has ridden with us since Anchorage. Whilst welcoming several new sectional riders, who will embark with us into the excitement of the Baja California peninsula in Mexico.
Follow Jacob's blog for more photos from the tour.