Blog
REGISTER NOW
LOGIN
SIGN UP FOR OUR NEWSLETTER
We Survived Lake Winnipeg
Imagine waking up, opening your eyes and the first thing you see are what look like snowflakes a few inches above your eyes. Since you're warm, it feels very confusing, so you decide to rub your eyes. Except you're bundled up in a narrow, -50°C sleeping bag, and getting your hand out of the bag is not as simple as you think.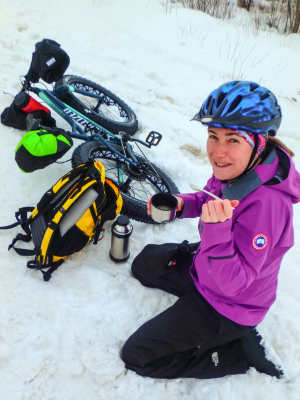 So you blink your eyes a couple of times but the snowflakes do not disappear. In fact you roll your eyes all around and see that the whole roof of your small tent is covered in ice from the air you've been pushing out of your lungs all night long – otherwise known as condensation.
Yes, it was cold for those of us participating in the first ever fat bike training camp on Lake Winnipeg. Some of us were contemplating going on the Last Degree cycling trip to Antarctica in December, and others just wanted to feel what it would be like to do so.
It was Antarctic cold at least one of the days and nights we were camping on the lake. It was great fun, that is, when our hands and feet were not freezing. We spent our time learning how to cycle on the soft and, at times, frozen snow (much like cycling in the sand). We were putting up, anchoring, taking down and packing our tents with our best gloves on (harder than I ever imagined it will be). We were lighting our small camping stoves when it was – 32°C (- 26°F) – colder with the windchill factor – and the lighter decided it will not cooperate. Lest I forget our favoured "time passing activity", watching snow melt for drinking and cooking (much slower than you can imagine) after a hard day of cycling on the lake with the wind forcing tears into your eyes. OK it was my choice – I could have worn a balaclava except that I decided that I wouldn't need one.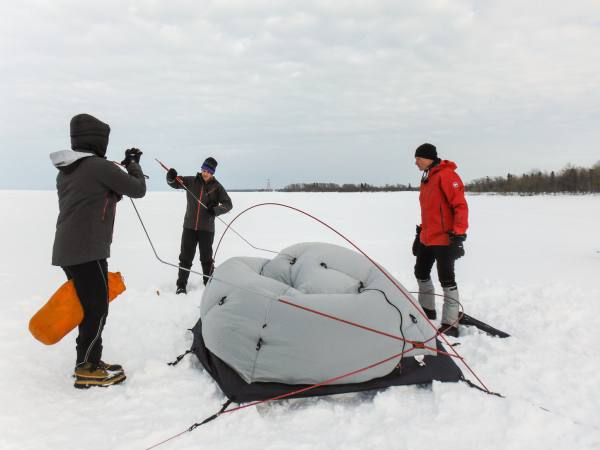 I learned that choices are the most important element of surviving and enjoying the far north and the even farther south – Antarctica. Choosing what to wear, when to wear it and when to take it off, is what will make a difference in staying warm, conserving the heat your body produces and not wasting that heat by sweating. Wasting heat means wasting energy but can also mean freezing quickly, because you get wet from being too hot when you cycle.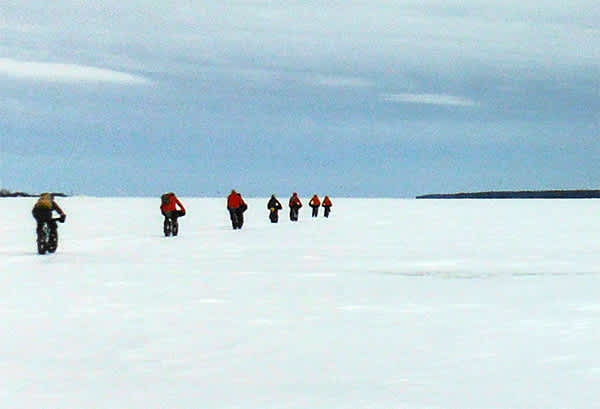 And yes it was fun. How could that be? Well, when you get your hands on the brand new Specialized Fatboy carbon bike, with studded 45NRTH tires, you pedal and get a nice momentum on the freshly packed snow only to suddenly sink 10 inches and zoom, now you're rolling in the snow, with that white stuff covering your face. You can only laugh because, if you are 64 years old like I am, and you fall and nothing – and I mean nothing – hurts (except maybe your ego that is if you are foolish enough to believe that falling into snow is embarrassing). You laugh because you are discovering new things, you are learning new skills, you get to appreciate nature in its full glory, you are in awe of the indigenous people who have lived in the North for millennia – without modern tents, lighters and gas stoves. It is fun, because you are fully alive, because in order to do this you must be fully alive.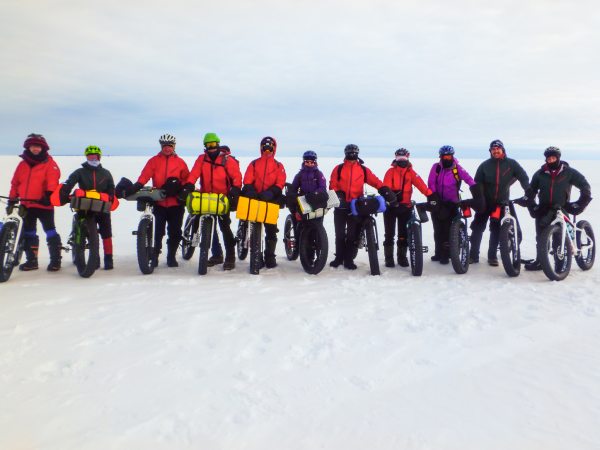 Would I do it again? You bet your ass I would. Thanks to all of the people who made this possible, from the gang at TDA office (Shanny, Miles, Micah, Mike, Brian) who worked so long to make another far out TDA experience real. Thanks to the tour leaders Ben and Cam, who looked through this whole thing, like they were on their summer holidays, and to all the participants Fred, Grant, Brad, Nina, Sarah, Eva, Tom, Beth and Mac. Thanks to Tom and Jason from Fat Bike Manitoba and thanks to our generous sponsors, Specialized, 45NRTH, Canada Goose, Apidura, Clif Bar, Nalgene and Goal Zero.
The camaraderie and support made this into another life-worth-living adventures. Thank you all.