Blog
REGISTER NOW
LOGIN
SIGN UP FOR OUR NEWSLETTER
Mumbai
Here we are in Mumbai, in the heart of this bustling city. When you think things can't get any better, they actually do. The last four stages have been the most scenic, demanding and satisfying. And finally we have reached the ocean and our two days of well-deserved rest in Mumbai. We left Ellora and its amazing caves and headed deeper into the state of Maharashtra. To get to the coast and Mumbai, our route took us to the Western Ghats, a mountainous ridge running parallel to the west coast of the Indian peninsula.
We climbed to Malshej Ghat, a beautiful and isolated post on top of a hill overlooking a valley where a government hotel is located. We have visited many government hotels lately–called MTDC–and while perfectly fine and decent, often one wishes they were treated with a little more TLC. Our hotel in Malshej Ghat was affectionately dubbed MT Department of Corrections for its grey walls, barbed wire, observation towers and dining halls which reminded us of Alcatraz more than a swanky resort. But the views were great, the food was delicious, and we were free to leave when we pleased.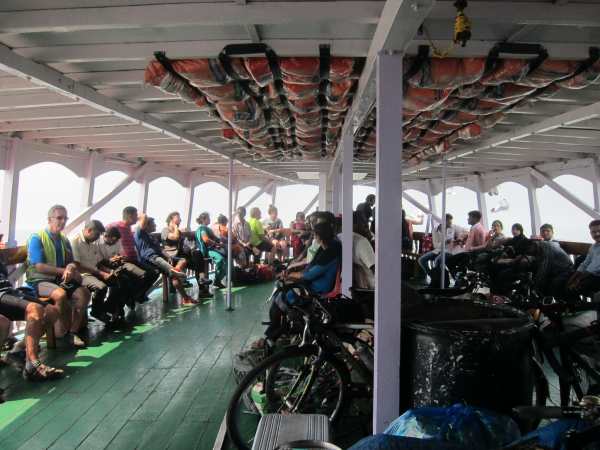 From there, a magnificent descent on a smooth pavement (what a treat!) took us down to the quaintest countryside until the crazy uphill to Matheran. That climb was "only" 7 km per 700 meters of elevation but it tested us all with crazy inclines–only a handful of us did not walk at least parts of it. On the bright side, we got to hold onto our helmets as we descended the same hill the following day. We approached the Mumbai metropolitan area from the south on incredibly quiet and beautiful roads after some grueling kilometers dealing with big-city traffic. The plan was to catch a ferry that would take us from Mandwa to the Gateway of India and the very heart of Colaba. The landscape changed again, with swaying palm trees as we reached the coast and smelled the Arabian Sea.