Blog
REGISTER NOW
LOGIN
SIGN UP FOR OUR NEWSLETTER
TDA 2016 – The Year of the Women
Race Summary & EFI Club Members
On Saturday May 14, the 14th annual Tour d'Afrique bicycle race and expedition crossed the finish line in beautiful Cape Town, South Africa. Starting at the Pyramids in Giza Egypt – the last of the 7 original Wonders of the World, this year's tour covered 12,088 km, and took 121 days to complete. 17 full tour riders, 13 of this year's 24 sectional participants, and 6 staff members, altogether representing 9 different countries, celebrated the completion of their incredible journey next to the Atlantic Ocean before dancing into the wee hours.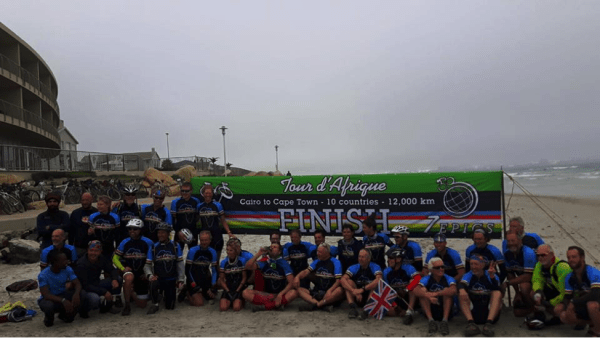 The 90 total tour stages included 51 full race days, and 3 Individual Time Trials covering a total of 6,770 km. And while the 2016 Tour d'Afrique did not feature the largest or deepest field of competitors, it still held plenty of drama while witnessing some remarkable individual performances.
From Egypt to Kenya, the men's front runner was UK's Paul "the Terminator" Taylor, closely pursued by fellow Brit, Rupert Dixon. When Paul's sectional ride ended in Nairobi, Rupert vaulted into a massive lead. Tragically, pedal problems caused him to crash in Namibia, and the resulting broken collarbone brought his race and EFI status to an end. Rupert was however able to rejoin the tour for the final 2 days into Cape Town.
With Rupert being docked 12 hours (18 hours on mando days) for each of the competitive stages he missed, Scotland's Douwe Cunningham, who had himself survived a peleton crash way back in Egypt, assumed the overall race lead on the tour's 5th last day and cruised to victory. Rupert finished 2nd with Jason Metcalfe, also from the UK, in 3rd.
But it was 2 "femmes formidables" who stole the show. Lady Springbok Katja Steenkamp, and Flying Dutchwoman Emma Houterman, cycled much of the time alongside Paul and Rupert, and were only a handful of hours behind Rupert when he crashed. With her home city of Cape Town on the distant horizon, Katja, who was sponsored by Qhubeka and Hammer Nutrition, then put her pedals to the metal. She finished 10 hours ahead of Emma to become the 1st woman with the fastest overall time on the Tour d'Afrique, a most remarkable achievement indeed!
Emma also absolutely kicked butt, cruising into the finish 35 hours ahead of Douwe. Another trooper, Chicagoan Jean Brown, who was EFI up to Zambia, came in 3rd among the women.
Emma and Katja were also among the mere 3 tough and determined souls who this year managed to deal with everything Africa could throw at them, cycling Every Fucking Inch of the way. Joining them as the latest inductees into the exclusive and elusive EFI Club was UK's affable Rob Hart.
Until next year, we salute all of the 2016 TDA participants and staff, and congratulate them on completing their trans-Africa odyssey on 2 wheels.