Blog
REGISTER NOW
LOGIN
SIGN UP FOR OUR NEWSLETTER
Challenging Preconceptions In Central Asia
Travelling to new places always begins with a preconceived notion of what 'x' country will be like. This is based on stories you hear from other travellers, what you learn in the media, or sometimes just your level of knowledge. The past few weeks have been a good example of this on the Silk Route tour. Having made swift progress from the Pamir Highway in Tajikistan we have travelled through both Uzbekistan and now Turkmenistan, both former Soviet states. The former being the scene of a civil insurrection only a few years ago, and the latter being of notable infamy for its cult of personality dictatorship and police state. It is understandable to begin with an evaluation of risks before going to a new country, however more often than not the information is inaccurate, or is so far removed from the experience you will have as a tourist on a bicycle. I wrote a similar blog from the North American Epic about the expectations and realities of travelling in Mexico, and much of that conversation is still true here.
With each border crossing comes rumours and fear mongering – 'you think it's bad here? Wait until you see Uzbekistan', or 'the police in Turkmenistan will always be watching you', are the kinds of warnings we have heard prior to visiting each country. Whilst there isn't space here to discuss the poor human rights records of these countries, or the level of state control over citizens lives, it is interesting to observe what day to day life is like within these societies. Both times these warnings have been contrary to the real experience that we have had. Uzbek people were full of character and hospitality, the historic cities of Samarqand and Bukhara being a cultural high point of the trip. Similarly, the repressed people of Turkmenistan were abundantly friendly and welcoming. I will say Ashgabat is a strange city with its skyline of white marbled buildings and palaces. However, the construction of empty lavish apartment blocks is hardly unique to this area of the world. Admittedly there is some truth to the rumours and warnings. As we only experience a snapshot of the public facade of society, it is difficult to gauge to what degree people are under state repression. That being said, the people we meet are enthusiastic to say hello, chat, and sincerely welcome you to their country; which on the whole is an optimistic and uplifting interaction to have. All the negatives you hear before a border crossing are quickly washed away by the down to earth humanity we experience in each country.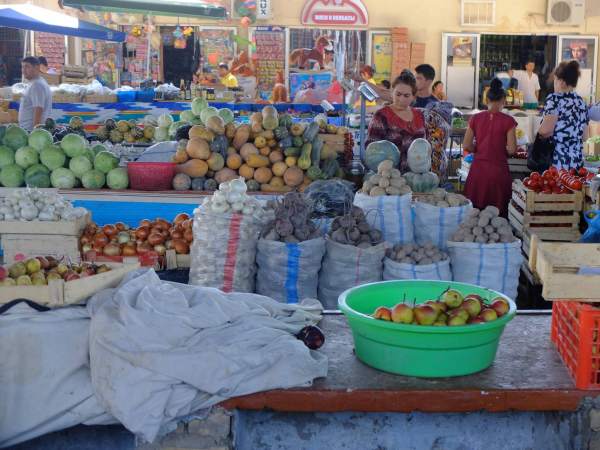 As for the riding itself, we have enjoyed regular days of paved roads with little climbing and reasonable traffic, a welcome break from the challenges of the Pamir Highway. The main menace besides the heat has been illnesses brought on by the warmer climate and more exotic foods. Whilst we still have over a month until Istanbul there is a sense that the end is getting closer. After we arrive in Iran there will be just one border remaining on the long road from Beijing to Istanbul. As we await our Iranian visas in Ashgabat, it is interesting to think what preconceptions will be contradicted as we travel into one of the more culturally challenging countries on the tour.