Blog
REGISTER NOW
LOGIN
SIGN UP FOR OUR NEWSLETTER
Pamir Wedding
Though my friends are now quite used to my frequent travels to faraway lands, some, while trying to be polite, still ask me about my trip. Cycling the Pamir Highway is a unique experience and there is plenty to tell, but my favourite story of the trip is actually what happened after deciding not to ride one morning.
I woke up not feeling well and decided not to ride. I got into the support vehicle and expected a rather long, slow day. The route followed the road adjacent to the Panj River that serves as the border between Afghanistan and Tajikistan. It is a wild part of the world where isolated villages eke out a living from small arable plots beside the river. We arrived at one such place and set up our camp in a school yard just big enough for our tents.
While setting up, we all heard loud music emanating from behind us. Everyone was busy with food preparation so I set out to investigate the source of the music. It did not take me long to discover a wedding. As soon as I was spotted I was pulled into the celebration; food and drinks being forced upon me.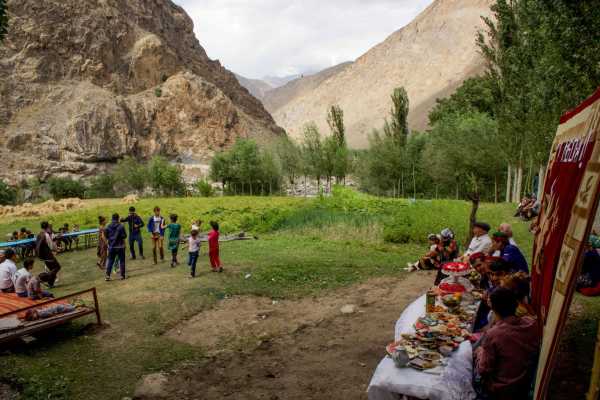 After I got over my embarrassment of being the centre of attention, I realized that I was watching dancing couples; old, young, moving their bodies in slow, sensual ways. I am in a Muslim country at a Muslim wedding, but there are no burkas, or hijabs.  Rather people were having a good time, dancing expressively, each move and gesture suggesting something that I will never know. Still it was a lot of fun, much more fun than watching food being prepared for hungry riders.
Next I studied the head table: the groom and bride in their traditional dresses, the best man and a beautiful young bridesmaid periodically fixing the scarf overhanging the bride's forehead, the bride and, at times, the groom staring downwards. I later learned that the bride, who had a rather sad expression of her face, is supposed to look unhappy as she is now leaving her childhood home and the joy, freedoms and security that come with it. My interpretation is rather simpler; the groom doesn't look too impressive and I wonder if it is an arranged marriage. The groom also looks drunk though I do not see any alcohol around. However, every 20 minutes or so, the groom is lead away and returns five or ten minutes later. I eventually find out that each time he is taken away, he takes a drink.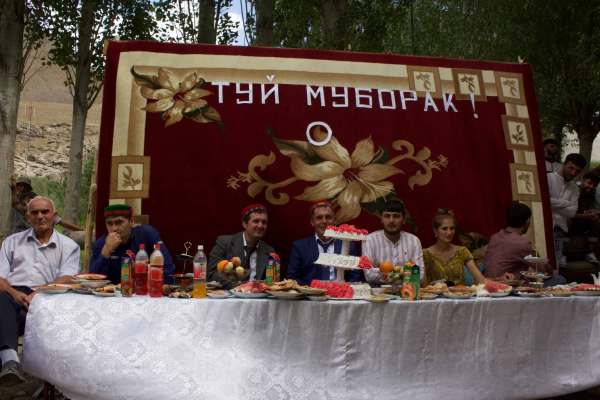 Another peculiar custom, one that is being carefully videotaped, is that every so often the music stops and a couple of children go to a microphone, give a short speech during which the groom and bride get up and stare at the floor.  When the children finish, the crowd applauds enthusiastically.
Then the music starts again and this time I am surrounded by people and am being dragged to the dance floor.  No amount of protest about my having two left feet has any effect. So I give in, to what I must say was great applause, followed – to my shock and surprise – by the appearance of the best man pushing bills into my shirt pocket.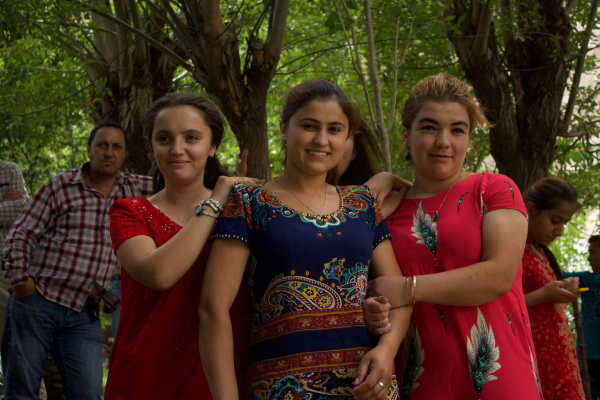 And the point of this story, you may think, is that some of the best days on a cycling tour are when you are feeling sorry for yourself and not cycling, as happened on this particular day, but that is not the case. The point of this story is that it is never too late to start a new career. I am now enrolling in dancing school.