Blog
REGISTER NOW
LOGIN
SIGN UP FOR OUR NEWSLETTER
Police Encounters in Central Asia
No matter which method one uses to traverse through Central Asia it remains certain that you will have many encounters with local police. On bicycle or by foot many of the interactions remain friendly however as a staff member of the TDA our police encounters can be of the more dreadful variety. This change in tone is because our encounters often occur while driving one of our Mercedes Sprinters – these are European cars with Slovakian license plates which in my case are being driven by someone with a Canadian passport. Unsurprisingly this attracts a fair amount of attention in Central Asia and despite having all the required supportive documents in English & Russian it's rather common to be 'fined' for not having document x, y or z. After many such stops in the various countries we have visited the whole process becomes rather routine and the other morning while driving with Jacob we presumed our stop would be no different as we were waved down on the highway into Kulyab.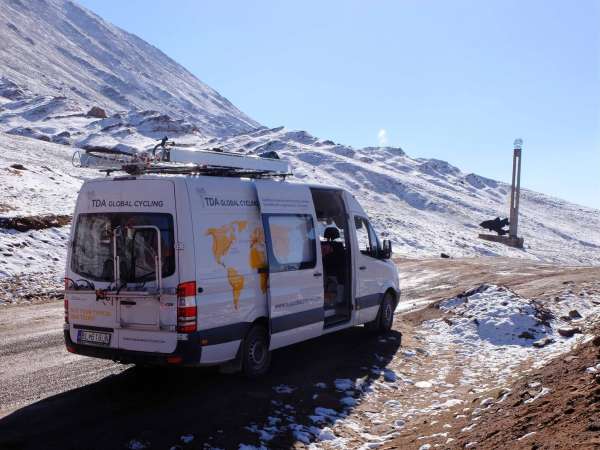 Our first clue that things were out of the ordinary was that there were two cars involved in a collision at the spot the police pulled us over. The officer came up to Jacob's window where after the usual exchange of a handshake accompanied by Здравствуйте/Salam/Hello we presented our documents. The officer kept using a Russian word we were unfamiliar with and seemed uninterested in verifying the identify of our car/ourselves. After some confusion he began making hand signals for what I determined was the cutting motion of a knife. I was hard pressed to come up with a reason why a police officer would be asking us for a sharp object but then it struck me that someone might be injured in the nearby vehicles which had collided- perhaps they required a knife to cut off a victim's seat belt or something to that effect. Being the medic on the tour I figured I should check things out so I hopped out of our Sprinter and headed towards the collision.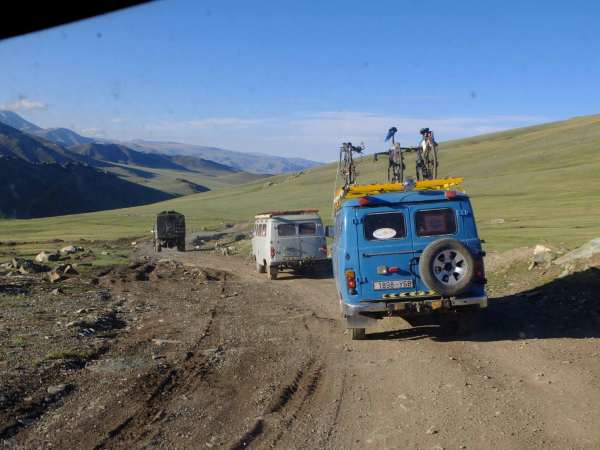 As I approached the more damaged vehicle I saw a pair of legs sticking out the driver side window. Suddenly I became nervous, worried I was about to be involved in a rather grim situation. As I leaned into the window to assess the situation instead of seeing a victim/corpse I locked eyes with another smiling police officer who clearly just had his legs out the window as a tool of comfort. At this point the other officer gets my attention again making the cutting-with-a-knife motion and points towards the ground where my eyes meet with…….a melon. I suddenly realize that the police officer wants to use my said sharp object to cut open not a seat belt or severed limb, just his lunch. Relieved at the sudden change in urgency of the situation I grab a knife from our Sprinter and gladly hand it over. After making a few cuts to said melon he graciously offers us a bite (we decline) and we promptly hit the road. As we drove off Jacob remarked that it might be the most odd abuse of power by the police we've encountered yet. With any luck as we head towards Uzbekistan & beyond when the police do choose to evoke their powers it will continue be for such things as the (literal) sweet fruits of Central Asia.
Luke Costello is the medic for the Silk Route 2016. He prefers watermelons over honeydew.