Blog
REGISTER NOW
LOGIN
SIGN UP FOR OUR NEWSLETTER
Concluding the "Bike the Outback" Section in Alice Springs
At this point, the 2016 Trans-Oceania group has made the very best of friends with the Stuart Highway. We've travelled just about 1,500km, passing through the majority of the Northern Territory. Starting out way north in Darwin, we then progressed through the following towns:
• Pine Creek
• Katherine
• Mataranka
• Daly Waters
• Elliott
• Renner Springs
• Tennant Creek
• Wauchope
• Barrow Creek
• Aileron
After leaving Tennant Creek, we cycled through some major head-winds as well as demoralizing rain to the final destination of "Bike the Outback", Alice Springs, where we have been able to enjoy 3 well-deserved rest days at a beautiful resort hotel. Alice Springs is the heart of central Australia with reverberating gorges, beautiful stretches of desert landscapes that go as far as the eye can see, remote Aboriginal communities and also a charming pioneering history. It embodies the enduring outback of the Northern Territory's Red Centre, and is a travel hub for sights and hikes in the region, most notably the Uluru / Ayers Rock, Kata Tjuta / the Olgas and Kings Canyon.
As we travelled thus far along the Stuart Highway and have passed through many towns, we've seen many interesting sights, including a few bizarre ones.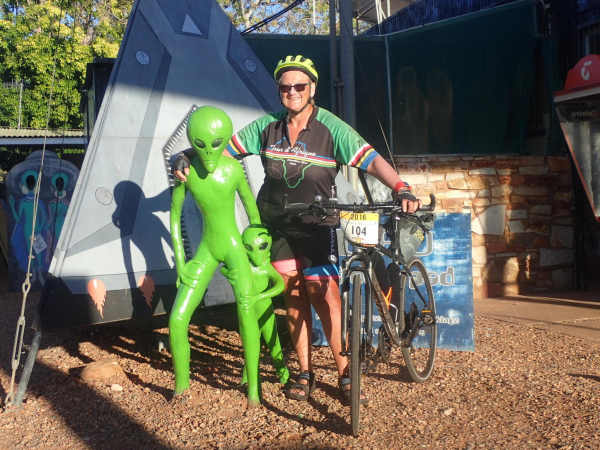 Wycliffe Well
Wycliffe Well is the UFO capital of Australia, along the Stuart Highway between Alice Springs and Tennant Creek. It is about 25km away from the breathtaking natural attraction "The Devils Marble's "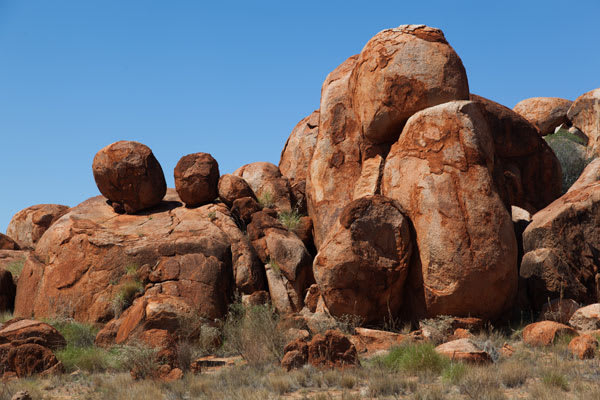 The Devil's Marbles
These interesting geographic formations look surreal. If you didn't know any better, you may assume that they were left here by the likes of an alien species for some unknown purpose. Upon researching into this, we realized that these "marbles" are in fact a naturally occurring geographic phenomenon where nature (via means of rain and wind) has eroded the giant boulders in such a way that they pretty much look like they are meticulously arranged and carved into various shapes.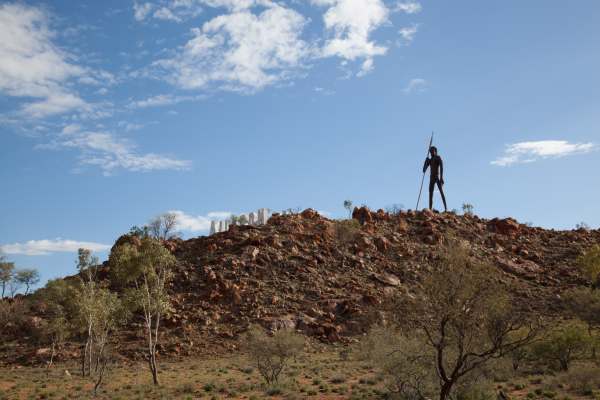 Aileron
You would not believe what we found here! Not only has the owner and artist of the campground erected larger than life statues of a man, woman, child and lizard, but we were extremely surprised to see an unconventional love duo. There was a male kangaroo and a female pig that are full-on lovers. So much so that if you were to try and approach the pig, the kangaroo would get extremely defensive, standing up on his hind legs and flexing his muscular upper body. They were seen cuddling throughout the time we spent there.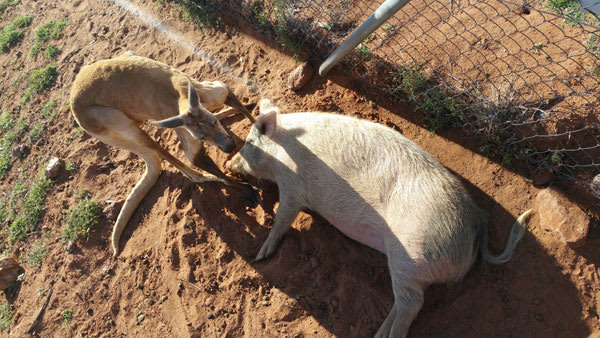 As well, we've had two new, enthusiastic riders join us in Alice Springs, for the next leg of our tour "Opals, Missiles, and Vino". They are a father and daughter combo, Rob and Genevieve. We are always happy to take on new riders and it is heart-warming to see family adventures take place. Our next day will encompass our first night on the trip staying at a traditional bush camp, called "Desert Oak". This means that we won't have any electricity or showers. We're hoping that our group will be able to acclimatize themselves to this after 3 days in a fancy hotel resort!