Blog
REGISTER NOW
LOGIN
SIGN UP FOR OUR NEWSLETTER
Coober Pedy – The Opal Capital of the World
Coober Pedy was founded in 1915, in northern South Australia. It is located 846km north of Adelaide, along the Stuart Highway. Since then, the town has been supplying roughly 90% of the world's gem quality opals. It features over 70 opal fields and thus is the largest opal mining area in the world. Coober Pedy is located on the edge of the erosional scarp of the Stuart Ranges, consisting of beds of sand and siltstone that are 30 metres (98 ft) deep and topped with a stony, treeless desert. Plant growth is scarce due to the region's low rainfall, high cost of water, the sandstone and lack of topsoil. Oddly enough, opal mining is only taken on by third parties, rather than by any government agency. It only costs $100 for an individual to obtain a mining permit which then entitles them to a 50m x 50m square of land to mine on.
Underground Motels, Homes and Churches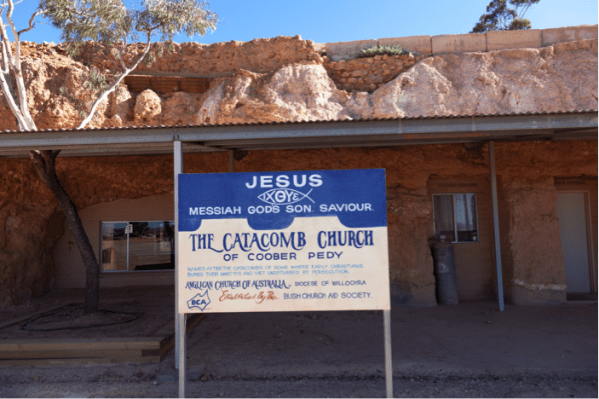 To save money on building a residency above ground and air conditioning it, a lot of residents have instead created their homes within the hills of Coober Pedy. These "dugout" homes have the advantage of maintaining a lower overall temperature, while creating shelter from elements such as wind and rain. The town features underground motels such as the "Lookout Cave Underground Motel" as well as churches such as the "Catacomb Church"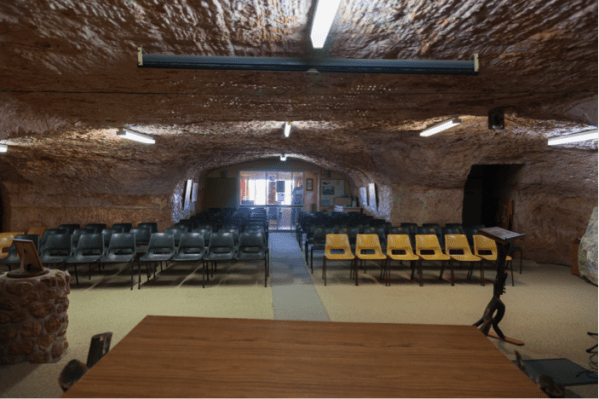 Post-Apocalyptical Setting
Due to its environment, Coober Pedy has been made famous by world-class movie producers, with parts of Mad Max 3: Beyond Thunderdome, The Adventures of Priscilla Queen of the Desert and Pitch Black having having been filmed in the area. As well, an episode of Dirty Jobs: Down Under with Mike Rowe has visited Coober Pedy.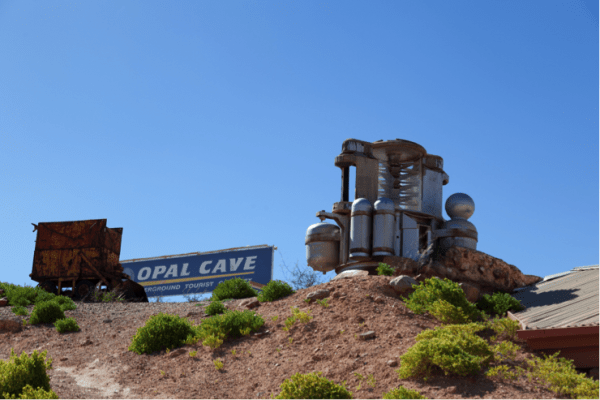 The Big Winch
This very large winch was created in the mid 1980's to aid in removal of opal deposits deep underground. It's location provides a unique vantage point that enables you to see a 360 degree view of Coober Pedy. However, on November 30, 1986, the original big winch was destroyed by a passing cyclone. What stands today is a commemorative tribute to the original winch, along with the twisted handle of the original winch, left to signify the devastating wind forces that occur within the Outback from time to time.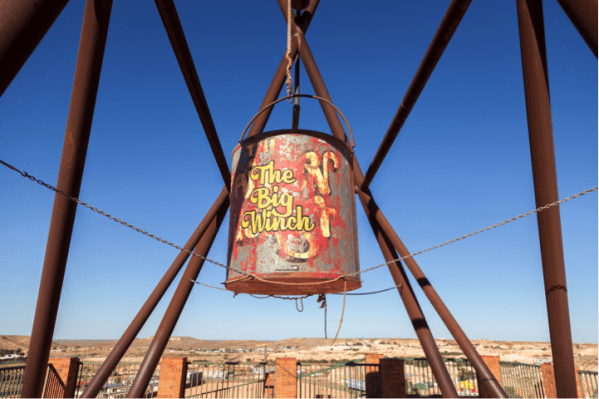 Junkyard Art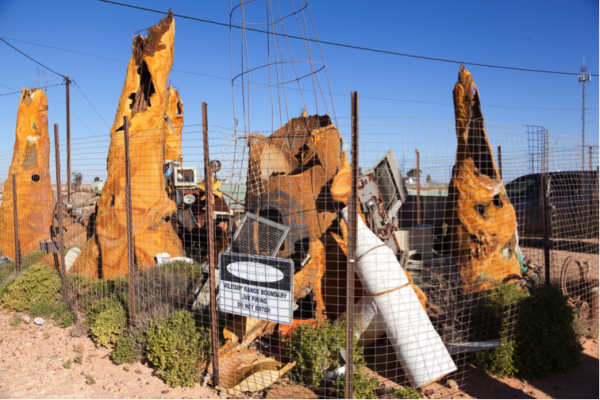 Near the Big Winch area at the top of Coober Pedy, some very intriguing and unique art can be seen. It is made up of old electronic pieces, computer parts, automotive parts (crank shafts, bolts, turbos, etc.) as well as other random bits. In this area, man-made "termite" hills can be seen, artistically arranged.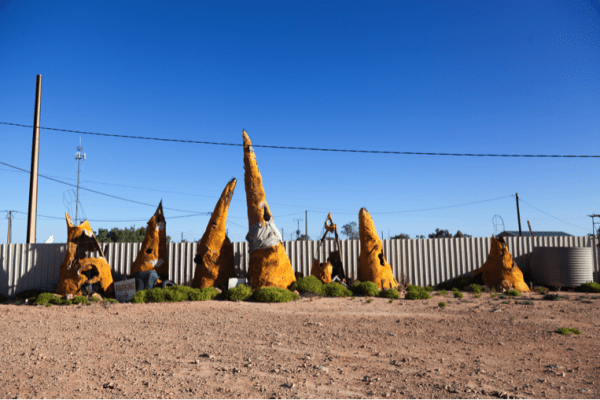 In addition to the main art display, there is also a neat display of art named "the small winch", which is attached to a shaft that appears to be at least 200 meters deep. You definitely want to keep out of there and thankfully it is covered by a metal grill to prevent any accidents.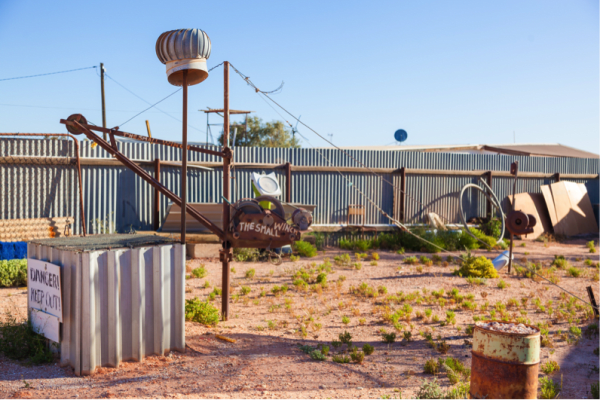 Another interesting piece of art is called the "White Man Totem Pole", consisting of old mechanical keyboards strapped to wooden poles.