Blog
REGISTER NOW
LOGIN
SIGN UP FOR OUR NEWSLETTER
Rider Profile: Ming Jing Hsieh
Ming Jing Hsieh was a rider on the Orient Express cycle tour.
It's no surprise that the bike tours organized by TDA global cycling attract some unique and memorable individuals and luckily we've had the pleasure of meeting one of them on this year's Orient Express. Ming, 65 years old, hailing from Taiwan, and possibly one of the happiest and hardiest people you could meet. While his outgoing personality is sure to make a lasting impression on anyone who meets him, his claim to fame might actually be his intense passion for photography, something he became involved with over 50 years ago in high school. Surely every moment, angle and scene has been documented to date by Ming, and surely, he is quite grateful for digital.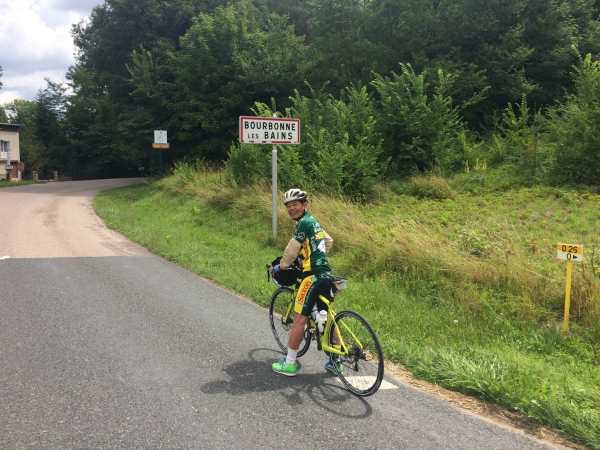 Ming's passion for cycling was sparked later in life, 32 years ago, by a fellow countryman, Mr. Hu, who pedalled his bike around the world. Ming attended one of the speeches given by Mr. Hu after his journey, and from that point was hooked onto the idea of riding around the world too, albeit, due to his career obligations, broken up over a much longer time span. It's worth a mention that Ming did not even own a bicycle at that point. Regardless the plan was set in motion, and three years later he managed to make the time for his first bicycle tour, a small tester of his new ambition. Secretly, without his family knowing he set for America for 3 weeks. Hawaii, Ohio, Minnesota, were the three destinations on the itinerary and the testing fields for his new passion. Just like Mr. Hu, Ming also wanted to share his experiences with his people back home, and upon his own return wrote in local newspapers and gave speeches about his journey. Over the following 10 years he completed tours in the UK, partly across the US, from Washington to Minnesota, on the island of Hokkaido, Japan, and a pretty rugged, self-supported one from Vancouver to Prudhoe Bay, Alaska. A coke can, filled with stones, served as a DIY bear bell on the last one, though that still didn't prevent him from having to turn tail and out-bike a curious grizzly on one occasion. The fact that he was carrying 200 rolls of camera film, in addition to his other gear, in his trailer probably didn't help his getaway.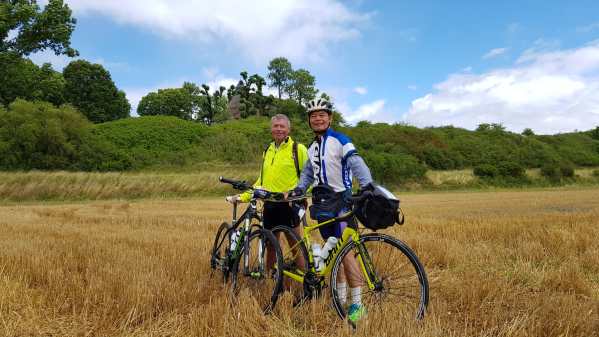 Almost a decade passed before Ming would embark on any more cycling adventures though. In that time he had recently retired, and joined Lion's Club international, a charity organization contributing to a wide variety of causes worldwide. With his retirement came the freedom to set off touring again and the inspiration this time came from a book he read about cycling across Canada. With his involvement in the Lion's Club also came the possibility to dedicate his efforts to raising money for charity. In June of 2008 he set off from Victoria to Toronto. A year later he returned to Toronto to complete the route to St John's. Along the way he stayed almost exclusively with Lion's club members who had heard about his journey and opened their doors for him. The numbers for that trip: 17,000 dollars raised, and over 20,000 pictures taken.
All of that had certainly prepared Mr. Ming for his greatest challenge to date, the 2012 Tour d'Afrique. He knew he had no other choice from the moment he had stumbled onto the TDA website and read about the epic adventure. Despite concerns from his family, read mainly his wife, Ming packed his bags, and his custom-made Taiwanese touring bike, and was set for Cairo. He remembers the day riding into Gondor, Ethiopia being the toughest of the whole tour. The unrelenting climbing and heat took their toll, his EFI ambitions being dashed. The day crossing the highest road in Tanzania to Mbeya he remembers as his favourite.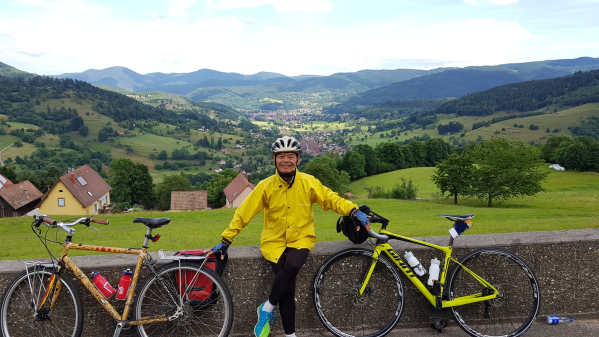 The desire to see Europe brought him to Paris for the 2017 Orient Express, but his TDA ambitions go much further, as the words "West Africa en Velo" and "South American Epic" have been heard from him multiple times already, though nothing is official yet. Regardless of where he happens to be riding though, surely Mr. Ming will have a wide smile on his face, have endless curiosity and enthusiasm and of course will always be looking for his next shot. In between tours he plans to spend the time completing the book he has been writing about his cycling life.
When asked for some final words he said: "Capture all the opportunities otherwise you will regret it."