Blog
REGISTER NOW
LOGIN
SIGN UP FOR OUR NEWSLETTER
A Rider's View Of The 2018 Tour d'Afrique
Greetings from Gondar, Ethiopia.
The past 10 days on the Tour have been absolutely incredible. My impressions of cycling through Sudan are of remarkably friendly people. Even saying I am from America does nothing to quench their desire for a selfie or a friendly wave and thumbs up which I now recognize is a universal symbol. They were impressed with my business cards about the Tour d'Afrique with my picture and were especially pleased it was my "gift' to them. Some were surprised they could keep the card.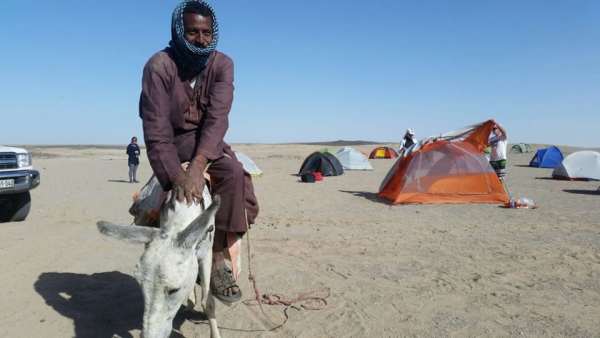 Because I am slow, I am often alone for hours cycling through the desert. I still receive the flash of headlights and a friendly wave or thumbs up out the window from approaching cars and trucks. The question I have been repeatedly asked by the few tourists I have seen is whether Sudan was safe. I answer with a resounding "YES!". We are safe because of the inherent goodness of the people of Sudan. I wish every American could spend just one day of my time in Sudan. We would all be better for it. The other impression of Sudan was the amount of trash along the roads. In particular, plastic bags are everywhere and wind blown against the low lying scrubs along the road. There were acres and acres of what I came to call forests of plastic bags. Egypt has little trash in the desert but Sudan was quite the opposite.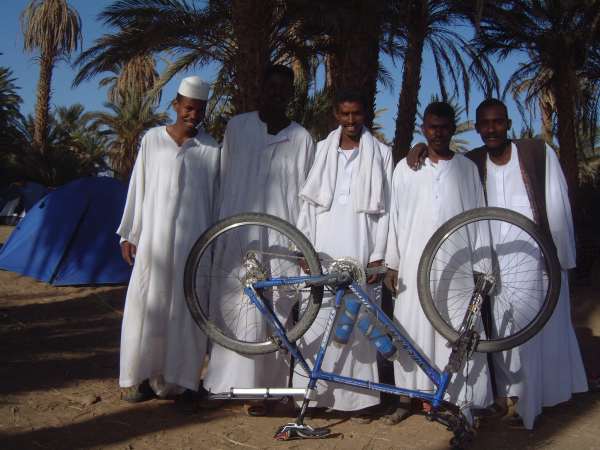 On the final day of cycling in Sudan, I missed the turn for our camp and cycled a few kilometres to the border which consisted of a small metal shack and a rope/string across the road. I was immediately approached by animated men yelling about crossing the string across the road. I have no idea what would have happened to me had I cycled under the rope/string which apparently is the actual border. One fellow came screaming at me and I pointed my finger at him and shouted "You are not wearing a uniform…get away from me". Finally, a guy came up and said I had a phone call. Surprised, I heard Tallis, Tour director, on the line. Apparently, the guy was part of our Sudan support staff who happened to be at the border and saw me so he called Tallis. Tallis explained that I had passed the turnoff for the camp. So, I pushed my bike up the 2km hill back to camp. The border is packed with people, trucks waiting to go through (perhaps waiting up to two days or more), truckers setting up camp & cooking meals, hucksters selling anything and everything and other merchants most notably coffee makers, sellers of every kind of clothing imaginable especially shoes, clogs and shirts most with logos like Nike, Adidas and others. A popular number is 23 on jerseys presumably in honour of Michael Jordan. Nothing quite like seeing a huge Air Jordan flying through the air logo outside an Ethiopian market stall. Interestingly, most signs in all three countries have been in local language, whose alphabet is very foreign to me, as well as in English. Can you imagine a sign in Arabic along an American interstate?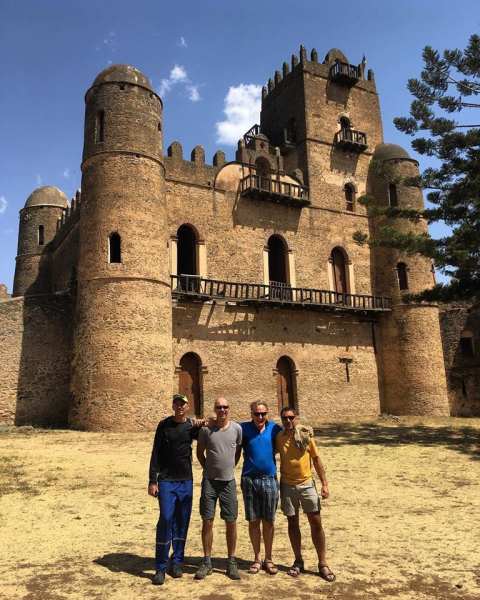 Today, I am in Gondar, Ethiopia with a population of 200-500,000 depending on whom you ask. Morris is a great guy on the Tour who must have been a hippie in the 60s and greets me and everyone else every morning with "Did I tell you I love you today?" Morris always has the most unusual experiences so I asked to join him in going into Gondar yesterday. My running shoes have mud, cow dung and tar on the canvas. We see many street vendors who are literally washing shoes. So, I give on of the vendors my precious running now cycling shoes and he proceeds to spend over 25 minutes scrubbing all the crap off. The shoes dry in just a few minutes in this heat which is about 90+ and the charge is less than $2. We then get approached by the usual street hustler who asks what we need. Morris wants a shave and haircut. Of course, our hustler friend knows just the place. Instead, Morris tells him we will find our own so he tells him to get lost. Morris finds a place and agrees on the fair price of 30 Ethiopian bir ( bit over $1). The guy does a great job then tells Morris that the agreed upon price was $30 US. Morris refuses and says he will get the police to arbitrate. The barber looks worried and refuses Morris's offer of 50 bir. Ultimately, we leave without paying. Morris is so honest that he told me he was going to pay 50 bir in tuck tuck fees to go back today so as not to stiff the guy.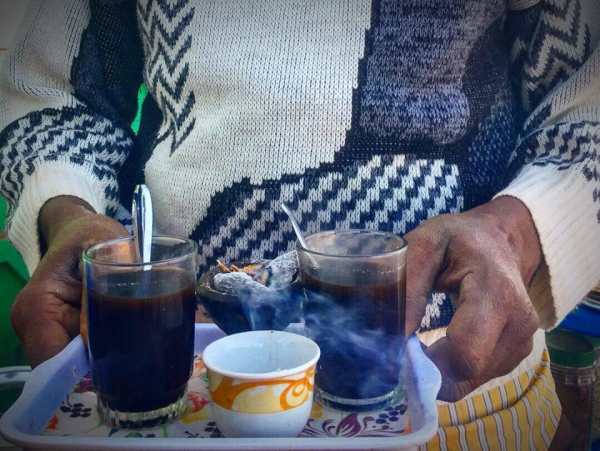 We also enjoyed a coffee ceremony in which a woman burns incense then gives you a small cup of heavily sugared coffee. The entire process takes about 10 minutes and the cost is less than $1. Today Anton, Aedo and I went back into town to get our phones working. The Ethiopian government has shut down all data except in the big cities which does not include Gondar. We spend over 4 hours traveling from place to place. The process is more complicated than applying to medical school. I finally buy 48 minutes for calls back to the States for about $14. I was able to call and leave a message for Cindy so it works for now. Time will tell if I get shut down as happened in Cairo. Last night there was a wedding at the hotel. The dancing, singing and carrying on was most exhilarating. The dance moves and gyrations were incredible. I have some great video on my iPhone but too long for a Facebook post.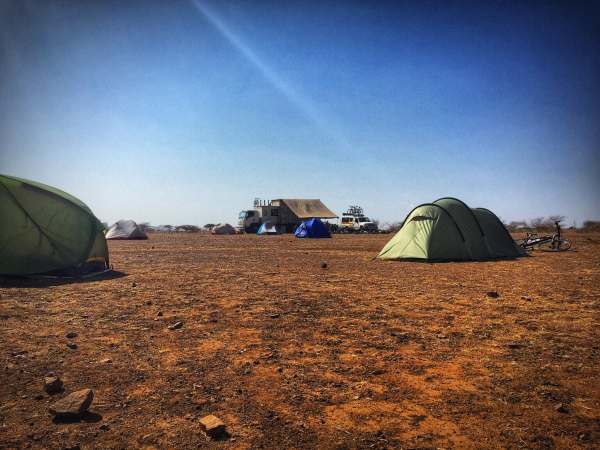 On the last night in Sudan, we were offered the opportunity of a bucket shower. This consisted of entering a galvanized sheet iron hut with a mud floor and no lights. I entered just at sundown so tried to do my best in the light of dusk. Then I was given a tub with about 15 litres of cold muddy (? cow dung) water into which I stepped. I was able to wash my hair by using a water bottle from my bike to pour the muddy water over my head. I ended by grabbing the wash basin like bucket filled with muddy water and pouring it over my head. Only then did I notice the nearby generator with exposed live wires. Most interesting shower I have ever had. Total cost? About 50 cents for one bucket. I needed a second bucket just to get the mud out of my hair and off my feet. My tech fabric towel worked great and dried quickly on top of my tent.
See you down the road!
– Don Holshuh