Blog
REGISTER NOW
LOGIN
SIGN UP FOR OUR NEWSLETTER
Cycling in Iran As A Woman
There are many misconceptions and preconceived notions about Iran, about cycling in the country and about women riding bicycles. It was certainly one of the countries on the Silk Route that we've all been anticipating and dreaming about. Iran is rightly proud of its ancient civilization and we were eagerly anticipating the cultural experience waiting for us.
Female riders on tour had been nervously awaiting the strict cultural norms and laws that they would have to observe while on tour in Iran. After entering the country on day one, however, we realized that cycling through the country  was going to be a spectacular experience for men and women alike. That said, here are some tips and tricks that we've discovered to make a woman's cycling experience in Iran just a little easier.
General rules to follow
Always have a headscarf on unless you are told otherwise. (Some hotels that cater to foreigners are more easy going with this rule). Women should wear loose clothing, especially around the hips and bottom (apparently this is the most important rule of all). Women must cover their skin to the elbow and ankle. Again, this is loosely enforced in certain areas, but it is best to err on the side of caution.
Wiggle room for tourists?
Although there are strict formal guidelines for locals and tourists alike, there is indeed some wiggle room for tourists. Authorities will generally leave you be unless you're clearly pushing the cultural boundaries. Locals are more than happy to see foreigners travelling in their country so they are more understanding.
Cycling Attire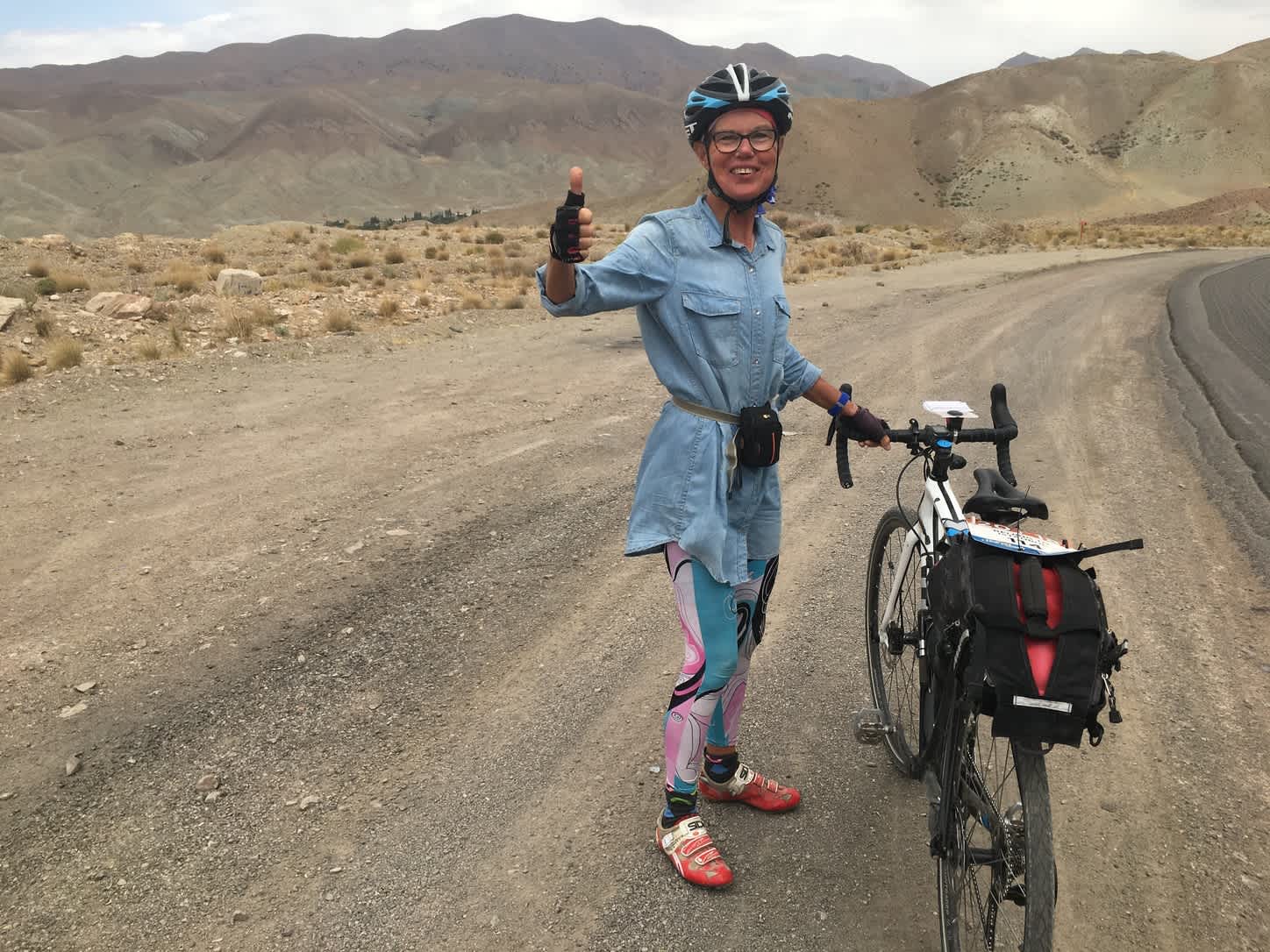 The same general rules apply but there are ways to make sure you are still comfortable while covering up. Wear a buff rather than a headscarf. This is perfectly acceptable and certainly more convenient while cycling. Although loose clothing is still necessary, as long as your hips and bottom are loosely covered, then you may wear more fitting sports wear underneath. For example, wearing an athletic skirt or shorts, with leggings or skins underneath is just fine. Wearing a loose shirt is not necessary but everyone on tour agrees that the large cotton shirts are much cooler and provide nice ventilation on the bike. The temperatures in Iran can get up to 40C in the summer and cycling in this heat can be difficult.
If you don't follow the rules
We've all heard horror stories about women being arrested for not wearing their headscarves correctly but these days the law is much more relaxed, especially for tourists. For example, if  the wind catches your headscarf and it falls back on your head, no problem. Just fix it and carry on. If you leave the hotel without wearing a headscarf at all, then police may enforce it by making you return to your room to retrieve it. Perhaps you might also get a fine. Rarely would you get arrested.
The most conservative places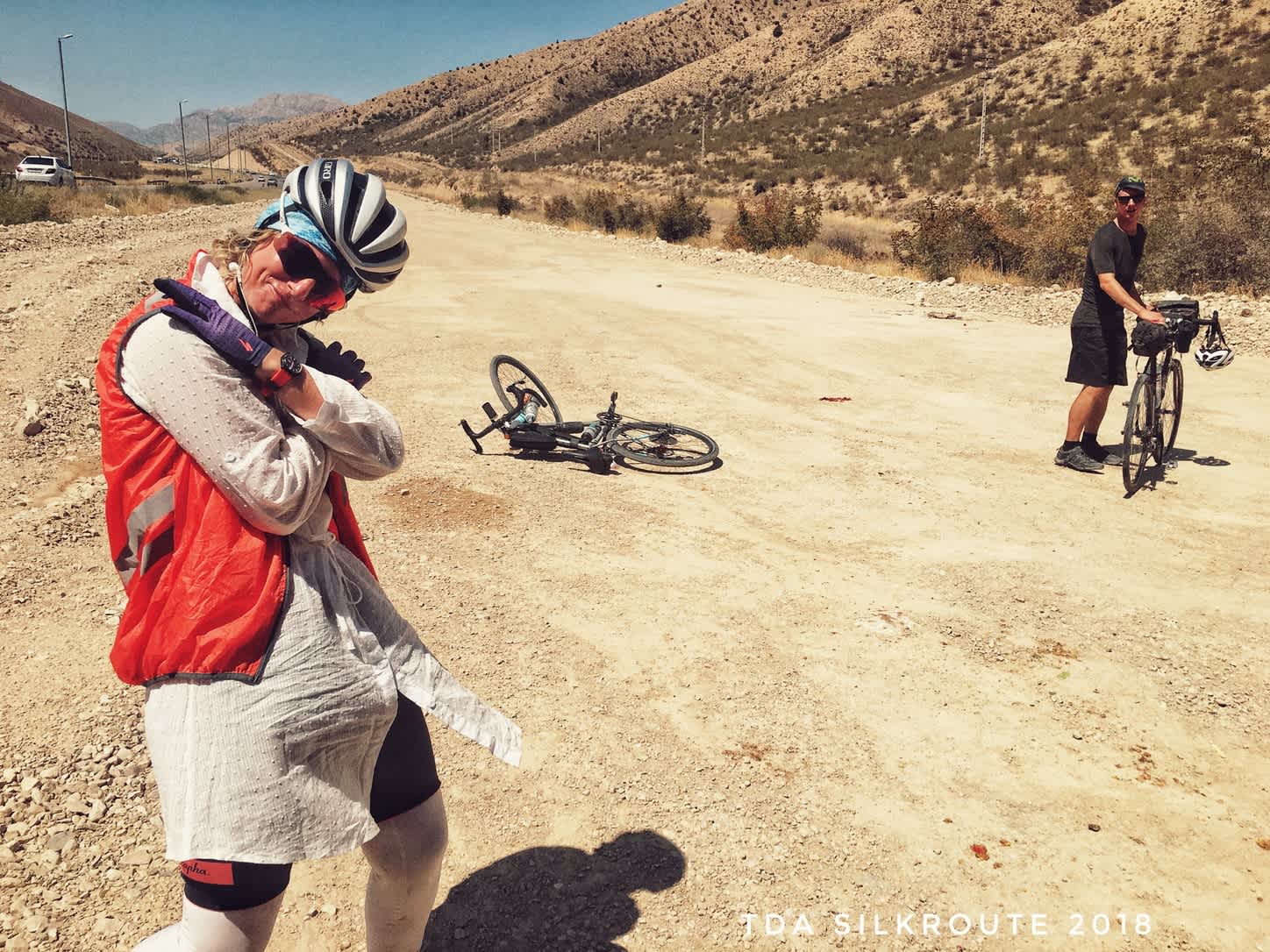 There are no particular places that are stricter than others when it comes to women covering up. The smaller rural villages are apparently more relaxed than bigger places so you can wear your headscarf loosely or maybe show a little more ankle but always be sure to ask your guide or hotel staff before hand. "It's really a non-issue. I feel very respected and the clothes are comfortable. Just have an extra bottle of water to pour over your head to cool down on the bike." –Brenda, full tour rider.
The hardest parts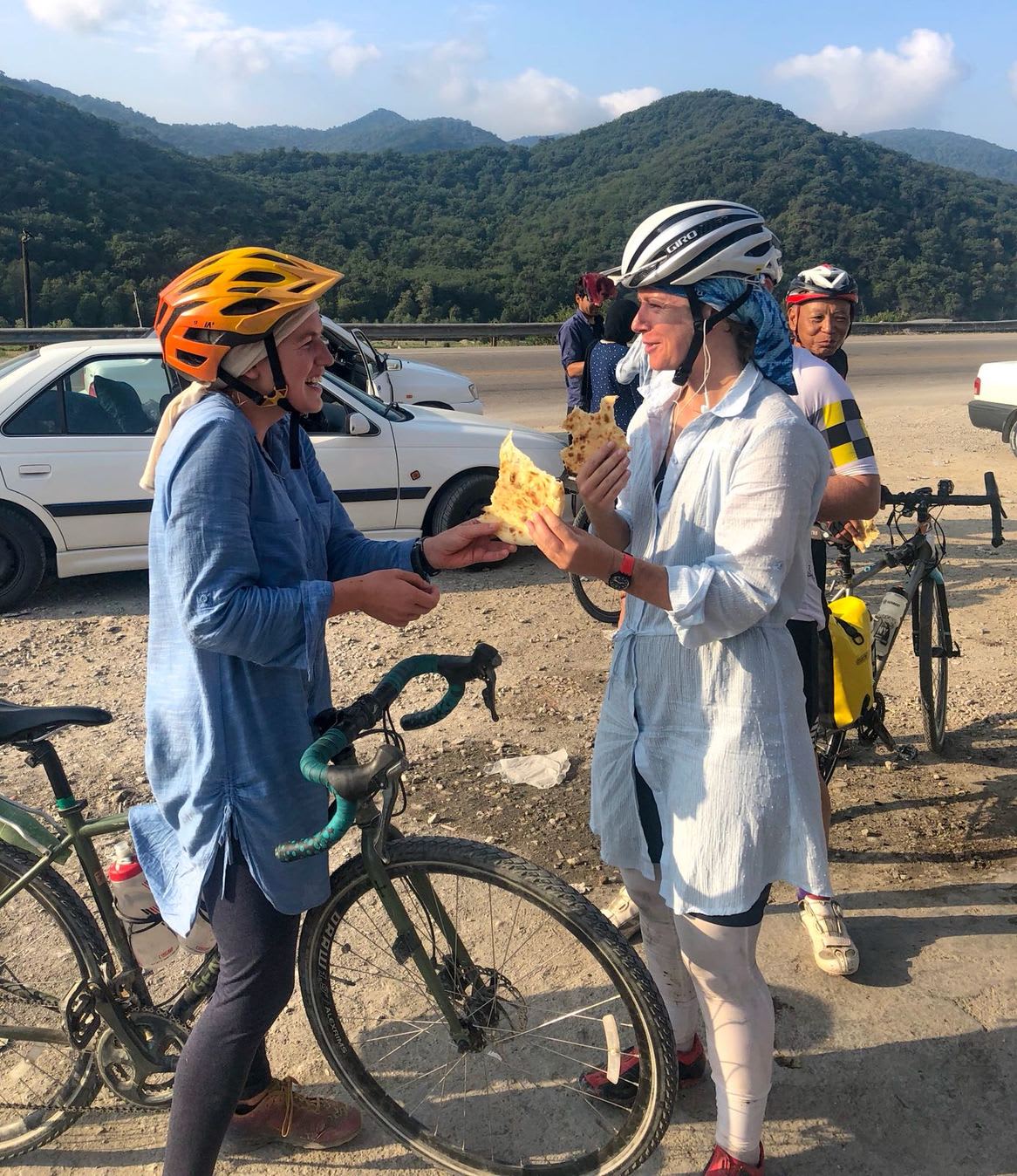 Be aware of your surroundings. The traffic for one, can be quite unpredictable and often times vehicles will drive right beside you simply to have a closer look, simply because they are curious. "Stay alert. Generally people are quite welcoming and friendly, but it can get stressful being constantly stared at." Kylie, full tour rider. Being on a bicycle can sometimes makes you feel more vulnerable. This is especially the case throughout Iran as a female cyclist. People are very warm and generous here and once you get used to the stares and the beeps, socializing on the road can be a very enjoyable experience . "People pull up and get out of their car to offer us food as we pass them. Many times have we been given fruit, fresh bread and local treats. It's wonderful!" Helen, tour medic.  "I see cycling as a unisex activity, and I find it difficult to see women having to dress differently than men. It's something I'm still getting used to." Virginia, full tour rider.
Other countries along the Silk Route had similar cultural expectations. Turkmenistan and Uzbekistan, to a certain extent, had a sense of modesty and visitors should cover their legs and shoulders when entering certain sites such as mosques and mausoleums. That being said, unlike Iran, riders were free to wear what they liked on their bikes.
Hints from 2018 Silk Route female riders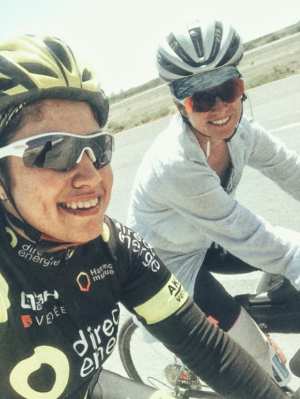 "No synthetics or natural fibres. Try to wear only loose cotton." -Brenda.
"Wear leggings. It's not necessary, but it's much more comfortable to cycle in them." –Els, full tour rider.
"Make sure to have at least two opaque baggy shirts that cover your bum, because that is the most important thing. You can buy them here, but try to have one with you from home too." Virginia.
"Wear a UV repellent buff." Els.
"Be aware that if you stop in a shaded spot for a break, more than likely will a family come up to you and invite you for a picnic!" Helen.
"Make sure to have your instagram account ready, as Iran is a place of insta-famous hipsters and once you step into the country your followers are going to grow exponentially!" Kylie.
Once you are aware of the expectations and the efforts one must make to stay modest and comply with Iranian law, your experience cycling in this country will be a positive one. The hospitality of Iranians is overwhelming. The cycling has been challenging and interesting, with breath-taking landscapes on a daily basis. Tehran is a bustling, vibrant city full of cultural experiences and the food in Iran is delectable (especially the fresh bread). All of the female cyclists on tour agree – if you are considering cycling here as a women, don't even hesitate, just do it!