Blog
REGISTER NOW
LOGIN
SIGN UP FOR OUR NEWSLETTER
Rider Profile: Hanne Renland
Wherever you were to meet Hanne, you would immediately notice her wide smile and entrenched laugh lines. She speaks eloquently, even when exhausted, with a thick Norwegian accent. In any conversation about her personal life, she will quickly bring up her children and grandchildren, proud to be their role model.
So, what is she doing here, cycling the backroads of West Africa? Hanne says that she is in her third life – and we're not talking reincarnation. Hanne sees her life as being lived in three different parts. The first was her childhood, raised in a fishing village in Norway. The second, her family life – becoming a mother and raising two sons and a daughter. The third, the one she lives today, is one she gets to live for herself. She can choose whatever she wants. This means doing psychology work all over the world, running an education project in Tanzania that was founded by her late father, and doing the Tour d'Afrique in 2017. All of these choices led her to TDA West Africa.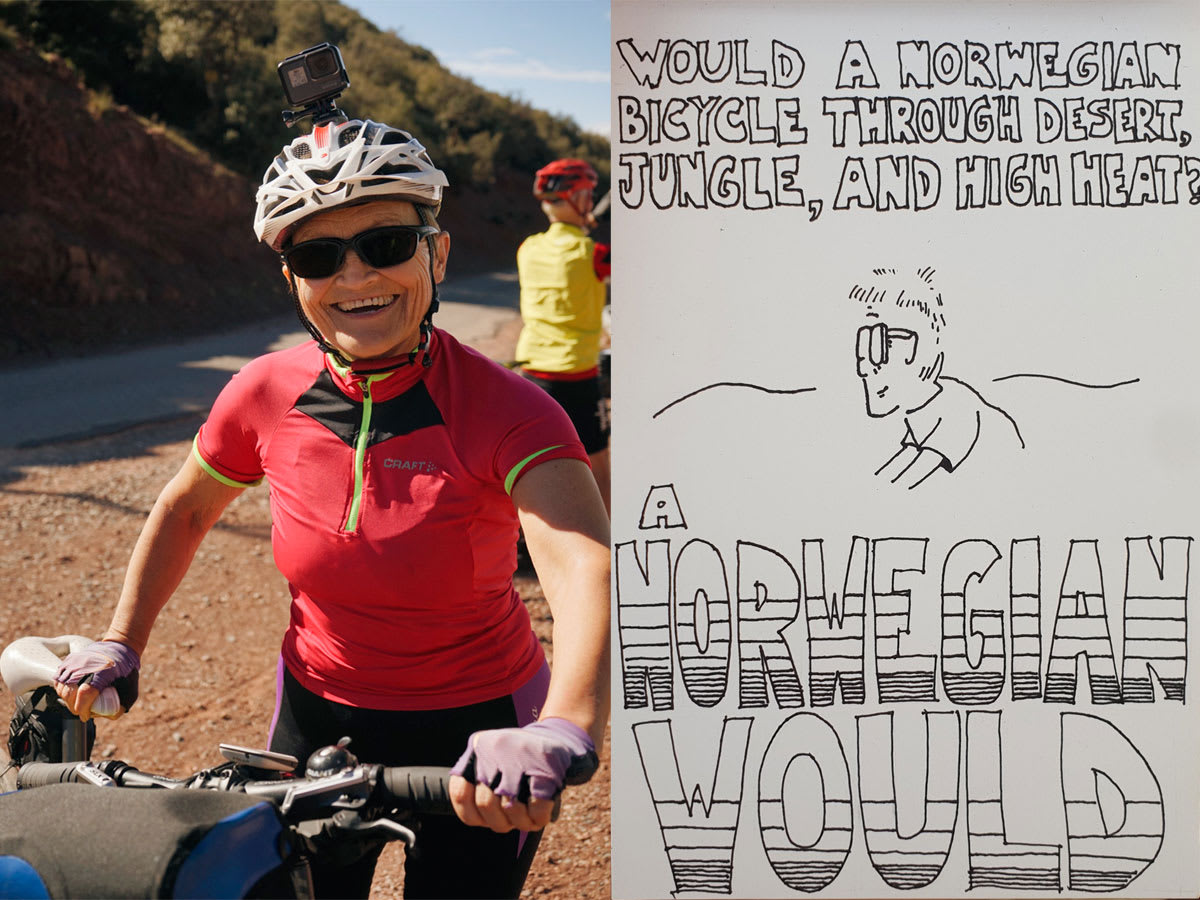 There were a few things that made Hanne want to join this tour. The most prominent was her desire to return to Sierra Leone after working with MSF there in 2007/2008. After the civil war, there were many victims who survived the war with unseen wounds. She worked with a local team for 8 months, training them in counselling and therapy. After 10 years, she looked forward to the prospect of coming back. Hanne was also intrigued to see the similarities and differences of the surrounding countries. From her own time in West Africa, she had heard about how much the countries and the people have in common, and how they depend on each other for trade, employment, and shared knowledge.
Hanne is drawn to the simple life – One that she experienced on her self-supported kayak trip around the Island of Senja in Norway, the 2017 Tour d'Afrique, and her solo bike tour of Tanzania, post-TDA. She enjoys expeditions that push her to her limits, helping her discover what those are. More than that though, she enjoys a life where time just goes beside you, instead of having to chase after it. As we sat under the shade of a tree in a bush camp in Sierra Leone, she shared a proverb of the Norwegian Sami people that gave me chills: "Time is not going, it is coming." This is how Hanne wants to live this third life of hers, and TDA is a place where she can realize that lifestyle.
If you want to check out Hanne's project in Tanzania, you can find the website here and their Facebook page here.