Blog
REGISTER NOW
LOGIN
SIGN UP FOR OUR NEWSLETTER
Parts 1 & 2 of our 8-Part video series 'Cycling Cairo to Cape Town'
"This is going to be the most fun you've had in your life. It's also going to be some of the worst times." Those were some of the first words shared with the 2019 Tour d'Afrique participants by tour leader Tallis at their initial meeting in Cairo. A day later they all took their first pedal strokes on what would be their four month journey across Africa.
This eight part series follows the participants through the ups and downs of cycling through Africa. Part one covers the first section known as Pharaoh's Delight – from Cairo to Khartoum. Nervous riders start from beneath the great pyramids and head out into the arid landscapes of Egypt. They cycle alongside the Red Sea and pass through cities like Luxor along the Nile River. They take a quick ferry ride into Sudan and head out into the desert facing punishing headwinds on their way to Khartoum.
Part two covers the section known as The Gorge – named for the one pivotal stage into and back out of the Blue Nile Gorge. A grueling stage that ends with the climb out of the gorge; some 1400 m in a span of just 20 km. This video also highlights the cultural and geographic changes as the tour leaves Arab and arid Sudan for hilly sub-Saharan Ethiopia. It ends in the growing metropolis of Addis Ababa.
Parts three and four will be released in our October newsletter. Make sure you sign up! Simply enter your email address in the orange box above.
Hats off to filmmaker Laundon Peacock for putting this series together. Through broken lenses, illness, limited internet/electricity, and bad weather he was able to produce something that we feel gives everyone a great insight into what's it's like to cycle the Tour d'Afrique.
RELATED
TOUR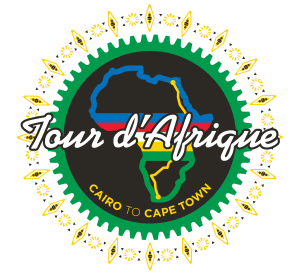 Tour d'Afrique
Our original trans-continental journey and flagship expedition crosses Africa from north to south, covering 10 countries in all. Beginning at the...