Blog
REGISTER NOW
LOGIN
SIGN UP FOR OUR NEWSLETTER
History, Archeology, Architecture and Culture On The South American Epic
Do you love history, archeology, architecture and culture? Well, duh, of course! Then you should absolutely cycle the South American Epic in 2020. It will give you the opportunity to experience 9 UNESCO World Heritage sites; from mysterious megalithic sculptures in the jungles of Colombia to massive icebergs calving off the face of glaciers in Patagonia.
1. Port, Fortresses & Group of Monuments in Cartagena, Colombia
"Situated in a bay in the Caribbean Sea, Cartagena has the most extensive fortifications in South America. A system of zones divides the city into three neighbourhoods: San Pedro, with the cathedral and many Andalusian-style palaces; San Diego, where merchants and the middle class lived; and Gethsemani, the 'popular quarter'." – UNESCO
2. San Agustin Archaeological Park, Colombia
"The largest group of religious monuments and megalithic sculptures in South America stands in a wild, spectacular landscape. Gods and mythical animals are skilfully represented in styles ranging from abstract to realist. These works of art display the creativity and imagination of a northern Andean culture that flourished from the 1st to the 8th century." – UNESCO
3. City of Quito, Ecuador
"Quito, the capital of Ecuador, was founded in the 16th century on the ruins of an Inca city and stands at an altitude of 2,850 m. Despite the 1917 earthquake, the city has the best-preserved, least altered historic centre in Latin America. The monasteries of San Francisco and Santo Domingo, and the Church and Jesuit College of La Compañía, with their rich interiors, are pure examples of the 'Baroque school of Quito', which is a fusion of Spanish, Italian, Moorish, Flemish and indigenous art." – UNESCO
4. Chan Chan Archaeological Zone, Trujillo, Peru
"The Chimu Kingdom, with Chan Chan as its capital, reached its apogee in the 15th century, not long before falling to the Incas. The planning of this huge city, the largest in pre-Columbian America, reflects a strict political and social strategy, marked by the city's division into nine 'citadels' or 'palaces' forming autonomous units." – UNESCO
RELATED
TOUR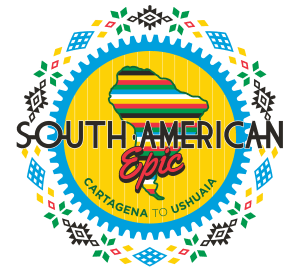 South American Epic
This challenging expedition offers you the best opportunity to explore the vastness and diversity of South America by bike. In keeping with the TDA...
5. Historic Centre of Lima, Peru
"Although severely damaged by earthquakes, this 'City of the Kings' was, until the middle of the 18th century, the capital and most important city of the Spanish dominions in South America. Many of its buildings, such as the Convent of San Francisco (the largest of its type in this part of the world), are the result of collaboration between local craftspeople and others from the Old World." – UNESCO
6. Lines & Geoglyphs of Nasca, Peru
"Located in the arid Peruvian coastal plain, some 400 km south of Lima, the geoglyphs of Nasca and the pampas of Jumana cover about 450 km2 . These lines, which were scratched on the surface of the ground between 500 B.C. and A.D. 500, are among archaeology's greatest enigmas because of their quantity, nature, size and continuity. The geoglyphs depict living creatures, stylized plants and imaginary beings, as well as geometric figures several kilometres long. They are believed to have had ritual astronomical functions." – UNESCO
7. City of Cusco, Peru
"Situated in the Peruvian Andes, Cuzco developed, under the Inca ruler Pachacutec, into a complex urban centre with distinct religious and administrative functions. It was surrounded by clearly delineated areas for agricultural, artisan and industrial production. When the Spaniards conquered it in the 16th century, they preserved the basic structure but built Baroque churches and palaces over the ruins of the Inca city." – UNESCO
8. Historic Sanctuary of Machu Picchu, Peru
"Machu Picchu stands 2,430 m above sea-level, in the middle of a tropical mountain forest, in an extraordinarily beautiful setting. It was probably the most amazing urban creation of the Inca Empire at its height; its giant walls, terraces and ramps seem as if they have been cut naturally in the continuous rock escarpments. The natural setting, on the eastern slopes of the Andes, encompasses the upper Amazon basin with its rich diversity of flora and fauna." – UNESCO
9. Los Glaciares National Park, Argentina
"The Los Glaciares National Park is an area of exceptional natural beauty, with rugged, towering mountains and numerous glacial lakes, including Lake Argentino, which is 160 km long. At its farthest end, three glaciers meet to dump their effluvia into the milky grey glacial water, launching massive igloo icebergs into the lake with thunderous splashes." – UNESCO