Blog
REGISTER NOW
LOGIN
SIGN UP FOR OUR NEWSLETTER
Watering Holes Of The Pub Ride – Time, Gentlemen, Time.
Each night the riders of the Pub Ride Cycling Tour will probably gather together in a local pub and raise a glass to the day's ride. Each one of the cities along the route is blessed with some outstanding and historic watering holes. As part of our new series on the public houses of the Pub Ride, here are 5 unforgettable drinking establishments.
1 – Temple Bar, Dublin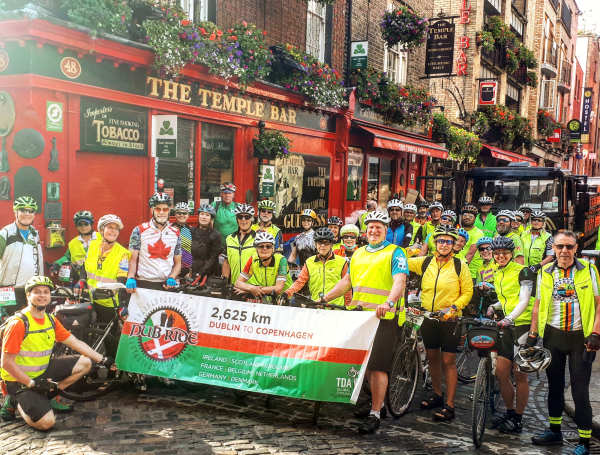 The bar's history goes back to 1599 when Sir William Temple, a renowned teacher, and philosopher, built his house and gardens on newly reclaimed land. Later his son, Sir John Temple, went on to develop the area after a 'sea wall' was built in 1656 to hold back the Liffey River and became known as Temple's Barr (A 'Barr' was a raised estuary sandbank often used for walking on). However, the area soon fell into hard times, becoming  a centre of prostitution in the 18th century and then an area blighted by urban decay in the 20th century. Although the Temple Bar area was destined to become an immense bus station in the 1980's, an influx of artists and public pressure instead created a vibrant cultural district. The Temple Bar features the largest collection of rare whiskeys in the country, over 450 bottles, and prides itself on its daily Live Traditional Music Sessions. It has been awarded the title 'Traditional Music Pub of the Year' every year dating back to 2002.
2 – Kelley's Cellars, Belfast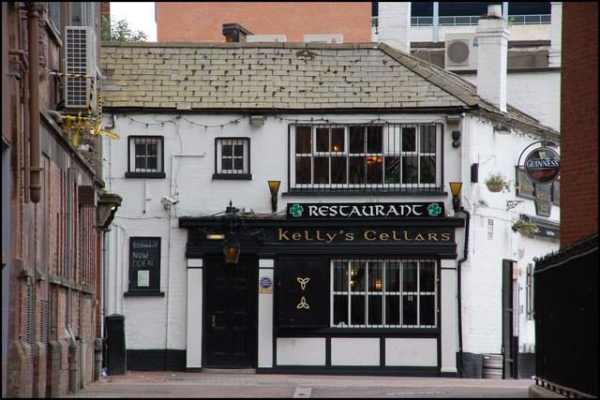 When socializing in the 1700's the lower classes would meet up at taverns & public houses where oftentimes there'd be musicians working their trade, or a local person who could sing or play, and that sometimes led to dancing. Not much has changed at Kelly's, Belfast's oldest pub, since then. The original two-storey pub was built in 1720 by Belfast merchant Hugh Kelly who kept it as a bonded warehouse in which rum, gin and whiskey were his mainstays. Many of the original features have been retained. Inside it features a vaulted ceiling and elbow-worn bar and is crammed with bric-a-brac. The United Irishmen used Kelly's Cellars as a meeting place and plotted the 1798 rebellion against English rule, which is still prevalent in today's political climate. The story goes that Henry Joy McCracken, one of the leaders, hid behind the bar when British soldiers came for him. However he was eventually caught and executed 300 yards from the bar. He is buried in a local cemetery, ten minutes walk from the city centre.
3 – The Oxford Bar, Edinburgh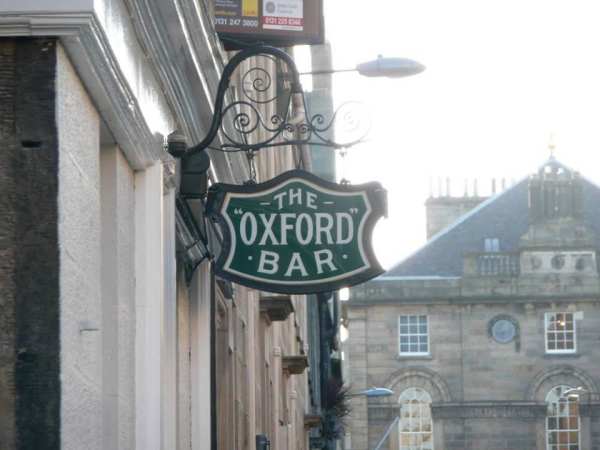 The Oxford Bar opened in 1811 and it became a confectioner's shop from 1843-93 before returning to being a public house. It retains its original character with small rooms opening off a central corridor. It was made famous by author Ian Rankin in his Inspector Rebus detective series. Rankin made the pub Rebus's go to watering hole since he himself was a regular at the bar, pointing out that "It's the classic old-fashioned drinking den–a place you go for quiet contemplation or to share the local news and gossip. Back in the day, many cops drank there when off-duty. Politicians and the city's movers and shakers might also take up residence for an hour or two, but democracy reigned–if you had the price of a pint on you, you were as good as anyone." So stop in, order yourself a pint of Rebus's favourite Deuchars IPA and take a look around. Ian Rankin might be there working on the latest Rebus masterpiece.
>>Related Post: The Beers of the Pub Ride: Little-known, Weird, Unexpected and Occasionally Appalling
4 – Centurion Bar, Newcastle upon Tyne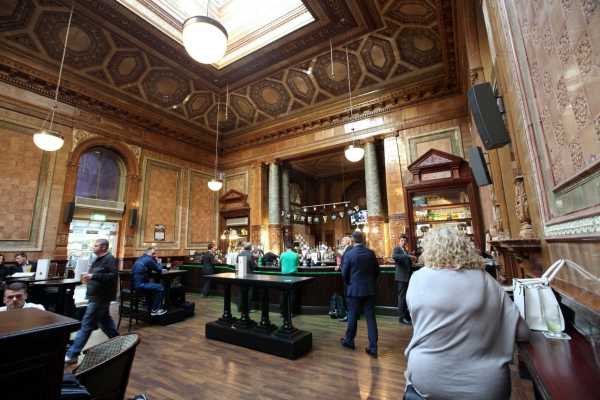 Newcastle upon Tyne was once one of Britain's most important manufacturing cities. The city's train station, opened in 1850 was designed in the neo-classical tradition by the noted architect John Dobson and is considered one of the finest railways stations in the British Isles, particularly the enormous train shed which is made up of three arched glass roofs built in a curve on an 800-foot (240 m) radius. It also is home to the Centurion Bar which is located inside the station in a room built in 1893 as a sumptuous waiting lounge for first class passengers. The lounge and the bar closed in 1960's, when the British Transport Police started using it for its cells. British Rail, which then owned it, cared very little for the buildings Grade 1 listed status. In 2000 Keeping Inn Ltd acquired the building and lovingly and painstakingly restored The Centurion to its former glory. The tiles alone are worth over 5 million pounds. The bar offers 6 real ales from local breweries and there is also their very own bespoke made ale called the Grand Centurion on tap at all times.
5 – The Black Horse, Whitby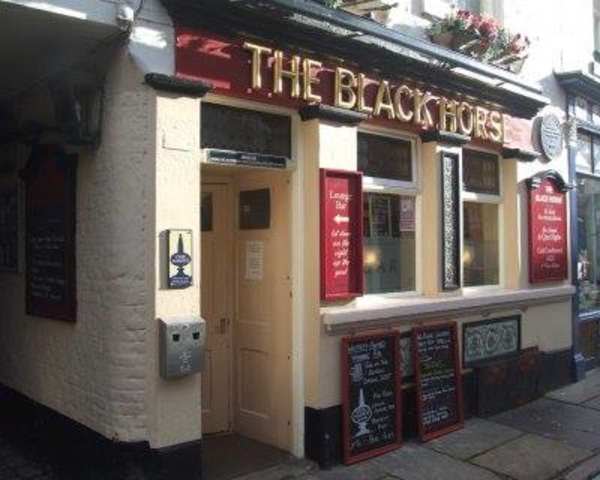 The Black Horse Inn has been a pub since the 16th century, but it has also been used as a funeral director's, spirit warehouse and brothel. You'll be enjoying a drink in a bar frequented in the past by the likes of Lewis Carroll, Wilkie Collins, Captain James Cook, Charles Dickens, Elizabeth Gaskell, Captain William Scoresby, Bram Stoker & Frank Meadow Sutcliffe. You can enjoy a pint of Weston's Rosie's Pig, a delicious flat scrumpy, while contemplating the pub's vast selection of snuff, a fine ground, flavoured tobacco. The bar stocks 12 flavours and although there is not any evidence of snuff having previously been on sale on the premises, antique ledgers at Wilsons of Sharrow show that, in 1893, there were six large tobacconists selling good quantities of their loose snuff in Whitby. Thus it is safe to assume that this is by no means the first time that the pub's clientele have enjoyed snuff along with their ale.
RELATED
TOUR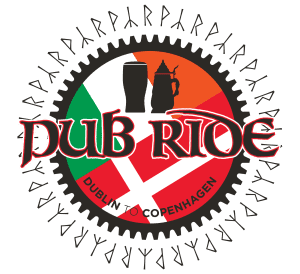 Pub Ride
Over 5 weeks we'll cycle from storied Dublin to the waterfront of Copenhagen. Through Ireland, Scotland, England, France, Belgium, The Netherlands...