Blog
REGISTER NOW
LOGIN
SIGN UP FOR OUR NEWSLETTER
How to Find the TDA Tour That's Right for You
HOW TO PREPARE: An 8 part series to get you ready for your first TDA tour. Click here to read more.
We have tours in over 80 countries running at different times in various parts of the world. It can be hard to figure out which one is best for you and fits your interest and schedule. Our website contains LOTS of details about each tour that you may not have realized were there – a downloadable daily schedule, video highlights, difficulty ratings, rider profiles and much more.
We've created this video to highlight the various features on our website that are there to help you choose a perfect cycling adventure. Go ahead and click play, or read on below for more details.
We have broken down this post into 4 main topics. Click below to jump to the topic you are interested in.
1. Tour Finder and Calendar Tools
The best place to start is using our Tour Finder or Calendar tools. If dates or time of the year are the biggest limiting factor for you, start with the Calendar. We usually have tours listed for the current year and for 2-3 years into the future. When you see one that overlaps the time of year you are available for, click on it to read the detailed tour information. You can also use the previous and next arrows to flip between different years. Note that not every tour runs every year. Most, in fact, run every second year.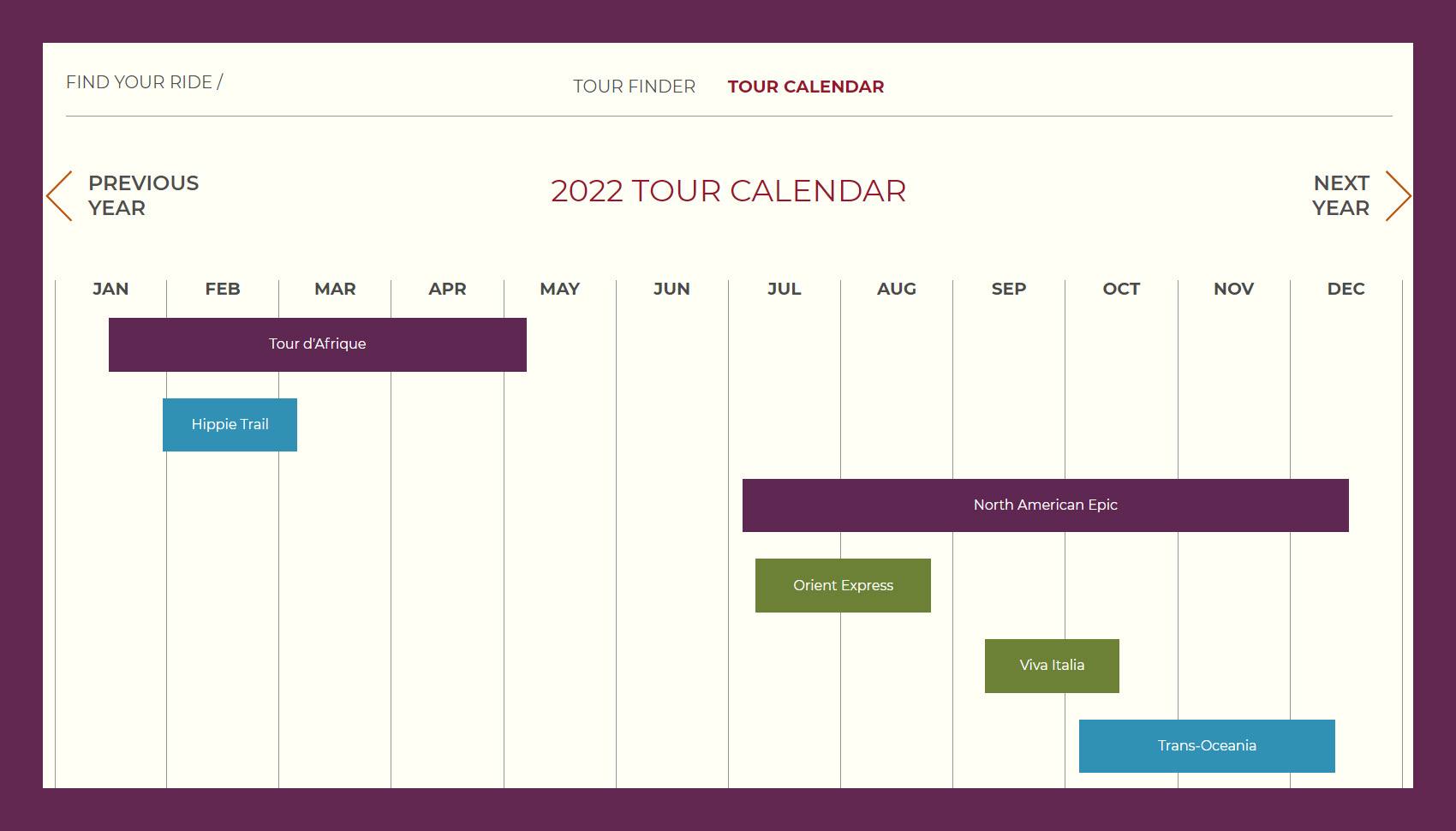 If date isn't the key factor, then start with Tour Finder. This allows you to filter the tour options by continent, type of tour, difficulty, duration, type of accommodation, and more.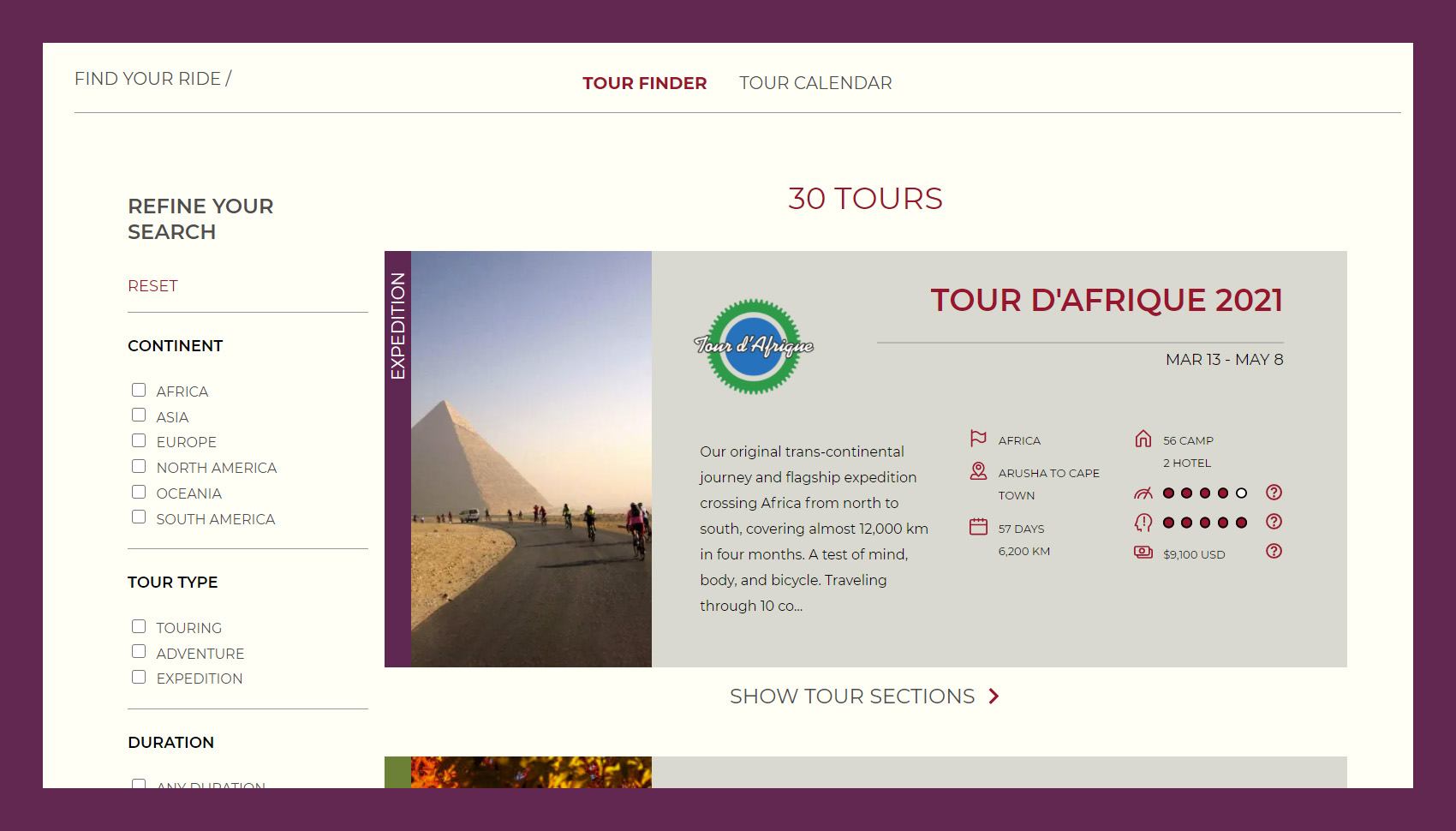 As you choose the filter options, the results will update automatically. The main tour will always appear. Below each main tour, you will see accompanying boxes showing the details of the shorter parts (the 'sections' – more on that later). You can SHOW or HIDE the section details as you wish.
Once you have narrowed down your search, you can see a bit of detail about each tour option. When you see one that appeals to you, click on its photo or title, and it will take you to the page with the complete tour details.
2. Tour Types and Joining Sections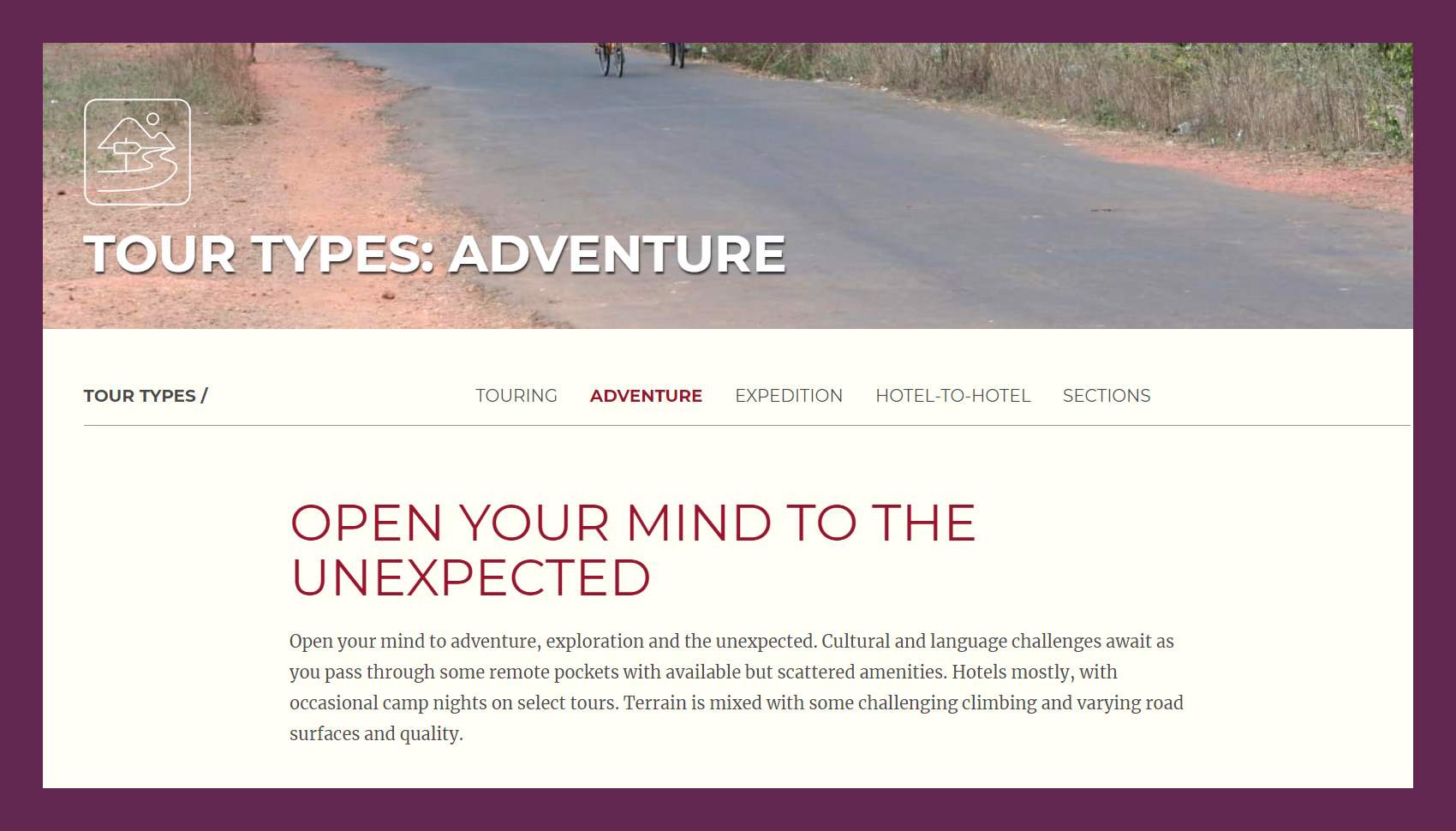 Another way to choose a tour is to consider the type of tour – Touring, Adventure, or Expedition. You can start with any of these types, but those in the Touring category tend to be fewer kilometers per day and give you access to more creature comforts. Adventure tours are, as you might imagine, a little more adventurous and challenging, and located in some more far-out and unique cycling destinations. Expedition tours are typically our longest and most challenging tours, often in more remote far off places.
Joining Part of a Longer Tour
Most people don't have time to do a multi-month cycling tour all at once. So many people choose 'sections' of these tours. All of our long cycling adventures are broken into shorter pieces that we call sections. So if you have two weeks available, and you want to join our three month long Bamboo Road tour in SE Asia, no problem. We plan the route so that section riders can meet up with us at major cities along the route.
Section riders should arrive a full day or two before their section begins to give time to get briefed by the tour leader and for the mechanics to help you reassemble your bike. Read more about our sections here.
3. Detailed Tour Information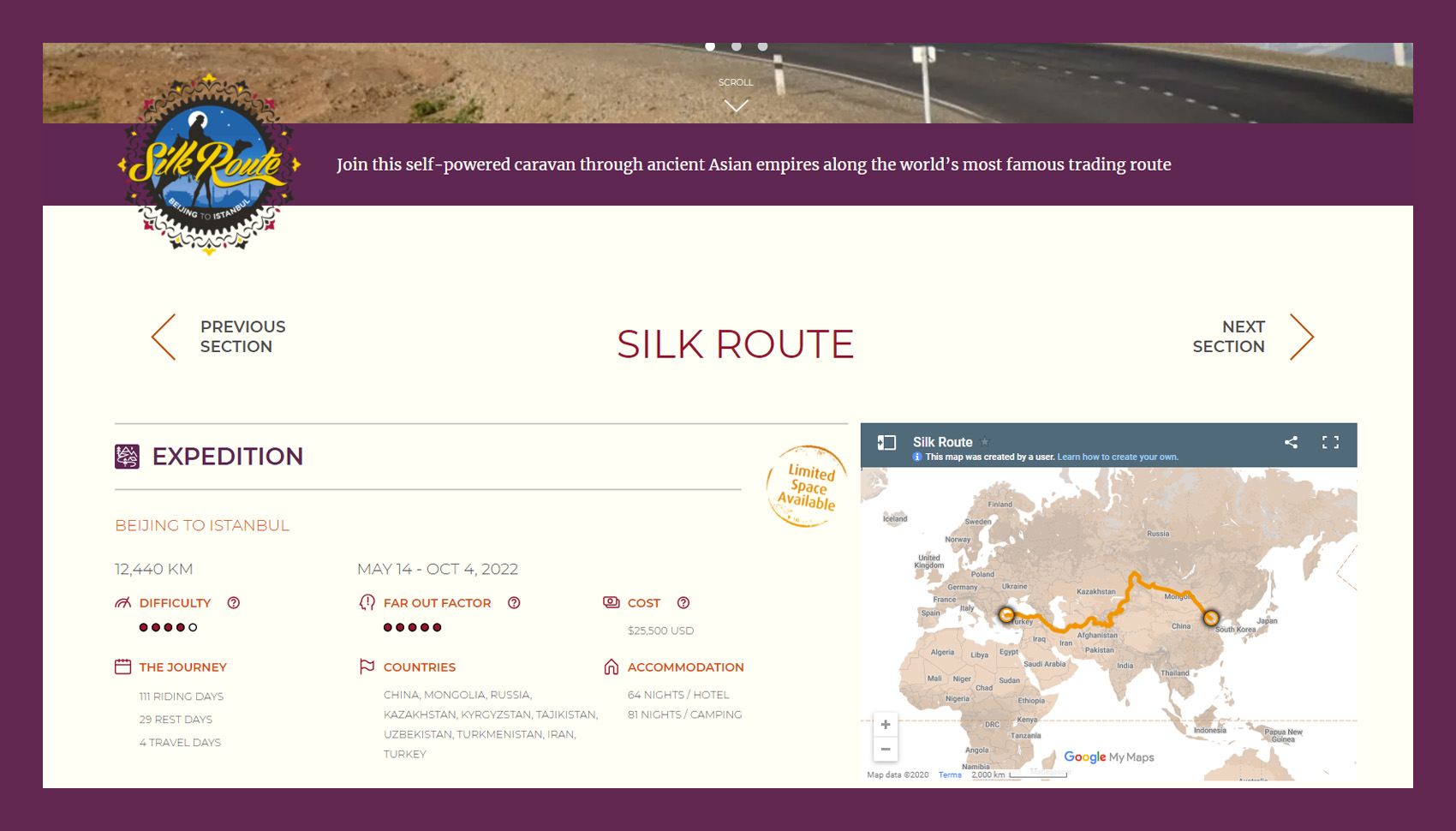 Now that you have chosen a tour (or a section of a tour) you will find yourself on a page like this above. This page contains all the detailed tour information. It has a number of important details that many people miss. Such as:

Previous/Next section arrows: Above the map, dates, difficulty, and other details you can use the back and forth arrows to browse between the various sections of the whole tour. Each one contains details specific to that section.

Difficulty and 'Far Out' rating: Beside each rating you can click on the [?] to see a definition. 'Far Out' rating measures how far from typical this tour might be for the average person living in western nations. These ratings are a good way to compare the different sections of a tour.

Cost: By clicking the [?] you can choose to show the (roughly) equivalent amount in your home currency. Note that all our tours are priced in a specific currency (USD, CAD, or EUR) but you can pay in a number of other currencies and we help you figure out the exchange rate at the time of payment.

Tour status: Look for a stamp like this marking a tour as either 'Limited Space', 'Guaranteed Departure' or 'Fully Booked.' Not every tour has one of these badges and we review the status of a tour continually as the tour start date draws closer.

Which bike: Scroll down a little further and you will see that we share the recommended bike type and tire size for this particular tour or section of a tour. For some tours a touring bike with 35-40C tires is adequate, whereas some of the more rugged sections we might suggest wider tires, or even a mountain bike. We never recommend a road racing bike for any of our tours.

Downloadable schedule: For most of our tours, we make the daily itinerary available as a free download. Note that these are sample schedules and the 'official' schedule gets shared with registered riders closer to the tour start date. But the sample schedules are a good way to see the proposed dates, distances, and daily destinations.

Descriptions and videos: All the sections have a written description and some also have a highlights video as well. For those seriously considering a tour, these details can be extremely helpful in making your choice.

Rider profiles: Scroll a little further and you can see all those registered for the tour. Click on their photo to read their bio. You can see what type of people are signing up.

Pricing table and details: Further down the page you can see an overview of the pricing and the price disclaimers and conditions related to them, including discounts for alumni, for early payment, and for multiple sections.
4. More Help Choosing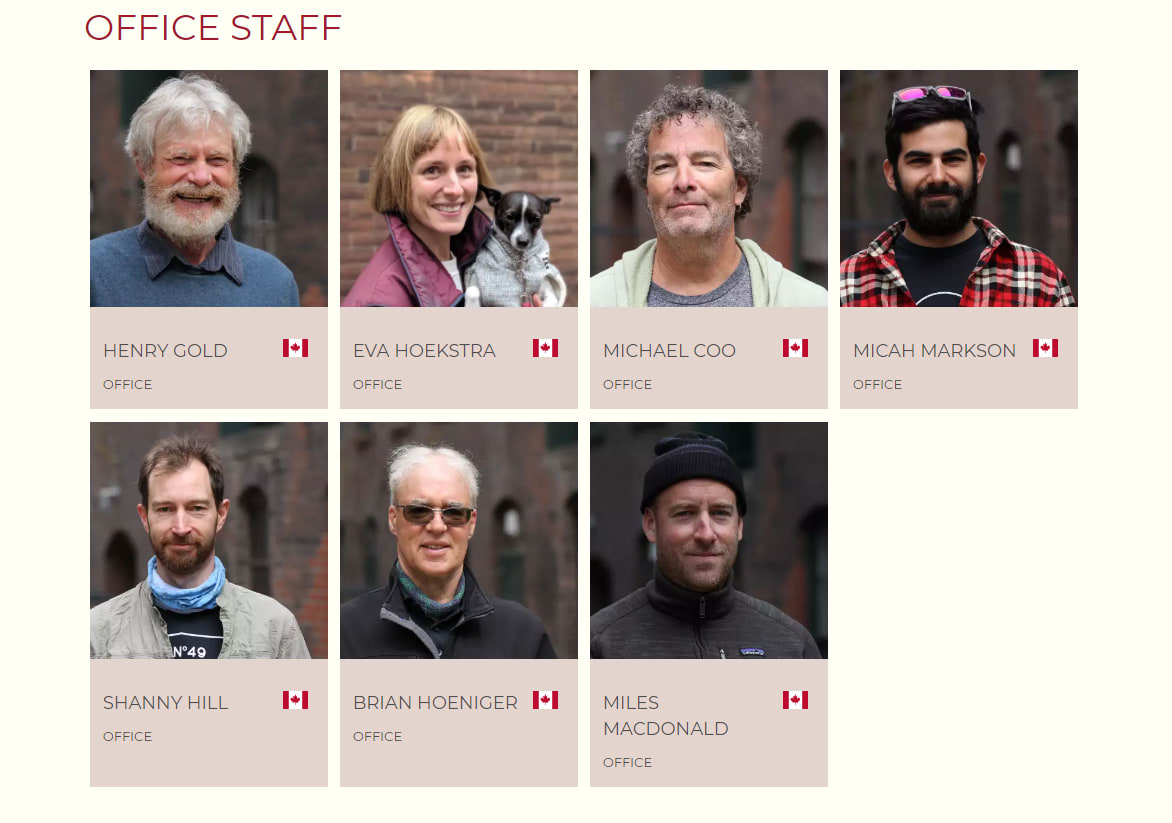 If you still haven't decided, you are welcome to reach out to us by email or phone (+1 416 364 8255) to discuss the details – we encourage this. When you call TDA's office in Toronto, you will speak with one of our customer service team. All of us have experience cycle touring, and many of us have either led these cycling adventures, or cycled them as participants, so we have loads of practical information and insight to share with you.
If you still can't decide, try watching some of our videos on YouTube to be inspired. Learn about cycle touring with our '2 Minute Tips' series. Or watch some of our TDA Talks where we interview current and past cyclists and staff and get their advice on doing a TDA tour. Then consider reading our blogs, following us on Facebook, or subscribing to our newsletter to stay informed of the latest and greatest. Check out our Instagram photos to get a vicarious introduction to cycling on a TDA tour. Get answers to our most frequently asked questions. You can also comb through the in depth TDA Starter Kit.
We also have a great program where you can join tours that pass close to where you live and cycle for free with us for a few days. What better way to get some hands-on experience – check out our Guest Rider Days program. If that doesn't work out, how about speaking with one of our past participants? We can find someone in your area, or just someone of a similar age or situation. This is usually a really helpful way to get insight from participants themselves. Send us an email and we can set that up.
How to Prepare
An 8 part series to get you ready for your first TDA tour. Click here to read more.