Blog
REGISTER NOW
LOGIN
SIGN UP FOR OUR NEWSLETTER
Tips On Choosing Pedals For Your Bicycle
HOW TO PREPARE: An 8 part series to get you ready for your first TDA tour. Click here to read more.
When it comes to pedals for your bicycle there are many options available but your choice will largely depend on your style of riding. This blog is focused on the pedals best suited for long distance cycling, trail riding, city commuting and casual bike rides. You can also watch my video:
SPD pedals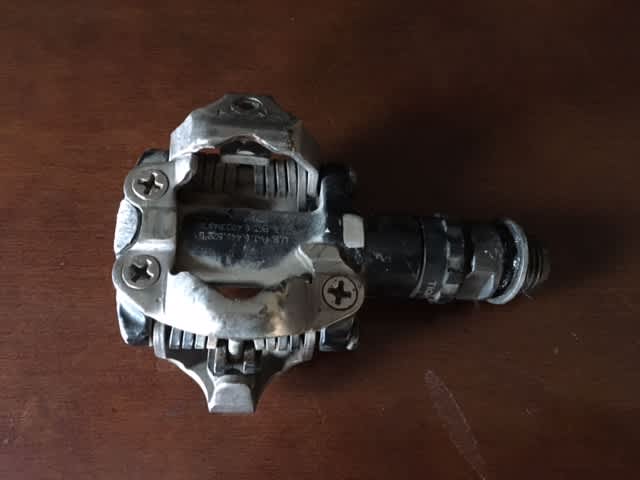 If you choose to clip in, using a cleat system, you will want to use a SPD pedal as well as a compatible shoe. It is also referred to as a mountain bike pedal, a name which causes a lot of confusion. They are great for any type of riding. Instead of just getting power from pushing down with each pedal stroke, you will get added power from pulling up on each stroke because you are clipped in. The pedal will come with the appropriate cleats which get bolted to the bottom of your shoe. These shoes have a recessed area where the cleats get tucked into the shoe which, in turn, clips into the pedal. This allows for lots of tread on the bottom of the shoe without it affecting the cleat. You can enjoy mountain, trail, commuting or casual riding while adding a lot of efficiency and pedal power. They are also easy to walk in off the bike because the cleat does not get in the way, being tucked up inside the tread of the shoe. Each pedal stroke has a lot more added power and accelerating is much easier. This is my number one choice when I'm touring or doing a longer ride where I want the added efficiency. Check out my 2 Minute Tip : Clipping In video for more information.
Casual classic pedals
This type of pedal works well for those who like a classic look. There is a wide variety to choose from in this category. These pedals will do the trick for most styles of casual riding and commuting. Some are definitely better then others, so make sure you do your research if you are concerned about quality. They come in a range of materials – plastics, metal, aluminum and carbon. They do often only have minimal grip. I use this one for my city bike, to meet friends, run errands and on my short commute to work.
Wide flat pedals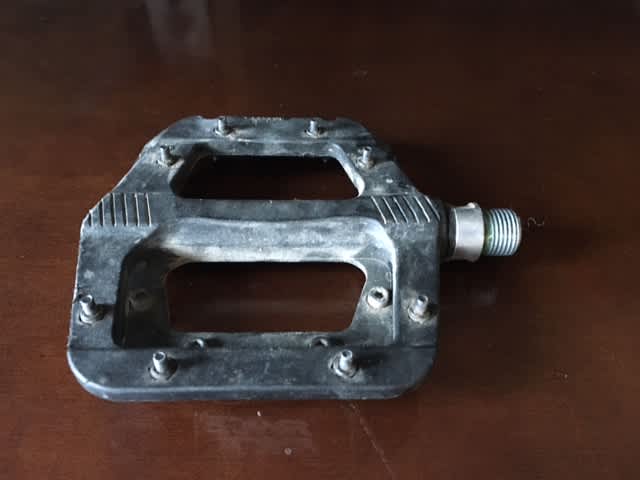 These are great for trail riding, mountain biking, casual riding or touring. You will often see them on BMX style bikes too. They are a nice option for those who want a lot of contact area but are not looking for a huge amount of added efficiency. They are great for easy on and off access and are excellent on trails. They are available in a wide range of prices depending on what they are made out of. I use these pedals on my adventure touring style bike when I'm heading out on trails or doing casual off road rides.
There is also a pedal that is flat on one side and has a SPD step-in system on the other. These can work well for those people who want the best of both worlds. Shimano makes some good options.
As I mentioned in my 2 Minute tips: Clipping In video, a shoe with a rigid sole is best for cycling. If you choose a cleat SPD style pedal, the shoes to go with it will have a stiff sole (some more then others). If you are using a flat pedal, you can wear whatever style of shoe you choose but the stiffer the sole and the more grip, the better. This way you are less likely to have your foot slip, especially if it's wet out or you have some mud on your shoes. The stiff sole will also help your overall control, comfort and power. If you are having a hard time deciding on which pedals to choose, I would suggest you talk to other cyclists or the staff at your local bike shop. You can always email us or leave a comment below as we are happy to chat! Most of us have tried multiple pedals and shoes over the years and have lots of opinions about what is best!
How to Prepare
An 8 part series to get you ready for your first TDA tour. Click here to read more.