Blog
REGISTER NOW
LOGIN
SIGN UP FOR OUR NEWSLETTER
Registering for a Tour and Using MyTours
HOW TO PREPARE: An 8 part series to get you ready for your first TDA tour. Click here to read more.
You have chosen one of TDA's great tours and are now ready to register for your ride. What's your next move? This post walks you through the steps required to complete your registration and to set up your MyTours account.
Registering on our Website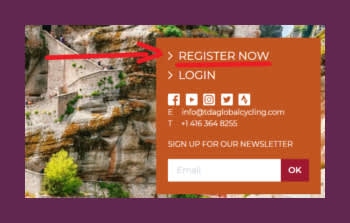 The registration fee is US$150. Since our tours do sometimes sell out, the registration fee is the best way to hold your place on the tour until the entry fee payment deadline (typically 3 months before the tour starts). The registration fee is paid with a credit card on our website. Please note that the fee is not refundable, but it can be transferred once, to another tour of your choosing – as long as you let us know well in advance.
When Should I Register?
We recommend registering 4 to 6 months prior to the start of a tour. This way you take full advantage of our support and our bulletin system. For some tours we start sending out information to registered riders even as much as 8 months before the start of a tour. These rider-only bulletins contain important information to help you get started on your journey with us. From travel insurance and travel visas, to what to pack and what to expect, there is a lot to prepare and educate yourself on in the months leading up to the tour. You also gain access to our closed group where you can start interacting and planning alongside the other riders and staff for your particular tour.
Of course for some people there are reasons that you may not be able to register this early. The payment deadline is 90 days before the start of a tour and so this is also the deadline for registration. We do accept late registrations after this date as long as there are spaces still available.
Step by Step Instructions to Register
From any page on our website you can click 'REGISTER NOW' to start the process. You will then be asked in Step 1 to choose the Tour and the Year. Don't worry, you can choose the section(s) on the next step if you aren't intending to do the entire tour. After entering your name, email and phone number, you click the security verification ("I'm not a robot") and then click 'CONTINUE TO NEXT STEP'

On Step 2 choose the main tour (full tour) or the section(s) you wish to participate in by clicking on the checkboxes. Then select "CONTINUE TO NEXT STEP." On Step 3 read the Terms & Conditions then check the box agreeing to these (you will also have a copy of the Terms & Conditions available on your MyTours dashboard after registration).
On Step 4 you can review your selections and then choose a payment method (we recommend using a credit card so you have immediate access to your account). When you click 'CONTINUE TO NEXT STEP' you will be redirected to our payment partner, Stripe. Once you have filled in your credit card details and completed the transaction you will be returned to Step 5 and registration is complete!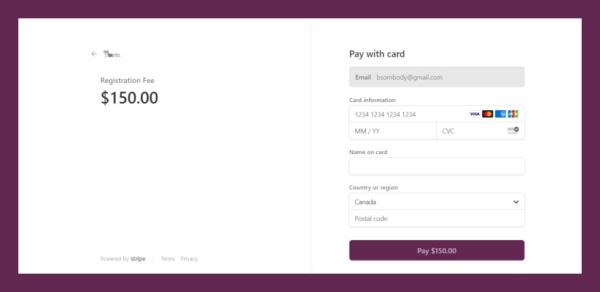 You will be prompted to create a password and to login into to your MyTours account. At the same time you will receive two emails: one from Stripe with your credit card receipt and one from us confirming your registration. This email will also have a link to set up a password for your MyTours account.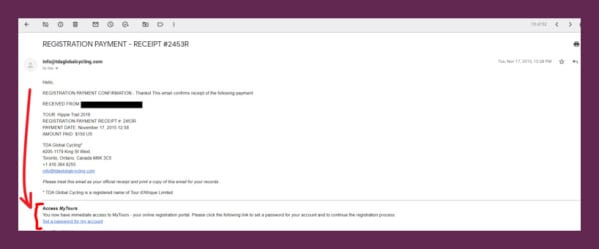 Please note that friends or family members registering for a tour each need to go through these steps using unique email addresses so you each have your own account.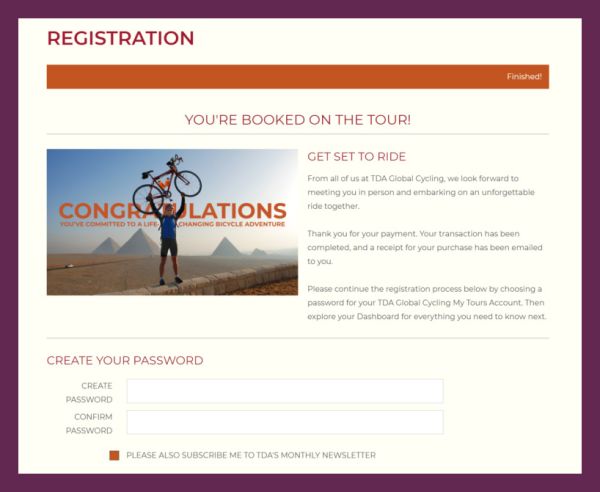 Using the MyTours Registration Portal
After setting up your password / logging in, you will come to your MyTours Dashboard which lists all the important information. Your dashboard will display copies of all the bulletins to be read, forms to be completed, as well as payment information, Terms & Conditions, your Release, and Rider Agreement to be signed with due dates assigned to each of them.
We start sending out the information bulletins to registered riders six to eight months before the start of the tour. These arrive in your email inbox, but are also available in your MyTours account. Once you mark them as read in MyTours, they are moved to your 'Past Bulletins' tab to help you keep your Dashboard up to date and clutter free. This is also true for forms you have completed – they get moved to the 'Completed Forms' tab.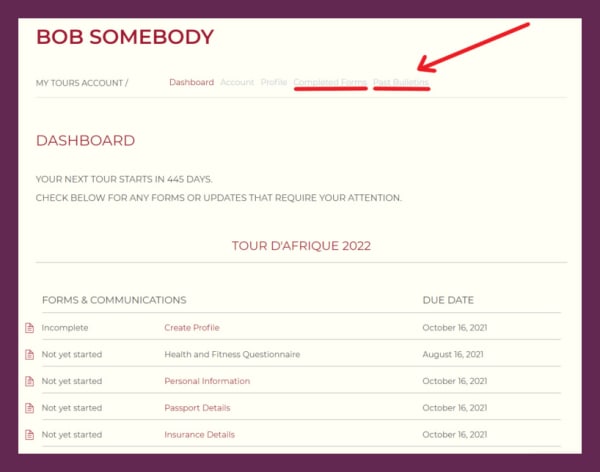 Completing Your Forms
Your Health & Fitness questionnaire is usually due 5 months before the tour starts. This gives us time to discuss any special health concerns with medical professionals, to ensure we can provide you the best care possible during the tour.
The rest of your forms, are typically due 3 months before the start of your tour. Click on the name of your form from your Dashboard to start filling it out. All fields with an asterisks (*) must be filled in before the form is considered completed. Be especially careful when completing the 'PASSPORT DETAILS' form. Your name, passport number and other details must match exactly to your passport. On this page you are also required to upload a copy of the ID page of your passport. Be sure that your face and passport numbers and the entire passport page are legible in your image. You may upload using any image format you want or a PDF.
Reading the Bulletins
Make sure you read all the bulletins in full. They contain highly detailed information that is specific to your tour. Whether reading them in your email inbox or in MyTours, make sure to click 'MARK AS READ' once you are done. This is found at the bottom on the bulletin when viewing it in MyTours.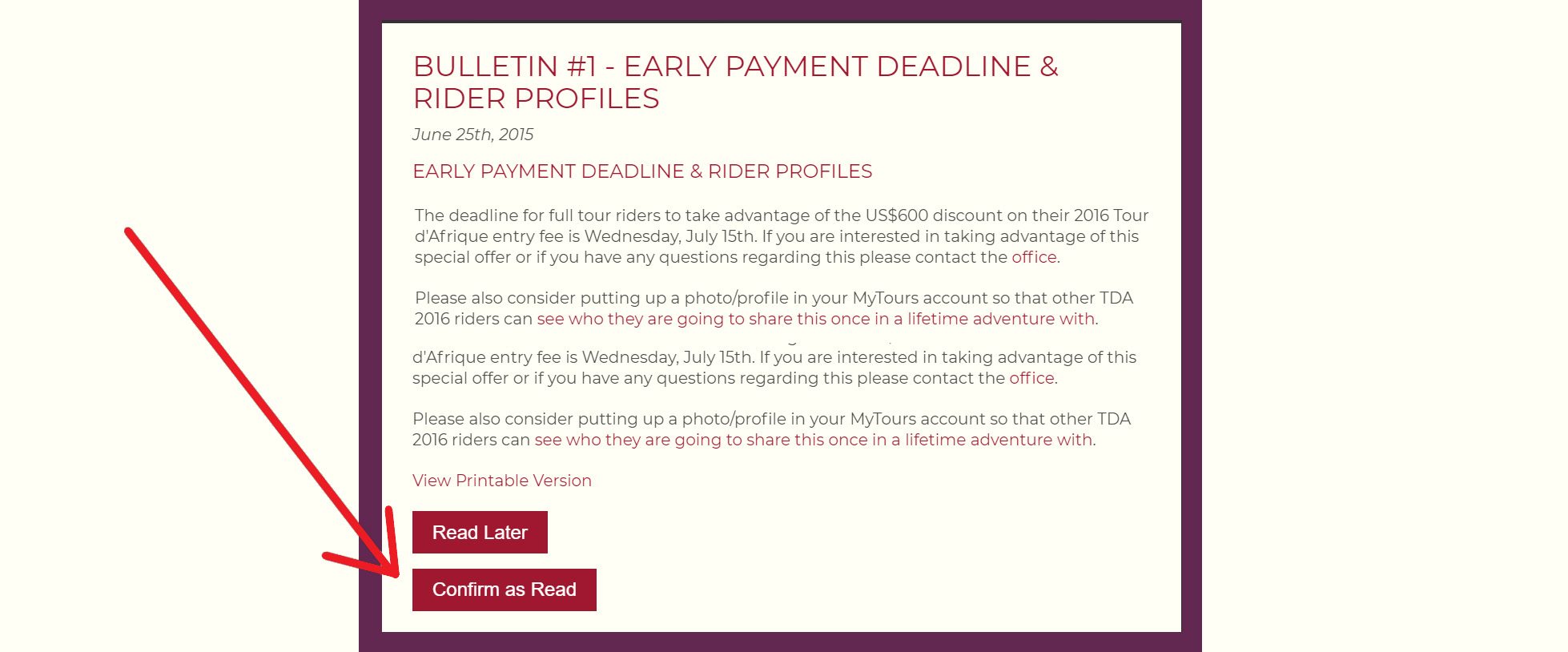 Paying Your Entry Fee
The deadline for entry fee payment is 3 months before your tour starts. At some point prior to this, our office will send you an invoice. This will arrive by email and will also be available to view on your MyTours dashboard. Please review the details carefully and let the office know if you see anything that doesn't seem right.
If you plan to pay in a currency other than what is listed on the invoice, please contact us and we can help you determine the most up to date exchange rate at the time of payment. Or simply use an online currency calculator such as XE.com or Google on the day your plan to make your full payment.
Once the money arrives in our account we will send a receipt confirming your payment.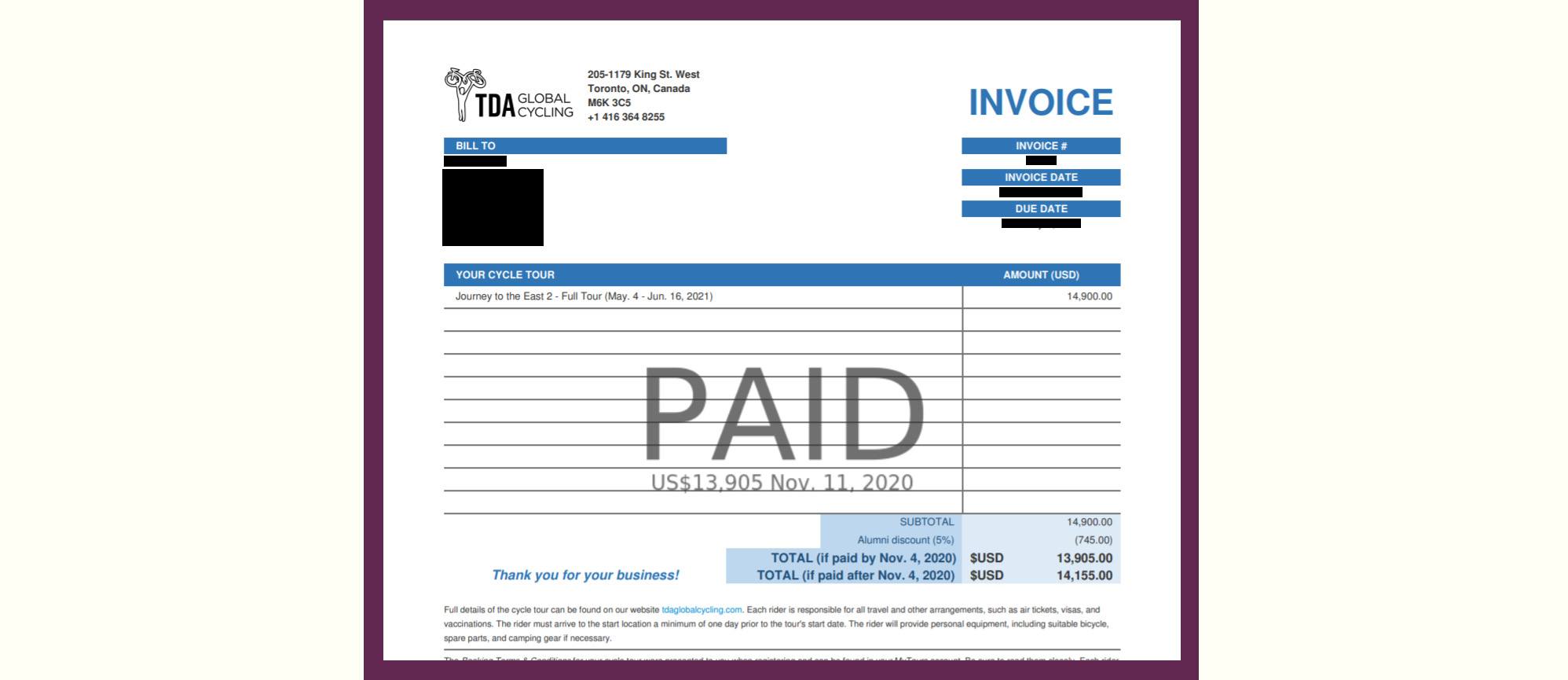 How to Prepare
An 8 part series to get you ready for your first TDA tour. Click here to read more.