Blog
REGISTER NOW
LOGIN
SIGN UP FOR OUR NEWSLETTER
Celebrating The Blue Nile Gorge
Today, as part of our #tourdafrique…as it would have happened social media campaign, the riders would have been cycling up and down the Blue Nile Gorge in Ethiopia. TDA staffer Brian Hoeniger takes a look at an incredible day on the Tour d'Afrique.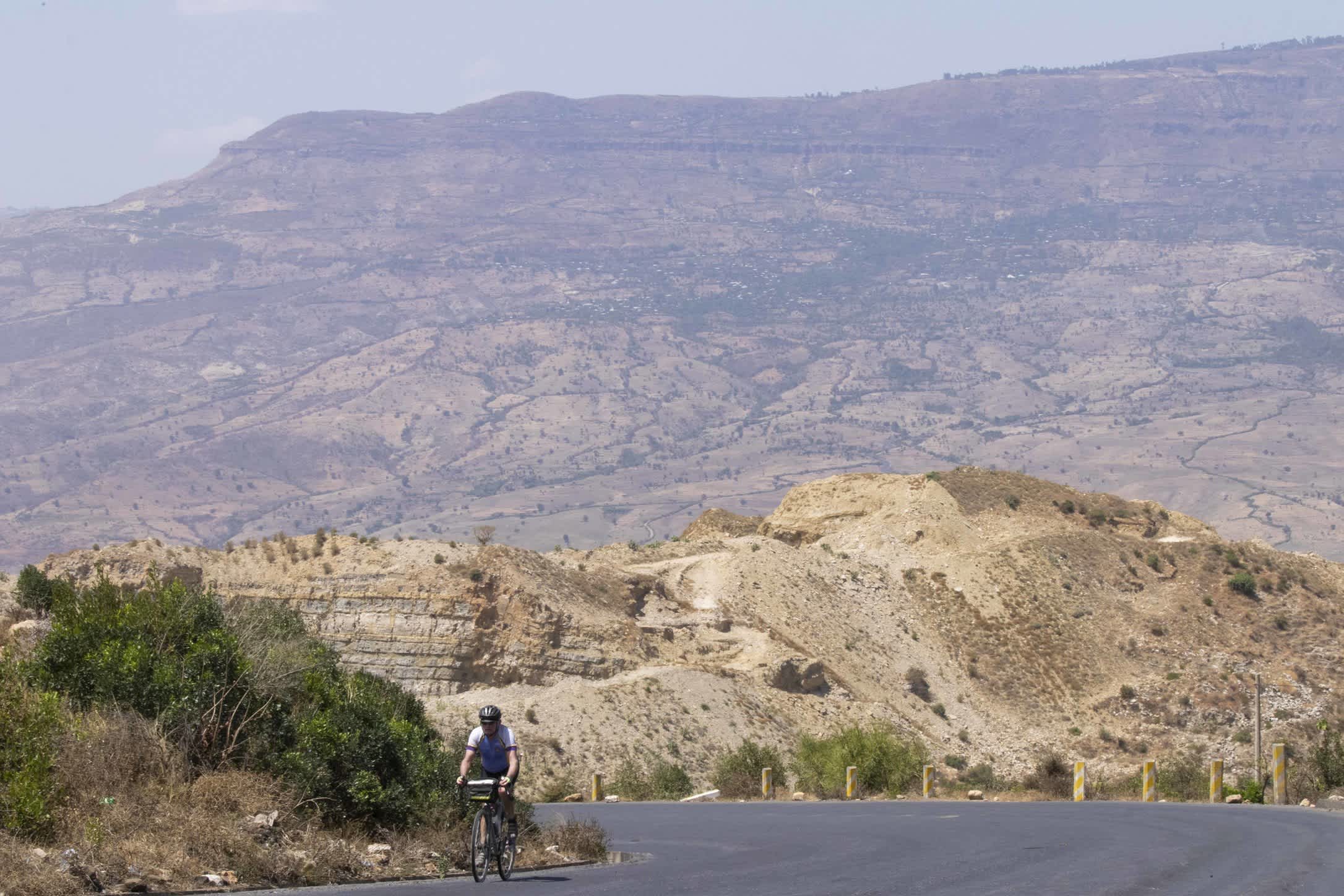 There are many obstacles that our intrepid cycling clients encounter along the approximately 12,000 km of the Tour d'Afrique, from the dusty heat of Sudan to the notorious stone throwing kids in Ethiopia, from the gauntlet across northern Kenya's Didi Galgalu desert, to the longest days in Botswana.
However, there is no single stage challenge greater than the Blue Nile Gorge, a 1500 meter deep gash in the northern Ethiopia plateau. Described as the world's 2nd largest canyon, cycling the Gorge is akin to climbing a mountain in reverse on a spectacular but tortuous road. It can be intimidating or inspirational, depending on how strong or how fatigued you feel when you arrive at its northern brink and stare down into the abyss and through the haze to the top of the far side.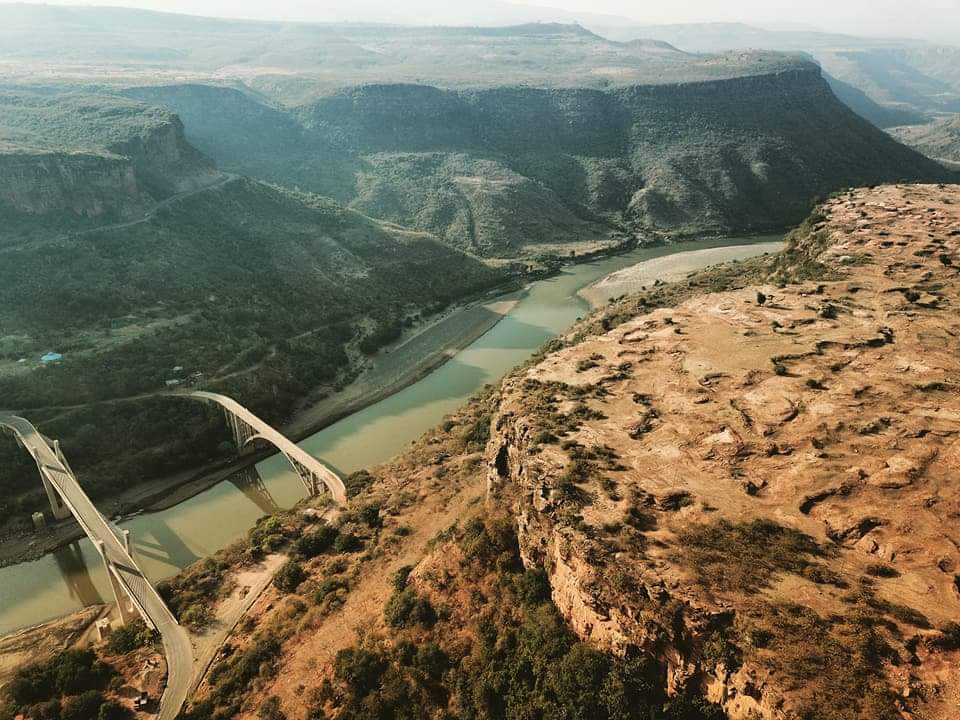 Christened the tour's equivalent of the Alpe d'Huez, for many cyclists this is the biggest climb they will ever attempt. But before crossing the Abay ("father of rivers"), you first have to negotiate the hand numbing 20+ km descent, constantly squeezing the brakes, to avoid the numerous potholes dug by the trucks grinding up and down its slopes, and the potential peril of missing a hairpin at misjudged speed.
>>Related Video: Tour d'Afrique 2020: Cycling the Blue Nile Gorge
From the Japanese built suspension bridge at the bottom, its 20.05 km to the summit and 1360 m (4460′) of elevation gain at an average of 6.8%, with several stretches of 10%+ and some switchbacks exceeding 15%. The lone coke stop is in the village of Filiklik about 60% of the way up; as a final challenge there is often construction before the last set of hairpins.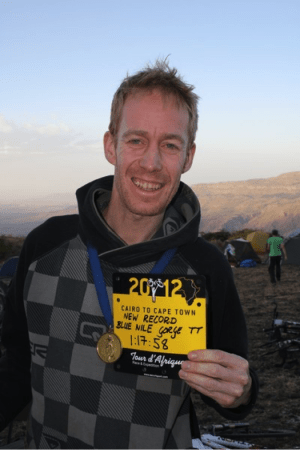 From 2003 to 2016, the Tour d'Afrique included a racing component, for those clients so inclined, of which the time trial up the Blue Nile Gorge was a highlight. The men's record was set by Pal Fritsvold from Norway in 2012, he averaged a smooth 15.4 km/h. The women's record of 1h 42 mins is shared by Germany's Gisela Gartmair (2010) and flying Dutchwoman Ina de Visser (2014).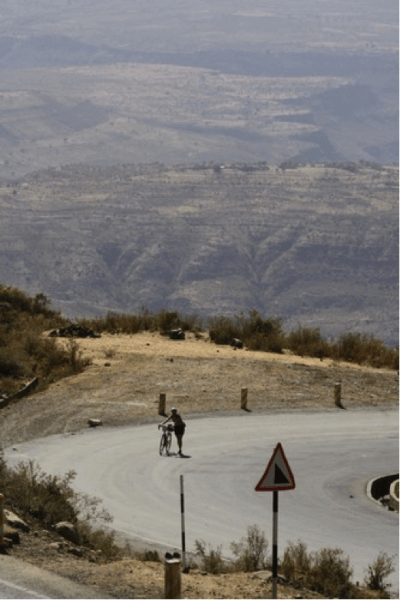 That said anyone and everyone who has made it to the top, whether they were racing for time, pedalling in their granny gear or pushing their bike for long stretches, will never forget the sense of sheer accomplishment they felt upon conquering the Blue Nile Gorge.
To them we say "Enkuan Dese Aleke" (Congratulations!) for your truly Epic performances
RELATED
TOUR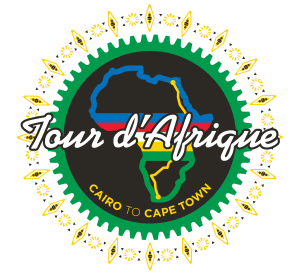 Tour d'Afrique
Our original trans-continental journey and flagship expedition crosses Africa from north to south, covering 10 countries in all. Beginning at the...