Blog
REGISTER NOW
LOGIN
SIGN UP FOR OUR NEWSLETTER
The First Section Of Our Virtual Tour d'Afrique Is Complete. See What's Happened So Far.
Since we announced our virtual ride across Africa a few weeks ago we have had lots of interest. The tour reached Khartoum on Friday so we thought this would be a good moment to take a look back at the ground that has been covered.
Khartoum marked the end of the Pharaoh's Delight, the first section of the tour. After a year of uncertainty, we started 2021 off the way if has always started for us – with our flagship tour setting off from the Great Pyramids and headed for Table Mountain in Cape Town. This is the 2021 #tourdafrique… as it would have happened. But, of course, this is no typical year and while we couldn't bring a new group of intrepid cyclists across Africa to join the hundreds who have done so since 2003, we were able to recreate it virtually and allow people to experience it vicariously through pictures from past tours.
We have had many great photos and stories contributed by former riders and staff and we encourage any past participants to dig deep into their photo archive and see if they can find a gem to share with us. We will be doing this all the way through to mid-May when the tour was scheduled to pull into Cape Town.
Here is what we have scheduled for our virtual tour for the next 10 days. We hope you follow along using #tourdafrique or @tdacycling.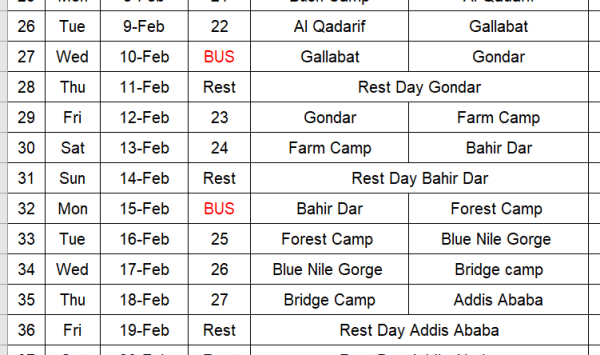 Here are a few highlights from the first 2000+ kilometres and 3 weeks of cycling from Cairo to Khartoum.
1. Le Grand Départ
View this post on Instagram

2. A serene moment after a day in the saddle
View this post on Instagram
3. Witnessing another way of life
View this post on Instagram
4. The staff who make the experience possible
View this post on Instagram
5. Seeing the ancient world up-close
View this post on Instagram
6. The excitement of arriving in a new country
View this post on Instagram
7. Meeting new friends in a unknown country
View this post on Instagram
8. Adapting to the heat
View this post on Instagram
9. Learning to deal with adversity
View this post on Instagram
10. Emerging from the desert to reach the capital
View this post on Instagram