Blog
REGISTER NOW
LOGIN
SIGN UP FOR OUR NEWSLETTER
Rider Profile: Mary Beall Adler, Tour d'Afrique 2022
[Cycle touring] it's like hovering 5 feet above the Earth seeing the length of the tour/country. Like a low flying bird.
The Tour d'Afrique Cycling Expedition will celebrate its 20th year in 2022. Through revolutions, sandstorms and pandemics this cross Africa adventure has remained the most popular tour on our calendar. One of the participants who is eagerly awaiting her participation on this iconic tour is Mary. She took the time to answer a few questions as she currently trains for the tour, even in the midst of moving house. We asked what motivates her, how she is preparing for the tour and what made her decide to take on such a big challenge. We also heard that her her ride will be used to raise money for a worthy cause.
Please tell us where you are based, how you heard about the Tour d'Afrique, and why you decided to sign up?
Right now I am based out of Bethesda, MD and Bay Harbour Island, Miami, FL. We're in the midst of a move and I will travel back and forth a lot. I heard about Tour d'Afrique in 2017 from a fellow riding across the United States from Santa Monica to Boston (this was my 2nd trip and I only rode the 1st two weeks this time because in 2016 I crashed and wanted to go back and ride that segment again and make some emotional sense of it). This fellow was from Britain and he gave a shout to the group to join Tour d'Afrique 2019. I couldn't stop thinking about it even though I barely knew him.
I heard of an older woman who road across several continents and had a Guinness World Record for the oldest woman to do it. I figured I could beat her record and why not start? I immediately signed up for Africa 1st because it seems the most difficult to me and I figure I am not getting younger. The adventure lit my fire.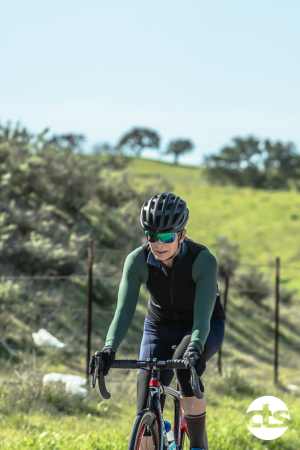 Tell us about your life – do you have a family? What is your profession and what are some of your hobbies (besides cycling across Africa ?)?
I have a GREAT husband, Jonathan and a blended family of 6 kids. At one point we had 5 kids in high school at the same time. We are like the ultimate 'camp counselors':) I own and operate Georgetown Bagelry. I make bagels. I'm also a Creativity Coach, Biohacker, and a Human Potential Coach in training with the International Coaches Federation (ICF). What else….I'm an advanced student of Dr. Joe Dispenza and love meditation and heart coherence. I love my piano (I actually have two). They are kinda like bikes after awhile, they accumulate! I love plants, flowers, and animals. I read a lot. I write. My first published book is 'Who Scooped My Bagel? – One Woman's Story of Love, Loss, and Success'.
What is the thing you are most excited about when you think ahead to the tour?
Camping
What is your biggest fear?
Camping
Have you been training? Can you tell us what that entails?
I decided to start from the inside out with biohacking, diet/nutrition, and emotional stuff and undertook the Human Potential Training and ICF Certification because I think one of the most challenging parts of the tour will be interpersonal communication, getting along with everybody and being the best team person possible. I'm working on those skills. I have a cycling coach and right now, I'm focusing on FUN because I tend to get very serious about training. Regardless of how well 'trained' I am, anything might happen and all the training goes somewhat down the drain. I know I can ride myself into shape if need be. I want to be able to heal myself if and when I get injured so that's why all the biohacking and meditation. I've gotten myself off all medications and that's huge. I do a lot of core training. Push-ups; planks; lower back and ab strength; weights. Overall fitness stuff. Walking meditation stretches and strengthens my legs in a way cycling does not and works my mind at the same time.
Have you ever been on an extended expedition before?
The only extended expedition I've done is LA to Boston 2016. LA to Santa Fe 2017. Miami to Key West and I would not consider that an expedition. 
What do you like about cycle touring compared to other modes of travel?
I can stop and meet people if I want and it's like hovering 5 feet above the Earth seeing the length of the tour/country. Like a low flying bird. I feel the elements and almost kind of become the wind, dirt, etc.
What life lessons has cycling taught you?
We all end up in the same place. Slow and steady can be a really great thing. Anxiety serves no one. Some places I simply can't afford to go to if it's not for the better good of all (anger, gossip, hatred, etc).
If you could give one piece of advice to someone like yourself who was contemplating signing up for a tour, what would it be?
Do what lights your fire.
We hear that you are using your ride across Africa as a way to raise money for a worthy cause. Can you tell us a bit about that?
Yes. I am raising money for globalbike. Bikes for women in Tanzania yet it's much more than just bikes. I connected with the women entrepreneurs working hard to better their circumstances and really appreciate how much a bike can make a difference to them in many ways. Kind of like how a bike has made a difference to me. Freedom. Adventure, fresh air, water, friendships, work, etc. We have very different lives yet there are many similarities. I struggled a lot over the years and learning to be entrepreneurial and move forward is a gift I have to share.
[from Erin Mahaffey, Executive Director of globalbike]
In rural Africa, bicycles have the power to transform lives and create economic security, as people more efficiently reach markets, water sources, schools, and health care in contrast to walking by foot. Women who usually earn between $54–58 per month via small business projects reported 25-57% increases in their monthly income when they used a bike to transport goods instead of walking or paying for expensive and scarce motorized transportation. Women cut transportation time by up to 65% with a bike thus saving time that can be reinvested in education or business pursuits.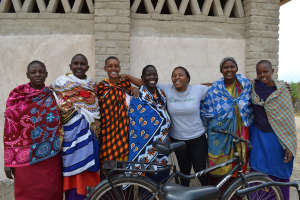 In this context, globalbike brings basic bike philanthropy to the next level, by partnering with women's cooperatives in rural Tanzania, who through mechanic and business training ensure bike donations become a sustainable investment in women and in their communities. globalbike works closely with women's cooperatives to develop a financial business plan so women can independently maintain and rent bikes, thus ensuring the full value of a bike donation can be realized over time. Cooperative members earn money from the bike project for their families and for re-investment in other women-led business projects, like sanitary pad production and jewelry making, thus proliferating the impact of donor dollars. Each year, cooperative members earn one third to two times the average monthly household income for reinvestment. This strategy empowers women as business leaders, mechanics, and owners of a highly valued resource in their community, thus helping to shift gender norms and bolster women's status and influence in their communities. Learn more about globalbike. Donate to Mary's fundraising here.